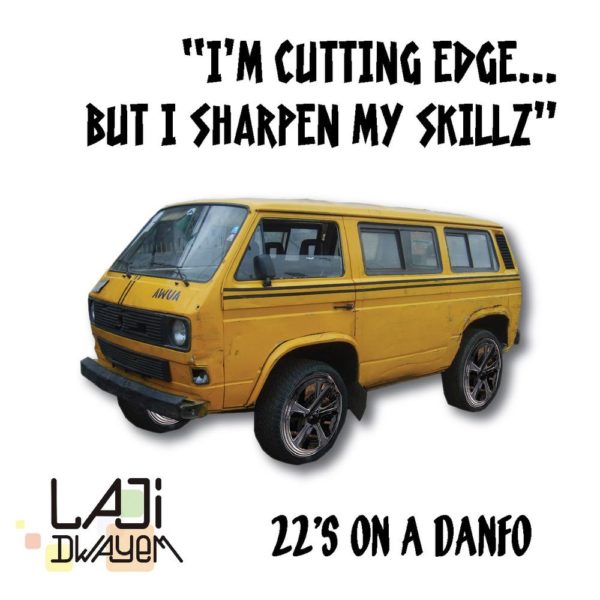 I kid.
By the way

NURTW – Nigerian Union of Road Transport Workers (The Union 'Agberos' belong to)
If that really happened, the said division would have Danfo buses with 42 inch rims, conductors wearing low hanging chains. Of course, our beloved Agberos would only be seen in baggy T-shirts and jeans. Well you get the idea.
Laji Dwayem is an emerging rapper that embodies the essence of the Underground Nigerian music scene. He is the reason you should give any public transport vehicle you see after reading this, a second look. With his debut – The Black and Yellow fleastyle, he picked a lighthearted outlook in bringing the B&Y theme home. Danfos and taxis are colored Yellow and Black (Read: Black & Yellow). He returned to his Hip-Hop purist roots, on his follow-up – 22s On A Danfo. The wordplay and punchlines on the song are unparalleled.
He shares Ibadan roots with other musical acts such as Blaise and DJ Klem(who he worked with on both songs), he has earned his stripes as far as being in and around the game is concerned.
Beyond the seemingly exotic name, Laji Dwayem is truly an act to watch out for, in the foreseeable future.
Listen and decide for yourself
Tune in!
Click Play to Listen to Laji Dwayem – Black and Yellow (Fleastyle)

[audio:https://www.bellanaija.com/wp-content/uploads/2011/06/black-and-yellow-fleastyle.mp3|titles=black and yellow fleastyle]
To Download Black and Yellow Fleastyle click here

Click Play to Listen to Laji Dwayem – 22's on a Danfo
[audio:https://www.bellanaija.com/wp-content/uploads/2011/06/22s-on-a-danfo.mp3|titles=22's on a danfo]
To Download 22's on a Danfo click here