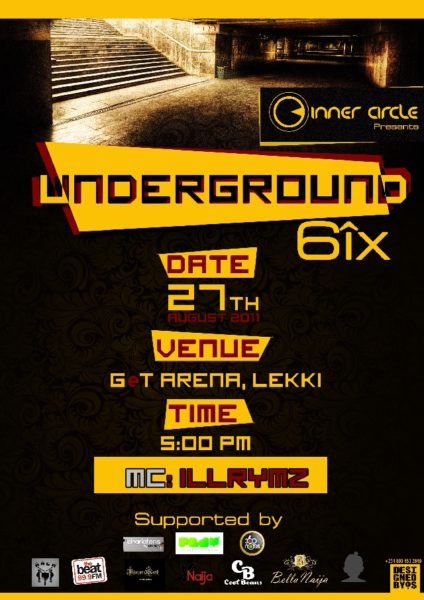 After 5 successful runs, the Underground is back for its 6th edition. The show which has produced talented performers like Oye Smith (produced by Chocolate City Producer Jesse Jagz), Boom Eye, to mention just a few is set to take place on Saturday 27th August at the Get Arena from 5 PM.
What is the Underground: The Underground is an open Mic night for upcoming artists. The aim of the show is to put upcoming artists in touch with key producers and music scouts in the entertainment industry, while at the same time creating an entertaining atmosphere for a wide ranging audience. The Underground features mainly unsigned acts and over time has seen a great mix of energetic and thrilling performances.
Structure of the Show: The event features individual performances from 16 unsigned acts on the night. These performances are then judged by the live audience who vote for the best 4 of the bunch. These four acts then perform again and the winner is chosen by celebrity judges on the night. So far we have had a diverse mix of celebrity judges from On air personalities such as Toolz and Gbemi (Beat 99.9), Wana Udobang (Inspiration Fm), Oye (360Nobs),  RnB Crooner Lami Phillips, and Djinee and rap star sensation Beazy.
In-between performances from unsigned acts, the Underground also features performances from various celebrities. Some of which include, Show Dem Camp, Rooftop Mc's etc. the show also features attendance from various celebrities Mochedah, Beazy, Kel, etc.
Edition 6: In the next edition, Inner Circle, the organizers of the event have promised to take things a notch higher with celebrity performances from RoofTop Mc's, Blackmagic among many others. The show will also include a panel of celebrity judges Godwin Tom (Manager SDC, Rooftop Mc's), Rogba Arimoro (CEO Knight House), Sokleva (RoofTop Mc's), Aderonke (Smooth FM), Oye (360Nobs).
Aside from the expected celebrity performances and appearances, the selected acts for the night promise to a varied amount of genuine talent and are sure to keep the audience entertained. Let's meet them!
1.  Christopher Ik John, "Yokefellow": Chris was born on the 16th of September 1986, in Benin City, Edo State. His music career began in 2002, and is looking to gain recognition by winning the underground, as well as networking with other talented artists.
_____________________________________________________________________________________________
2. Ifeanyi Onwuka, "Ifix": Ifeanyi was born on the 27th of February 1989 in Benin City, Edo State. His secondary school education was in Kings College Lagos, and he recently graduated from the University of Benin.  Ifix ventured into music in 2008 as a producer and started rapping in late 2009. Ifix's genre of music is a fusion of Rap and House/Techno, a brand he calls, "Feel-good Music". Ifix is using The Underground competition as a platform to break into the Nigeria music industry.
_____________________________________________________________________________________________
3. Ranti Ihimoyan, "Ranti:  Ranti is an aspiring singer/songwriter born in Chicago and raised in Lagos. She went back to Chicago 9 years ago where she got her Chemical Engineering degree, directed her church music department and was a member of the Apollo Chorus of Chicago. She returned to Nigeria this year (2011) and hoped to fully pursue her musical career.  She's written and recorded the song titled 'my love; which she will be performing at the Underground
_____________________________________________________________________________________________
4. Moses Oluwafemi Moses, "Z.I.Z"(zee-eye-zee):  Moses is an up & coming hip hop rap artiste who's been in the game for quite some time now. Currently schooling at Babcock University, Nigeria, he's had a passion for music from a very tender age.
_____________________________________________________________________________________________
5. David Odey," Boogey, The Brain: Born in Cross River, David Iye Odey, grew up in Lagos and attended Federal Govt. College Lagos. He was always good with essays and narrative writing. The love for hip hop was therapeutic during his teenage years, a time of self expression and the feeling of being misunderstood.  Current influences include Talib Kweli, Tupac, Jay-z etc. Twitter handle: @BoogeyThat
_____________________________________________________________________________________________
6. Israel Bamidele Olaore, "Izzy":  He was born and raised in the United States, he's currently a student of Babcock University.  He is a singer, rapper, composer ,writer and  producer. He sees the Underground as a platform to express and display his gift of music. Twitter Handle: @its_izzy & @clipse_ent.
_____________________________________________________________________________________________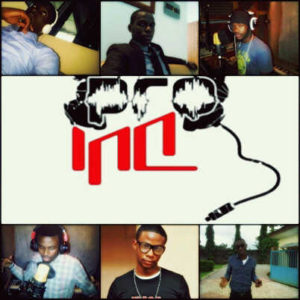 7. Pro INC:  This is a musical group of 6 members that creates music which cuts across different genres. They are from Lagos, Nigeria. All members are students/alumni of Babcock University.
_____________________________________________________________________________________________
8. Miss Atiba: She is a strong RnB singer with a passion for music and not afraid to hit the notes. She was born on  the 3rd of November, and is easy going, fun loving, believes in herself,  and loves to have fun.
_____________________________________________________________________________________________
9. Jason 'sagas' : He was born and raised in the city of Lagos. The son of a broadcaster and a student of foreign languages at the University of Uyo. Jason raps, sings and is a song writer. He see's the UNDERGROUND event as an avenue to and a starting point to reach my dreams.
_____________________________________________________________________________________________