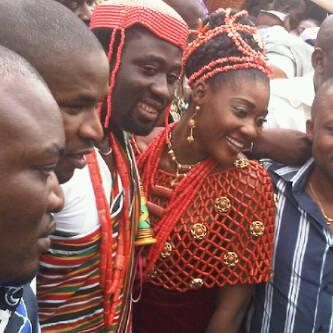 Today, Saturday 27th of August 2011, Nigerian actress Mercy Johnson will be tying the knot with Prince Odianosen Okojie. Yesterday, the couple completed their traditional marriage rites in Lagos. As Odianose Okojie is an Ishan Prince, after their traditional wedding, Mercy is now officially an Ishan Princess.
Mercy and Odi's journey to the altar has been fraught with controversy including claims that Prince Odianosen Okojie is still married to his ex-wife and mother of his two children, Lovely Okojie. It seems as though those issues have been resolved (legally at least), otherwise no reputable church would have agreed to marry Mercy and Odi.
BN will be at the grand wedding today and will bring you the first set of photos tonight.