BN Exclusive: "The Biggest Misconception About Me Since BBA has to be My True Identity": Vina Longpet, BBA Amplified Finalist, Sets the Record Straight!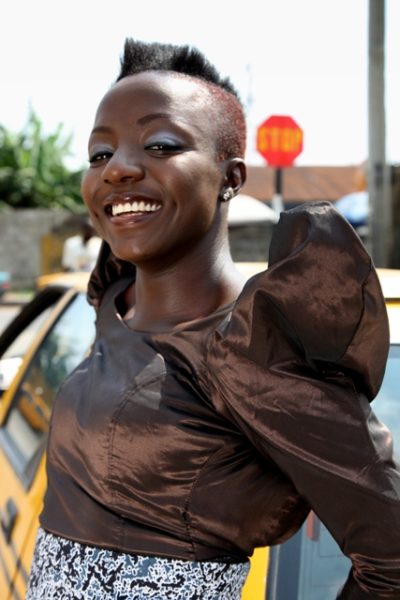 A vibrant, formidable  contestant on the just concluded Big Brother Amplified Series, 26 year old Malvina Kwanjap Longpet  or 'Vina' as she is popularly known by her fans, has received a lot of press since her exit from the Big brother house. BellaNaija.com Features Editor, Glory Edozien, caught up with Vina about some of the more controversial aspects during her stay in the house, her relationship with Karen, Lomwe and what's next on her agenda.
BN: Tell us who is Vina?
Vina: Vina is a young female; fun loving, talkative but knows when to listen and take charge.
BN: Why did you enter the Big Brother Competition?
Vina: I did not really enter like I wanted to. I was asked by my cousin to accompany her to the auditions so she would not sit alone. When we got there she asked me to go in with her. I hesitated but went in, did my thing and that's how I got to this point today.
BN: How did it feel having another Nigerian in the house?
Vina: Having another Nigerian in the house was a breath of fresh air even though we did not really stay in the same house.
BN: What do you think has been the biggest misconception about you, since you featured on BBA?
Vina: The biggest misconception about me since BBA has to be my true identity. People have called me fake because I have a British Accent. One thing people don't understand is that when you grow up in another man's country for 15 years you tend to pick up a lot and you are not aware till it's pointed out to you by others. BBA viewers did not know how to relate to me because I was different from a lot of the house mates but I will not hold it against anyone. We are only human and we tend to frown on what we do not understand. I am a full Nigerian who grew up in theUK, but has since been back to serve my country.
BN: Did you have any strategy going into the house? If you did what was it and did it change?
Vina: Going into the house I did not have any strategy, I went in there to have fun, meet new people and hopefully change my life. I had fun, I met great people who have in turn changed my life.
BN: Now that you've been out of the house for a few weeks, and you've had time to reflect on the show, is there anything you would have changed/ any regrets?
Vina: Looking back at all the events that happened in the BBA house, I will not change anything from the experience
BN: There's been a lot of talk about you and Karen pre and post BBA, can you please set the record straight for us?
Vina: Hmmm, well I have not heard anything about the post BBA. I did not know Karen before I went into the house but Karen knew a lot more about me. It was just a very strange coincidence that we both come from Jos and we have the same circle of friends. To set the record straight I have no beef with Karen, and when it comes to working together I am happy to do that. At the end of the day we are home and at least one of us brought the money back.
BN: How do you respond when people label you as stuck up?
Vina: "Stuck up", wow, I just tell them I was raised well and if anyone has anything to say about the way I am they should speak to the people who raised me. My parents.
BN: Tell me something about you, that you didn't feel was adequately captured during the BBA process?
Vina: I am very motherly, As a Virgo, I have the natural instinct to help people and to care for them and their well being. However that has been misunderstood as me being bossy and stuck up. Oh well, we cannot all be perfect.
BN: Did you ever think you would win?
Vina: No I never really thought that I would win. Only because I went in with the mindset thatNigeria had won 2 times in a row, there was no way another Nigerian would win, let alone me.
BN: How did it feel to not walk away with the final prize?
Vina: I was sad, and any one would feel bad, but I was happy to be out of the house, and finally seeing my family. I broke down that night because I saw my parents for the first time since January. For me seeing them at that moment was worth more than the prize.
BN: Do you think you could have won if Karen wasn't in the house?
Vina: Like I always say, I didn't go into the Big Brother expecting anything but the experience and how it would shape me as a person afterwards. It is hard to imagine this experience any other way, so to imagine me spending three months in the house without any of the house mates is tasking. If Karen was not present, I believe the best person would have won and that decision would have been completely up toAfrica…our fans- the viewers.
BN: What is your relationship with Lomwe really?
Vina: Lomwe and I got along excellently because we shared similar childhood experiences. He was someone I could identify with and someone I felt understood me the most. We became very good friends and even though some may see that as an alliance, our friendship made my experience in the Big Brother house more pleasant. We are good friends and that is all there is to that. I am still in touch with most of the house mates. I speak to Hanni, Sharon and Lomwe occasionally and we exchange emails.
BN: Since you left the house, which of the housemates have you been in touch with?
Vina: Since leaving the house, I have been in touch with Hanni, Lomwe, sharon O (who is currently inNigeria for my Birthday), Vimbai, Miss Confidence, Bernadina, Nic, and Millicent. I also stay in touch with them all via Twitter and facebook but most of the time we just call each other to have a little chat. I do miss them.
BN: How easy/difficult has it been coping with the popularity and press after BBA?
Vina: I was not prepared for the amount of people who were following me while I was in the house. Good and bad stories. I have read so much about me that I wasn't even aware of. The press, of course have been there and hey they have a job to do and I respect them for doing it.
 BN: Did you learn anything from the BBA experience?
Vina: I have learnt to be very calm and patient with people who do not understand me. I have also learnt that to a certain extent, silence is golden
BN: You are from Jos, what are your thoughts on the recent crisis there?
Vina: I am very saddened by the current situation in Jos. Innocent lives are being taken away. We are young people and our lives are being cut short. Jos is the land of peace and Tourism, we need to take it back to the way it was. Jos is my Home and I love it no matter what.
BN: What is the most difficult decision you ever had to make?
Vina: I have made so many difficult decisions but the most recent one I made was the decision to stay in Jos over the Christmas period during the Jos December riot. I could not leave my family there alone, even though my manager called me several times and pleaded with me to leave, I stayed with my family because I believe in togetherness…we needed each other.
BN: Do you plan on working with any of the housemates in the future?
Vina: Yes I will be working with Lomwe on his new Album, will be working with Hanni (Siesta Sisters reppin it), and with Karen if the opportunity arises.
BN: What's next for Vina?
Vina: What is next for me? Well am back serving as a Youth Corper at 99.9 KISS FMAbuja on the breakfast show. However like Lomwe said once in the house the sky is not the limit, you make the limit yourself, so it's up up up from here.