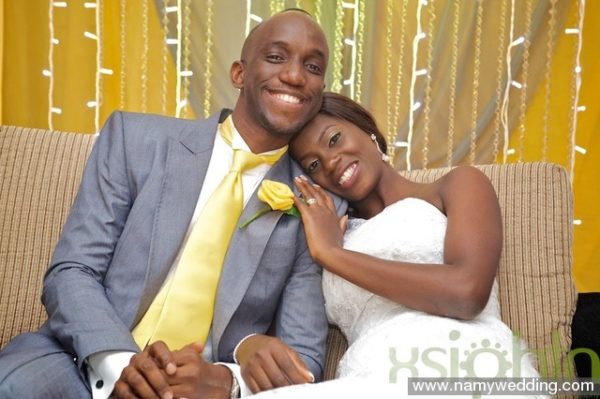 On Saturday 22nd October 2011, Nigerian inspirational gospel musician, Obiora "Obiwon" Agu married his sweetheart, Nkechi Obioma Ezeife. The couple wed at the All Souls Church in Lekki followed by a thrilling and romantic reception at the Incubator in Victoria Island.
It was a beautiful day for the couple who met 4 years ago. Obiwon tells us how he met his beautiful wife, Nkechi – "In July 2007 while I was still working in the banking industry, I attended a client's wedding but I got there so late and most of the guests had left the reception. I basically wanted to ask someone where the groom was, say hi to him and then leace. I saw my future wife from a distance and decided I wouldn't ask anyone else but her!
She took me to the groom and coincidentally, the bride was her sister. After exchanging pleasantries with the groom, I was still curious and asked him to call Nkechi so I could thank her. The groom sensing something else quickly walked away when she came. We exchanged pleasantries and I asked to cram her phone number so no one would see us exchanging digits. After that, we exchanged texts constantly for the next few days. 3 days later, we met up as I had some business around her area of residence. That day, I told her I wanted to marry her and start to know her better as a result. She was surprised and eventually I had to wait for four years. I met her parents last year and earlier this year, I proposed to my love, this time with an engagement ring and she said YES"
On the  24th September 2011, Obiwon and Nkechi celebrated their traditional wedding at her parents' family house in Igboukwu, Anambra State and then made it official during a registry ceremony a few days later.
When asked if his new life stage as a married man will inspire a change in career direction, Obiwon told us "My career direction changed sometime in 2008 when I answered to the call to minister the gospel in music. That's the purpose of my life now and there's no going back. However, you can expect to hear an inspired love album and inspired love songs somewhere along the line. I guess I'll be singing those from deeper perspectives now."
Obiwon and Nkechi's wedding was an amazing celebration of love! Nkechi was a beautiful glowing bride in her corseted lace dress accessorized with a stunning hair piece. Their wedding had a lovely springtime feel with lots of yellow flowers, lights and swaths. Obiwon and Nkechi's love and joy was obvious to everyone in attendance all through the ceremony and reception including the special moment when the groom got on stage and sang a special song just for his bride!
BN wishes Obiwon and Nkechi a divinely blessed union!
Listen to Obiwon's latest single "Good To Me". We know he'll be good to Nkechi! Enjoy.
[audio:https://www.bellanaija.com/wp-content/uploads/2011/08/Good-To-Me.mp3]
****
Obiwon & Nkechi partnered with Nigeria's No 1 Wedding Resource Website – NaMyWedding.com to help make their special day a reality! Click Here to Visit NaMyWedding for the complete album and more details on this beautiful celebrity wedding.
****
Traditional Wedding Photography: Digiworx Photography – Website
White Wedding Photography:  Xsightn Photography – Visit Blog | Visit Site
Photo Source and Official Wedding Partner: NaMyWedding.com