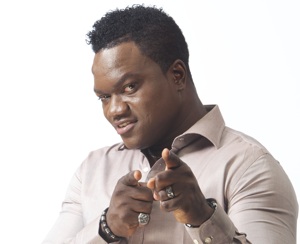 The third season of Glo Naija Sings wrapped up last night!
The "Number 3" played a significant role in the proceedings…
First up, this is Season three of the show, then, there were three finalists – Vicky, Christian and Mattade. Each finalist performed three times during the show.
For their first performance, each finalist performed their favourite song from the competition and then they performed duets with Nigerian music stars. Finally, each contestant showed off their songwriting skills by each performing an original song which will serve as the winner's first single.
At the end of the show, Christian was announced as the winner of Season 3 of Glo Naija Sings!
Before his name was announced, we had an inkling that he would win, we'll take you through the Glo Naija Sings 3 finale journey and tell you why…
The finale show kicked off with a performance by Onyeka Onwenu who has been a judge for the most part of this season of the show. The Top 10 contestants sang along with the "Elegant Stallion" as she performed her hit "One Love". It was a refreshing and positive way to start the show.
Next up with Vicky who sang her favorite song from the show, Asa's "360". After Vicky, Christian hit the stage as her performed "Abosede", finally Mattade did his thing by performing "Take a Look at Me Now" – a popular pop song which was originally by Phil Collins by has been covered by Mariah Carey and Westlife.
There was lots of starpower on the Glo Naija Sings Step Up stage. Omawumi who got her big break on a music reality show performed a jazzy rendition of her socially conscious hit "If You Ask Me". Omawumi and her band totally ruled the stage! The star was dressed in a modern mini version of Iro ati Bubu popularly known as Oleku. Omawumi received a standing ovation from the audience.
We really enjoyed the next segment which included performances by the Top 3 finalists alongside Nigerian music stars. Vicky performed "Ko Ma Roll" with Mo'Cheddah, Christian sang "Back When" with Davido and Mattade delivered "Gbon Gbon" with Jaywon.
There was another star-infused musical interlude as Glo Naija Sings host Darey performed on stage with a bevy of sexy ladies. Darey performed a sultry rendition of his hit "The Way You Are".
Glo Naijs Sings season 2 winner Casey Edema performed his brand new single "Not The Girl". According to Casey, the video for the song will be released soon.
Finally, the big test!
The finalists all performed a song they had written and composed with in-house producer Dokta Frabz. This was the moment that we know the Christian would win the competition. His original song, "This Kain Love" was fun and catchy, it was clear that he totally enjoyed performing it on stage. Vicky also did very well with her inspirational song "Keep Your Head Up" and Mattade's "Mo Le Jo (I Can Dance)" was definitely very catchy!
The winner Christian is now the proud owner of a brand new Rav 4 SUV and $US100,000 cash prize. The prize was presented by M-Net Africa Managing Director, Biola Alabi and the Head of Sales for the show's sponsors – Glo.
Congrats!
Christian's Journey to the Top

The Finale Performances



So what did you think about this season of Glo Naija Sings?
Did Christian deserve to win?