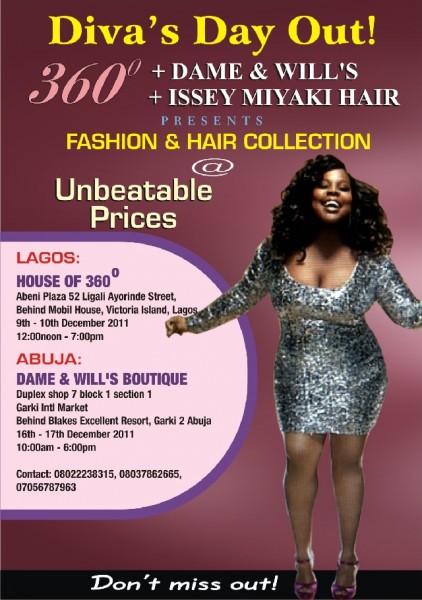 It was sure a memorable and unforgettable Diva's Day Out! event in Lagos and come Friday 16th to Saturday 17th December 2011, 360°, Dame & Will's and Issey Miyaki Hair will take this exquisite fashion and hair collection show to the nation's capital – Abuja.
This shopping event – Diva's Day Out! is a must attend for all glamorous Diva's who love to shop and reside in Abuja as they will get a 10 % discount off the latest collection of designer wears and accessories and Peruvian, Brazilian and Indian Human Hair.
Be sure to bring your friends and arrive early. See you there!
Date: Friday 16th – Saturday 17th December 2011
Time: 10 AM – 6 PM Daily
Venue: Dame & Will's Boutique Duplex Shop 7 Block 1 Section (1st Block on your left by the Main Gate), Garki International Market Garki II, Abuja
Contact: For more info and general enquiries
Call 08022238315 | 08037862665 | 07056787963
________________________________________________________________________________________________________
Sponsored Content