On Saturday 26 November 2011, Lagos was aglow once more with a sea of white apparels and wide-brimmed hats. It was the climax of the Adamu Orisha Play, otherwise known as the Eyo Festival, held in honour of the late Chief Yesufu Abiodun Oniru (1864-1984). Dating back to the nineteenth century, the festival is synonymous with Lagos State and is only staged in honour of a translated Oba (king), chief or a prominent Lagos indigene who has contributed to the progress and development of Lagos in his or her life time.
The traditional staff bearers of various Orisha groups heralded the week-long festival by making public appearances from the morning of Sunday 20 November 2011. Clad in white wrappers and bearing opambatas, this is kopajade, literally meaning 'bring out the Eyo staffs', they paid their respects to the Governor of Lagos State, the Deputy Governor of Lagos State, the Oba of Lagos, the Oba of Iruland, White Cap Chiefs and other distinguished Lagosians. The five Orisha groups comprising in order of seniority: Eyo Adimu, Eyo Laba (or Alakete Pupa), Eyo Oniko, Eyo Ologede and Eyo Alagere took turns to appear from Sunday till Thursday. On any Eyo day, these are followed by the Eyo Iga, comprising of over 65 groups. Eyo Iga means Eyo groups from the chieftancy houses in Lagos. Apart from these two groups of Eyo Orisha and eyo Iga, there are also 'Eyo Omo-Oloku' i.e. Eyo from the deceased person's family in whose honour the Play is being staged and Eyo Fancy. Whilst Eyo Orisha and Eyo Iga are clad in white attires, Eyo Omo-Oloku and Eyo Fancy are fancifully clad in coloured attires. All the groups thronged the streets of Lagos Island culminating in a grand parade in the Main Bowl of the Tafawa Blewa Square on Saturday 26 November 2011.
Prior to 2009, when the festival last held, the parades were held at Idumota. However, upon recommendation from the Oba of Lagos, Alaiyeluwa Oba Akiolu 1 and approval by His Excellency, Governor Babatunde Raji Fashola (SAN), the procession was relocated to Tafawa Balewa Square (TBS). This relocation was to better engage spectators within the safety and conveniences of the TBS and to make the occasion a family outing. Here are excerpts from Governor Fashola's speech at the event "Whilst the Eyo festival provides as occasion to celebrate, it is also important for us to be introspective and remember the festival's significance which is largely within the context of preparations and performance of formal acts by the Oba of Lagos and the elders of the craft. (It) is one of the foremost festivals which identify us as a people. The staging of the Eyo Festival is another opportunity for us to welcome our guests, visitors and tourists who have come to rejoice and partake in the festivities with us. The Adamu Orisha festival is a legacy we will continue to cherish and uphold from generation to generation… Eko o ni baje o!"
It would be noted that the first recorded Adamu Orisha Play was in honour of Chief Dosunmu Ashogbon on the 11th of September 1852 while the first recorded play for a translated Oba of Lagos was in honour of Oba Akitoye on 20th February 1854. Some of the distinguished guests this year include Lagos State Governor, Mr. Babatunde Fashola SAN, his Father, Alhaji Ademola Fashola, former Deputy Governor of Lagos State, Sen. Kofoworola Akerele-Bucknor, Senator Gbenga Ashafa (Lagos East Senatorial district).
____________________________________________________________________________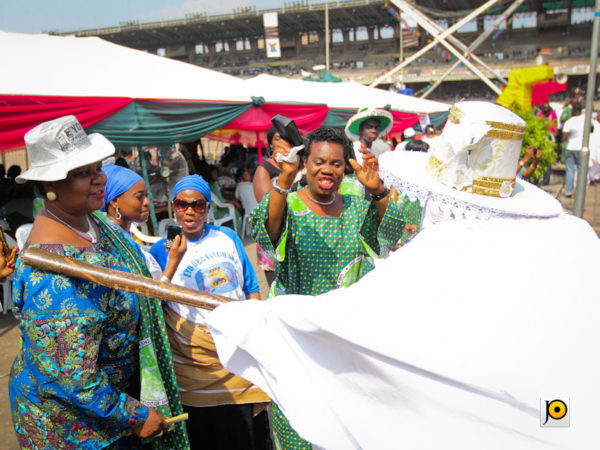 P.S: We are sorry this post came in four days later than usual. We will be back to the regular Friday schedule for the next episode. Thanks for your understanding!
____________________________________________________________________________
CREDITS:
Bayo Omoboriowo is a freelance photographer and photo artiste. A double-finalist (Still Life & Lifestyle) at the maiden edition of the Nigeria Photography Awards in July 2011, his works have appeared on BellaNaija.com, YNaija.com, and in Y! Magazine. He loves documentary photography, though he also dabbles into events and portrait.
Twitter: @BayoOmoboriowo | Blog: www.bayoomoboriowo.com | Facebook Page: Bayo Omoboriowo
Jide Odukoya, a graphic designer and (front-end) web designer, decided to build a career in photography barely a year ago after purchasing a Canon 550D with which he had experimented for a while. A Photoshop faithful, he dabbles into several kinds of photography, the top three being documentary, street, and wedding photography, in that order.
Twitter: @jideodukoya | Blog: www.jideodukoya.com/blog | Facebook Page: Jide Odukoya Photography
Gbenga Awomodu is an Editorial Assistant at Bainstone Ltd./BellaNaija.com. When he is not reading or writing, Gbenga is listening to good music or playing the piano. He believes in the inspirational power of words and pictures, which he explores in helping to make the world a better place. He writes from Makurdi, Benue State, where he is presently on the national youth service programme.
Twitter: @gbengaawomodu | Blog: www.gbengaawomodu.com | Facebook Page: Gbenga Awomodu