The Lekki Toll Gate Protest – An Eyewitness Account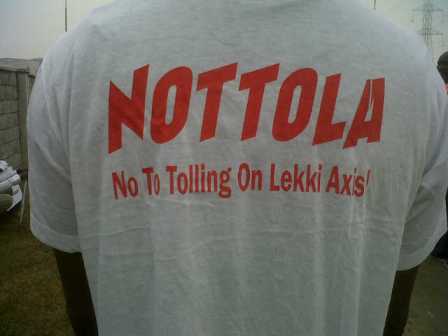 I woke up at about 6:45am on Saturday 17th December and prepared myself to go out and take part in the scheduled peaceful protest against the imposed tolling of the Lekki-Epe expressway as announced by the Lekki Concession Company, LCC and the Lagos State Government. I had a quick bath in between responding to BB messages and phone calls from a couple of friends who were to join us at the protest venue. These friends wanted details, but truth be told, the available details as to the organisation of the protest were sketchy. It was a firm resolve to try and voice our dissatisfaction with the way that the LCC, and LASG were going about the imposition of an arbitrary tolling of the yet to be completed Lekki-Epe expressway that edged us on. This feeling was inspired by successful protests witnessed world over in the outgoing year; we were resolved to let our voices be heard.
My wife and I decided against driving and took a bus down to Lekki Phase One estate roundabout. We wore tee-shirts, jeans and trainers, with a backpack that had water and snacks should we get hungry during the march. We got there at about 9:15am and the first thing we saw was a formidable contingent of men of the Nigeria Police Force, looking unusually sharp. We quickly walked to a gathering of people who were sporting white tee-shirts that read "NOTTOLA No To Tolling On Lekki Axis." We enquired as to the route of the planned protest march and how long it would take. We were told that we were to walk from Phase One roundabout to the Admiralty toll gate itself. While we waited we bumped into our ex-bosses, and one or two former colleagues in the two different banks that we used to work in. Indeed, it was a congregation of all sorts of people: the elderly, youths, bankers, and entrepreneurs, upper to lower class people. Personally, I was tripped that some of the "elite" could participate in something like this. I was encouraged.
Before long our friend Ejike arrived and we quickly got ourselves tee-shirts and fez caps bearing the "NOTTOLA" inscription from the nice but strict lady that was giving them out (she reminded me of one of my teachers in primary school). The crowd grew in number and we saw a few more people that we knew. I spied Kate Henshaw amongst us and acquired some newfound respect for her for the way she threw herself in the thick of things. Members of the press were present and quickly interviewed some of the spokesmen for the protesters. I saw NTA, Silverbird and TVC camera crew. Our numbers swelled again as three bus loads of protesters joined us. By this time traffic was gradually building along the road with quite a number of motorists tooting their horns in solidarity.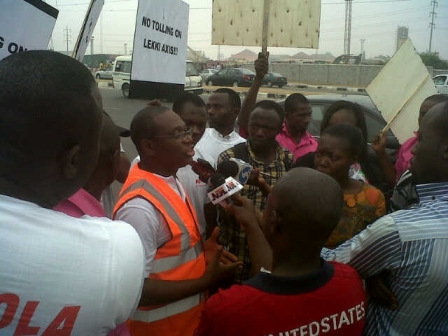 The marching began at about 10am with the police shepherding us to one side of the road so as not to obstruct vehicular traffic; by this time we were about two hundred people in number. During the short walk, we found ourselves talking about what had brought us there. Men, women, single and married folk all gave their views on the toll. Here was a melting pot of professionals and highly educated people contributing their two kobo to the issue. One married woman who resides in Ajah practically broke down how much the toll would cost her and her family every year – it ran into N400,000. I mean who was consulted? Where was the stakeholder consultations and management? What about the various taxes that we pay as residents of Lagos state, either directly or indirectly?  And it was not all about the "rich" Lekki folk, what about the poor among us that live in villages and face-me-i-face-you apartments all around the Lekki area, some as far as Awoyaya? They would have to eventually pay at three toll gates for a road that is only being expanded by one lane on either side. Some spoke of the poor quality of the road where it undulates at some points. There was a general feeling that we were being taken for granted by the LASG. It was a reminder of the draconian leadership experienced during the "dark" days of the military. I heard things about Gov. Babatunde Fashola's opinion of Lekki residents that I would not want to repeat.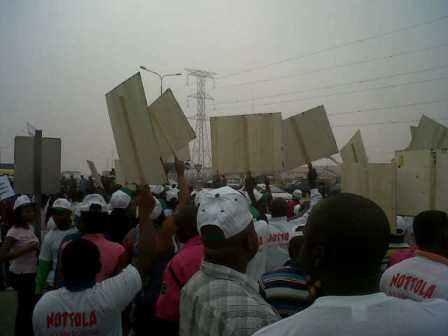 The women organised themselves and tried to form a collective. Before long students from the Lagos State University (LASU) joined us as they arrived in buses. In my opinion, their arrival was one of the turning points in the protest. You see LASU students had earlier in the week protested around their campus along Lagos-Badagry express road, against the hike in their school fees from about N30,000 to about N250,000. Now given their immaturity, students tend to be more volatile than the rest of us. Before long we found ourselves having to quell a few altercations between the police and the student members. At this point we had gotten to the toll gate and were summarily obstructed from getting to the booths by the armed policemen. We all sat down on the road at some point, this was where the confusion set in. We did not know what the next move was. Were we to cross over to the other side of the toll booths or were we to cross the road to the other side and head to the other toll gate under construction after Chevron Estate? Or were we to remain put? Meanwhile, one particular police officer was keen on goading the LASU student members. It was as if he wanted some "action", and action was what he got. Before we could say "Shoprite" the next thing we heard were gun shots. Some trigger happy policemen had begun to shoot in the air. But we stood our ground and refused to run away. While we were still standing, some policemen arrived in a Black Maria and jumped out looking to bundle the volatile students away. From then on things went bad. We instinctively started dispersing. Tear gas was now fired into the crowd and the protesters turned and ran back towards Lekki Phase One.
I held tight unto my wife's hand and told her not to run or panic. She was cool. As we were right in front of and in the midst of the policemen we were not affected by the tear gas. When the crowd had run a good distance away, we began to walk away slowly from the policemen. We had almost made it out of their midst when one cop tried to accost us. But thanks to quick thinking by our friend Ejike we were let go. He just shouted at the cops, "Can't you see she's not feeling well! We are taking her to the hospital jo!" Six years of secondary school education at the Nigerian Military School Zaria gave his voice the extra steel needed for the cops to change their minds about grabbing us. But around us people were being rounded up, mostly youths. We quickly crossed the road to the median trying to move away from the policemen. However, more canisters of tear gas were fired into the departing crowd and we eventually ran into it. I was blinded and choking like a wet cat, my first taste of teargas. We quickly wet our handkerchiefs to mitigate the effects of the teargas. I admit that my wife fared a lot better than I did with the tear gas as she had previously tasted it as a student at the university. The effects gradually wore off as we stumbled along the median. One of our members, a guy I remember from earlier took off his tee-shirt and cap and advised us to do the same. But that was not our last ordeal. A danfo bus driving against traffic on the Ajah bound lane screeched to a halt just in front of our retreating selves and a big man jumped out wielding sachets of pure water.  We were confused as he was right in front of us. Was he for us or against us? We soon found out as he began to throw the sachets at us. He missed me but unfortunately he got my wife square in the face. One girl beside us got slapped and her phone stolen by this tout of a man. But I am happy to report that she landed a good slap in return. We trudged on, now not knowing whom to be more afraid of, the police fast approaching behind us or the pro-Fashola NURTW members that had begun attacking protesters? We got blocked by the touts who wanted to "involve" us but we calmly pushed our way through with one of them telling the others to leave us alone.
We eventually got into Lekki Phase One estate where the residents and other protesters had retreated to. Mr. Soni Irabor was seen organising the security men to close the gates of the estate. We saw some of our comrades and licked our wounds with a reporter from Silverbird commending my wife for her bravery. Some people spoke of taking legal action against the LCC, ARM, the state government and the police. But now the feeling of being trapped began to get to us. We had to get out of Dodge! We were not residents of Phase One and still had a long way to go to get home down the express road. With the gates closing and traffic building up within the estate madam and I crossed over to the okada park and got on bikes to take us to the second exit gate. Just as we were leaving there was a stampede of people running away from the gates into the estate, car owners were seen reversing furiously. We eventually got a bus to take us home.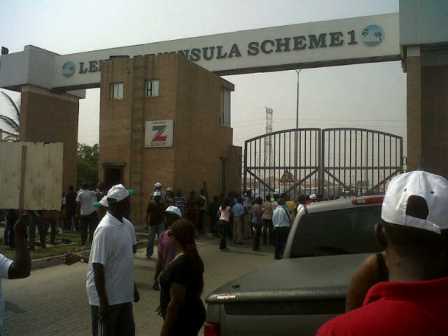 I write from the "safety" of my home. I was able to get a few tweets out chronicling the events with attendant pictures. Some people say that we were extremely brave, while some have called us idiots for taking part in a protest in a country like Nigeria. All I can say is that although Nigerians are perfectly inelastic when it comes to increased levels of oppression and suffering, there still remains a few of us willing to get off Twitter and Facebook and actually do something about the appalling survivalist and minimal living conditions that we are going to be subjected to by the government of this country. I am happy that the elite for once took the "fight" to the government. We are not unreasonable people, on the contrary we are very educated and enlightened, and so were the people of Tunisia, Egypt and Libya.
Allow me to end this by quoting the Manic Street Preachers, "If you tolerate this, then your children [definitely] will be next!"