Bake For Change, a charity group started by four friends, Nkemdilim Uwaje, Ngozi Coker, Ashim Uwaje and Stefanie Moh,  who decided to turn their passion for baking into a change making agent, has made great strides in touching people's lives positively with the several donations and projects the group has undertaken. With special attention to children and older people in government-funded homes for the less privileged and disabled, the group has reached hundreds of people with their message of love, a generous heart and warm smiles all the way.
It's always great to see young people giving back to their society, no matter how small. That is why at BellaNaija, we are so proud of the charity initiative, Bake For Change, which has consistently touched people's lives positively in various ways since it started. The story behind the commitment of the young ladies who started the group goes a long way to show that great things can be achieved and people's lives can be changed even with just a small dose of care and compassion.
Giving Back
Last Christmas was brought alive for lots of people in less privileged and special homes in Lagos as members and friends of the charity group, Bake For Change, visited some homes around the state to spread the Christmas cheer. Armed with lots of goodies and 600 gift packs on December 26, they visited the Special Correctional Center for Boys in Oregun where some boys from the Special Correctional Center for Older Boys, Isheri met up with them. From Oregun, the team headed down to Modupe Cole Memorial Child Care and Treatment Home School, Yaba, the Special Correctional Center for Girls, Idi-araba, and the Children Transit Home, also in Idi-araba.
For most of the participants, totaling over 30, the visits were very emotional as they were brought in close contact with the difficulties that people face as a result of their physical challenges, financial problems and societal influences. The '2011 Xmas Drive' was not the first Christmas project organized by the group. They made similar visits in December 2010 to Special Correctional Center for Boys, Oregun, Special Correctional Center for Girls, Idi-araba, The Children's Transit Home, Idi-araba and Old People's Home, Yabawhere they distributed 400 gifts to members of the homes and decided to do it again because of the huge impact it made.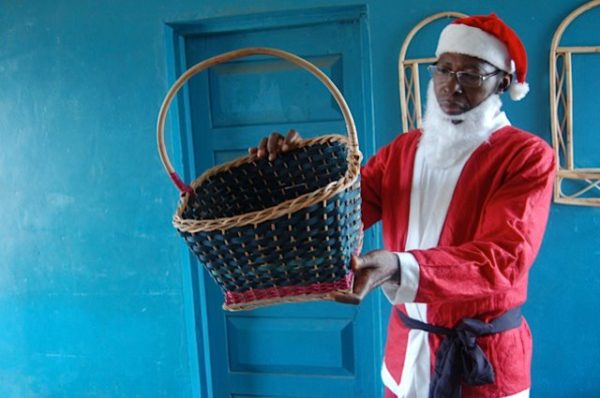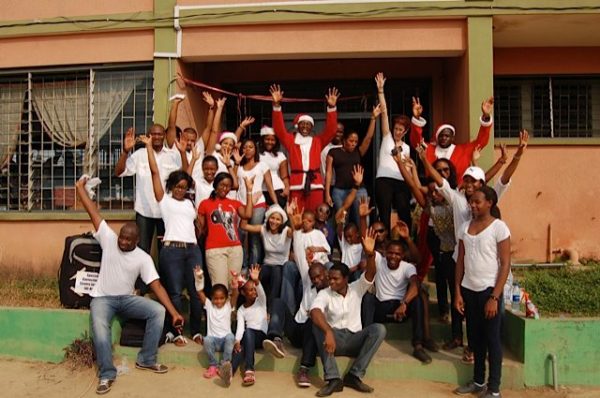 Bake For Change is also responsible for refurbishing the kitchen and dining hall of the Special Correctional Center for Boys in Oregun, a project which gulped over N1,000,000. This cost excludes items like paint, gas cylinders, furniture which were product donations by companies and individuals. The labour costs were also discounted as some of the boys at the home took up some tasks themselves.
The group has also organized some spelling bee competitions, and donated over 2000 books to some of these homes in Lagos. More recently, they helped raise donations in cash and kind for the father of triplets who lost their mother a few days after their birth.
Recalling how the group started, Ngozi Coker said that it was formerly just a simple baking group where four friends who loved to bake got together to bake different items on weekends. "It came from an idea," Ngozi said. "Kemdi threw a surprise party for Ash and I on the 19th of June, 2010 and she baked a cake. And I said to her that we should start a baking group where we'll bake, each of us should host a baking session and after each session we would write out the recipe of what happened that session and collect it together and at the end of 12months, we would have a baking recipe book that we can sell and the proceeds will go to charity." However, the idea grew bigger because they noticed that whenever they got together to bake, they had lots of left over and so decided to take them to charity homes along with other provisions every other month.
The first major project they undertook which was refurbishing the kitchen and dining hall of the Special Correctional Center for Boys, Oregun, came out of a desire to see the boys cook and eat in more decent condition. "It was nice that we were taking them treats, and taking things that people usually would not take, but we noticed that some of these places are really run down," Ngozi said. "How do you call kids to come together to come and have cake when where they are sitting is really really run down. One of such example is the Special Correctional Center for boys in Oregun. When we went there, we felt really bad about how the dining room looked and said we had to do something about it. We saw the boys cooking on the firewood outside and we asked for their kitchen and they said they didn't have a kitchen, that they cooked outside. That is how we started, and said we want to refurbish the dining room for the boys. We thought it would be a small project, we thought we would change the floors, change the furniture, change the fans. We didn't realize how much it would all cost. At that time there were about 160 boys in the home. When we started doing it, we thought we might as well also put in a kitchen for them. So we put in a kitchen with industrial gas burners and also we were able to get a donation of one year gas supply for the home."
While she admitted that raising the funds for the project was more difficult than they thought because it was more expensive than they bargained for, she noted that lots of people who got to know about the group through their Facebook page and Blackberry made surprising donations which led to the completion of the project. The group's activities, she said, has expanded tremendously with the help of donors, supporters and volunteers commissioning projects aimed at spreading love and improving the standards of the facilities that are dear to the group.who have given their time, money and resources to projects aimed at spreading love and improving the standard of facilities that are dear to them.
The group also intends to refurbish the kitchen at the Special Correctional Center For Girls , Idi-araba and put in industrial baking ovens to make baking an actual vocation for the girls as part of its projects this year.
Motivation 
Ngozi works as a Brand Manager for Procter and Gamble, Lagos has a Masters Degree in Marketing from the University of Saint Andrews, Scotland. For her, Bake For Change is not about the founders, but about the impact it can make on people's lives and would be very happy to see other people replicating the idea by doing something that they love to do with their friends for charity. "Anybody who is able to replicate the bakefor change idea with anything that they do with their friends, that for me would be gratifying," she said.
Ashim Uwaje works in Project Management (Finance) at Standard Chartered Bank, Lagos and studied International Business & Finance at Munich Business School, Germany. She says, "reaching out and giving back to the less privileged in our community is at all times inspirational. You meet these kids, teens and young adults that have gone through so much struggle, hardship and many times abuse in all forms, you hear their heart-breaking stories – and you realize they still smile." Having completed a diploma degree in Child Care before studying Business, Ashim said "to really have an impact on someone else's life, you must donate your time."
Nkemdilim Uwaje who studied Bioinformatics IT at the Ludwig Maximilian University and Technical University, Munich, Germany and now works as the Consultant Managing Director of Future Software Resources Limited, Lagos said what drives her passion in the group is "the knowledge that even if you cannot do great things by yourself, you can do many little things with love and they touch people just as much as the great things. It's the smiles, the laughs, the hugs and the "Thank you aunty" that I get from the kids we impact that gives me the highest level of fulfillment imaginable."
Well done ladies!
For more information on how to donate to this group, visit their Facebook page – www.facebook.com/bakeforchange