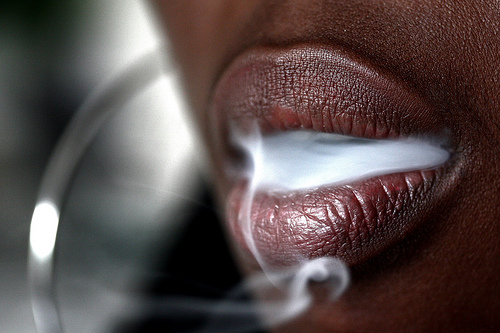 "You're deceiving yourself Glory. There's no step by step with guys like this, it has to be surgical. You cut him off, like a bad appendix. Pull him out, like a rotten tooth. Turn away and don't look back."- Omo
It started during the Occupy Nigeria movement. While the whole country was embroiled in a bitter struggle over fuel subsidy increase, I was involved in a different struggle of my own. Boredom. So in the evening, my cousins and I, took a trip down to a popular spot on the Island, sipped on a few glasses of alcohol as we looked into the Lagos skyline. That was how I met him. He was a friend of a friend and as soon as my eyes caught his, I felt like a deer trapped in headlights. I couldn't stop staring, and as the night progressed my eyes would linger for longer than required on him. His small eyes, the way he squinted them and tiled his dark well shaved head backwards anytime he laughed or the way his bottom lip pouted ever so slightly when he smiled.
The night ended and we exchanged details. The following afternoon, I received a friendly text from him, I replied and before long we had arranged to meet the following day. And so began my voyage into the abyss of reckless abandonment. Phone calls, bb chats, dinners, house visits, augmented with my day dreams of him and the lingering sweet memories of our previous visits. Without knowing it, I had leapt into the wind without a parachute, I was free falling without any indication of a soft landing underneath. And as with all ill thought out plans, only in the midst of chaos do you begin to realize how vulnerable you've let yourself become.
Perhaps it was somewhere in-between the soft kisses he planted on my forehead or the way he would put his hand on the small of my back or how he would gently place fraying stands of my hair behind my ears….or maybe it was the way he looked at me after the first time we kissed, I am not sure, but somewhere in between these saccharine drenched moments, I had lost myself and if I am honest I wasn't particularly sure I wanted to be found. The only problem was, if I had bothered to stop long enough to allow my brain to do any thinking besides counting down the seconds to our next meeting, I would have realized the truth. I had emotionally invested in a venture that didn't exist. I had put a down payment on a fictional relationship, that only involved one party – ME. Slowly I began to realize that I was the one doing all the communicating, always asking when next we would meet, always wanting to know how his day was going, always wanting to be part of his day, and him never really committing one way or the other. Perhaps I should have seen the signs when he showed up 6 and a half hours late to our date, or the time we had planned to meet up one evening and he casually forgot or the fact that he only called me once a week – on Friday nights.
The truth is, he isn't to blame. He had been honest with me about where he was emotionally, but I didn't hear him, or maybe I did, but choose to believe something else – I am unsure which it is. But after the last two weeks of emotional ups and downs and staring at my phone waiting for any pittance of communication from him – I realized the inevitable "he just wasn't that into me". Those are literally the 6 most painful words any woman has to admit to herself. But if we are honest, and can manage to look beyond the veneer of make believe romance we have concocted, we would see the flashing neon signs ahead of time. I know what it feels like to have a man interested in me-he usually calls me frequently, doesn't show up late to dates neither does he casually forget pre-arranged dates.
So after the dissipated euphoria of seemingly great conversations over good food, the unfulfilled expectations of weeks of day dreaming, and the steady increase in the painful knowledge of unrequited feelings, I decided to speak to my trusted confidant Omo. At first I thought I called Omo because I wanted a step by step guide on how to come out of this emotionally bankrupt situation but in reality, what I was looking for was another man to validate my experience of the last month. I wanted Omo, to tell me to be patient, to wait it out, that somehow 'my man' would come around and everything would be okay. He didn't. Instead he gave the same advice doctors give smokers who have discovered a malignant lump on their lungs – Surgery. In order words, cut him off or be prepared to 'die' from the consequences sooner or later.
So here I am, my fingers flirting with the delete button as his contact details stare me boldly in the face. The procedure is clear, cut him off and move on but as any smoker knows, going cold turkey is probably harder than performing the surgery itself. Like an addict, I want one more drag. One last phone call, one last kiss…. one more day and maybe tomorrow we can have the surgery and I'll be strong enough to finally quit.
Photo credit: http://www.blackhealthzone.com