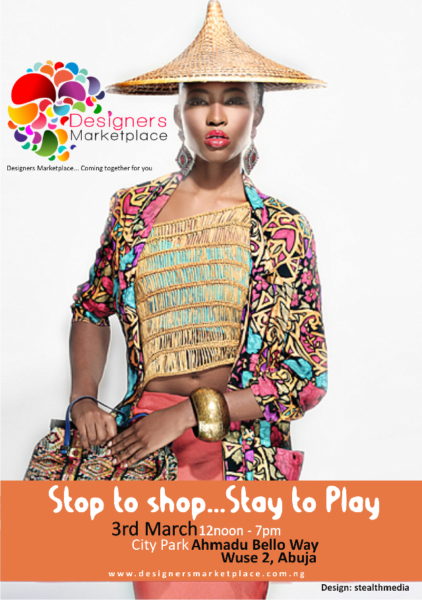 It is finally here! The anticipated sensational Abuja shopping fiesta  – Designers Marketplace will take place on Saturday 3rd March 2012 at City Park, Abuja.
This edition kicking off at exactly 12 Noon will see the Nation's capital city – Abuja come alive to the sights and sounds of eager vendors exhibiting  various goods and numerous services while attendees shop from stand to stand.
Here is a list of  the vendors that will make you spend every Naira you have on you;
Fati Maida | Hand Made Jewellery Services |  Seams | Heart of Africa | Touch of Michelles | Lihwan | Alfa Showers | Purple Lace | Make Believe | Joint Cross | Flips | Sarah Mayen Designs | Jewelry House | Bambino and many more.
There will also be on sale, a wide a selection of cakes, cocktails, hot food, smoothies and lots more by food vendors which include Eetsumore Abuja, Strawberries and Cream, Les Hors D'oeuvres Manifique, Tuv Events, iBlend Services, Essences, Faeis Pastries and Panaderia (The Cinnamon Roll Specialists) and more.
So be sure to arrive early with your friends and family in grand style as the organizers are searching for attendees with style to be the "Look of the Month". The winner will get a N 10,ooo Gift Voucher to shop for items at the venue. To see February's winning look and photos, log on to their Website – DesignersMarketPlace.com.ng
It's going to be a fun day of fabulous shopping for  high street and designer clothing, accessories, footwear, household items, childrens clothes and toys and more with lots of great music because DMP is coming together for you!
See you all there!
Date: Saturday 3rd March 2012
Time: 12 Noon – 7 PM
Venue: City Park, Ahmadu Bello Way, Wuse II, Abuja
Contact: For more info and general enquiries Call 08038580295 | Email [email protected] | Follow them on Twitter @DMP_NG | Check out their Facebook Page | Log on to their Website
Words by Samantha Dimka, Edited and Reviewed by Damilare Aiki
________________________________________________________________________________________________________
Sponsored Content