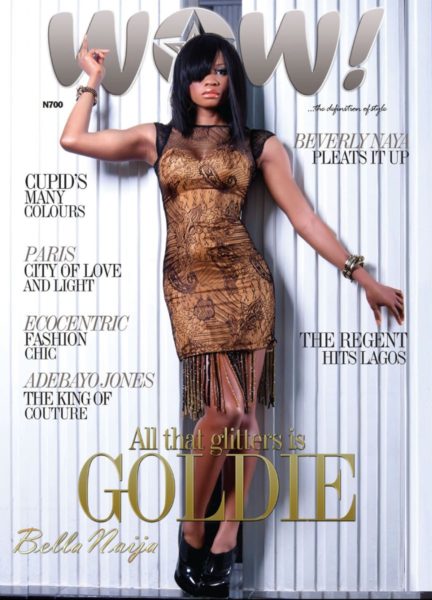 WOW! Magazine set the pace with their boundary pushing magazine covers in 2011. After their 2012 kickoff issue featuring Mercy Johnson, for their February 2012 cover, the WOW! team chose Nigerian music diva – Goldie!
Once again, they have "flipped the script" replacing her trademark blonde locks with a black mane. Goldie who is currently promoting her "Gold – Reloaded" album opened up to WOW! 's editor on variety of topics including her career and personal style.

Also check out the WOW! Magazine style pages for fabulous Nigerian and international fashion.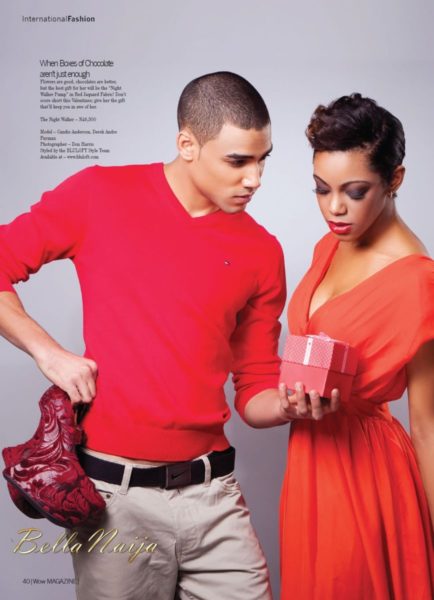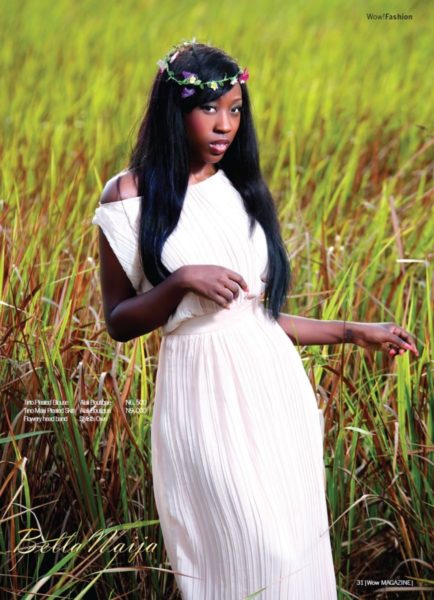 Credits
Cover Shoot
Photography: Moussa Moussa
Styling: Ezinne Chinkata
Make-up: Banke Mashida-Lawal for BMPro
Hair: Bayo for Gorgeous
Interview: Shile Shonoiki
Clothing:
Gold Dress with Tassels by Toju Foyeh
Hand Cuffs and Earrings by Ruby and Pink
Black Shoe Boots by Uptown Girl
Location: MannyxVille
Fashion – Cupid's Many Colours
Model: Candis Anderson, Derek Andre Furman
Photographer: Don Harris
Styling: The BLULOFT Style Team – www.bluloft.com
Fashion – Ecocentrically Chic
Photography: Kola Oshalusi
Styling: Ezinne Chinkata
Make-up: Chi Chi for faceville
Hair: Bayo for Gorgeous
Model: Annette Begg
Clothing:
Fully Embellished Baby Doll Dress with Multi Cross Strap at the Back – EreDappa
Head Piece: EreDappa
Location: Aralia by Nature
Fashion – Pleat It Up!
Photographer: Moussa Moussa
Stylist: Ezinne Chinkata
Make-up: Dami for BMPro
Hair: Mary for Gorgeous
Model:Beverly Naya
Clothing:
Tino Pleated Blouse – Alali Boutique
Tino Maxi Pleated Skirt – Alali Boutique