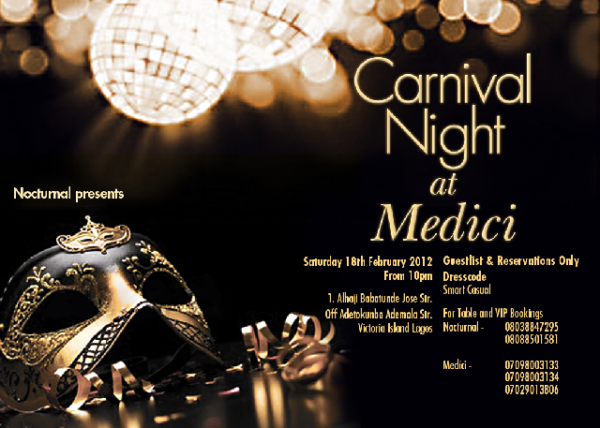 On Saturday 18th February 2012, Nocturnal Entertainment & Veuve Clicquot Ponsardin will be throwing an exclusive VIP party at the Medici.
The event tagged "Carnival Night" will surely be a splendid and fabulous one for all as attendees will get discounted Veuve Clicquot Champagne and complimentary shooters as well as Hors d'œuvres from the acclaimed Medici kitchen. Guests can bring along a date or dates and are advised to dress their best as a strict dress code will be enforced – Men (Business Casual or Traditional) | Ladies – Glam Up nicely.
The Membership club and guest list continues to grow, so to attend this guest list only party send an E-mail with your full name and phone number to [email protected]gmail.com and follow them on Twitter @i_am_nocturnal and be sure to arrive early.
The Nocturnal Entertainment team will like to thank those who celebrated the opening night with them and they promise to make "Carnival Night" a better and fun filled event. Table and VIP Bookings  are highly recommended, for more info on this Call 08038847295 | 08088501581| 08162808545 | 07098003133 | 07098003134 | 07029013806.
See you all there!
Date: Saturday 18th February 2012
Time: 10 PM
Venue: Medici, No 1 Festival Road (Former Alhaji Babatunde Jose) Off Ademola Adetokunbo, Victoria Island, Lagos
_____________________________________________________________________________________________
Sponsored Content