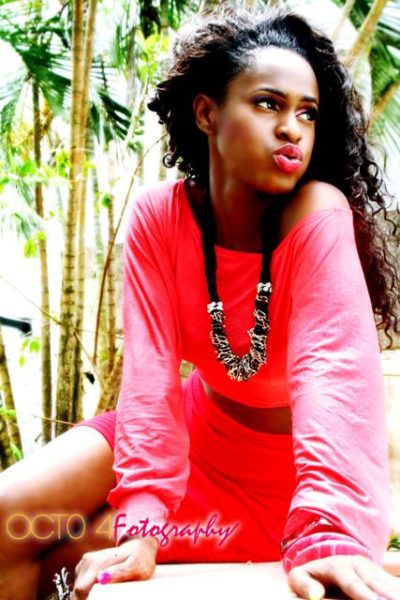 Whenever the young and intelligent Yvonne 'Vixen' Ekwere gets in front of a camera and she charms her audience easily. She started off her career as a TV presenter at an early age of 21 after being a co-host on a radio programme for a year. Now aged 25, she has matured in the profession and is the recipient of several awards including the Dynamix All Youths Awards- TV presenter of the year 2010, ELOY (Exquisite Lady Of the Year) Award- TV personality of the year- 2011 and FAB Award- TV personality of the year 2011. She is the Entertainment News producer and presenter of E-Weekly on Silverbird Television. But aside from TV, she is quite versatile and has done some modeling, stage presenting and music video appearances. She speaks to Adeola Adeyemo in this exclusive interview on various aspects of her life.
Having witnessed only a few photo shoots myself, the one I chanced upon at my meeting with Yvonne grabbed my attention and even though I had to wait more than a few minutes for her to strike different poses in front of an ever-demanding photographer, it was an interesting wait. With clothes, shoes, make-up and jewelry strewn all around the place, Yvonne was in her zone as she changed look after look to the delight of the photographer who kept clicking away. When she was through, the 'Vixen' and I sat down to chat and for someone who has conducted countless interviews herself, our conversation flowed easily.
Childhood, Growing Up & Self-Discovery
Did you grow up watching a lot of TV?
Obviously, as a child, every child would be glued to the TV either watching cartoons or watching those children shows, but I would not say I was a TV addict, I would say I was a radio addict because I love music. I can't survive without music. I grew up listening to a lot of radio, listening to local radio stations. I would have my ear phones in my ear listening to my walkman for hours.
As a teenager, did you have any idea of what you wanted to accomplish?
I used to deceive myself into thinking that I wanted to be a lawyer. I was a rebel in high school. You couldn't tell me sit down and I would sit down there, I would tell you why I don't want to sit down. I used to argue a lot and I thought naturally I would make a good lawyer but I didn't know what I wanted to be. I knew I was talented somehow because I used to teach dance, I had a choreography group where we would sneak out of class and I would teach them how to do different dance routines, so I thought I could be a dancer but I never had any idea I would do anything in showbiz.
You were a radio presenter before coming on to the TV screen. How did you get into radio?
There was this show called the dance party hosted by Wild Child now known as IK Osakioduwa. It was this hilarious, fun, exciting drive time radio show on Rhythm 93.7FM and I would always tune in every week to listen to him. One particular day, when I called into the show, he said I should come on the show that I had won a spot as a co-presenter. When I got on the show, I was nervous but I was just a natural talker; I would flow with him and engage the audience and the audience was impressed, he was impressed, and that is how I became his co-presenter alongside Chinedu Iroche. We did that for about a year from late 2007 to 2008.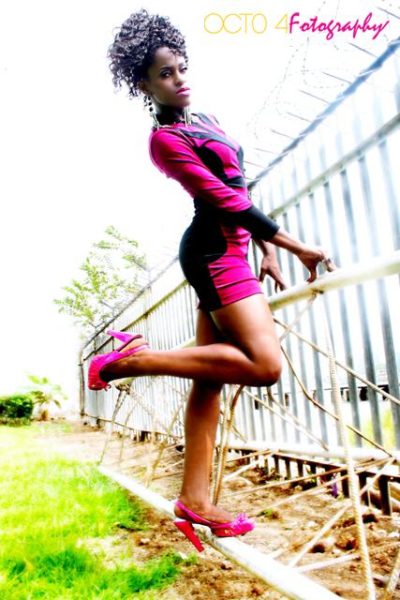 How did you move on from radio to TV?
It was while I was on radio, a staff of Silverbird said "since you are this good on radio, there is an opening for a TV presenter so you should come out and try the audition". I was reluctant about it because I had never been a TV person but after much persuasion, I went. At the audition, I was wack (for lack of a better word). I was the wackiest person in that hall that day, so I thought. But then I got a call later on to say I had gotten a job as a presenter for E Weekly and I was in disbelief, but I was excited. The rest like they say is history.
Did you go through any formal training before you presented your first TV show?
I did not go through any formal training.
What then did you study at the University?
I studied part-time History and International Relations at the Lagos State Universtiy, Lekki Campus. I didn't necessarily like it that much because it was not my thing. At the time I was leaving high school, at Holy Child College, I wanted to study Creative Arts because I love to dance, I loved people looking at me, that is what I wanted to to, but because society and parents said you have to be a Doctor, or Engineer, or something like that, I opted for Law but it didn't work out so I went in for History and International Relations.
Were there any presenters you remember watching when growing up that influenced you?
Oprah is a major source of inspiration to me. She has been through a lot and she still inspires people. She has been very instrumental to the success of a lot of people and she is a philanthropist.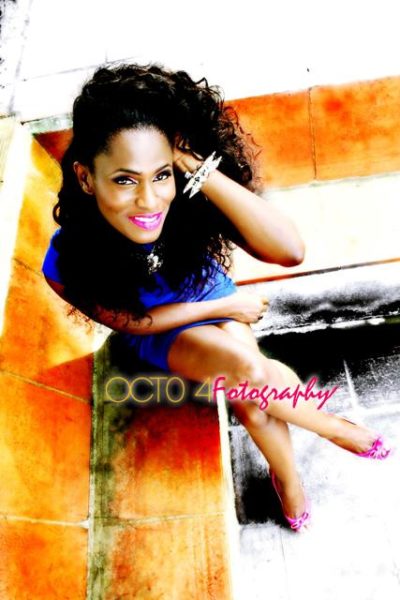 The Big Screen
Tell us how you hosted your first TV show and how that felt?
It was nerve wracking. I didn't know whether to look at the interviewee, or to look at the camera, or the producer. I had my little piece of paper with the questions written down and every now and then I would look at the piece of paper when the camera wasn't on me and ask my questions. My first interviewee was the then Most Beautiful Girl in Nigeria, Adaeze Igwe. I was nervous as hell but I went through it.
How old were you then?
I was 21.
What is the worst thing that could happen to you while presenting a show or interviewing someone?
On set, I am very spontaneous, anything could happen. I can decide to crawl on my head, I can decide to run around the red carpet but the worst thing that could happen is that while I'm doing that in my 'theatrical mood', the camera man is not filming, I would drop dead. And guess what, I'm not dead because that has happened before and I was very upset.
What happened then?
I was interviewing Tonto Dikeh. I was doing my thing, enjoying the interview, we were engaging each other. And when I was done, I did my sign out, said "thank you for watching, goodbye" and all of a sudden, the camera man said to me, " can you take that all over again, I wasn't recording". First of all I froze, and then the next thing I saw around, I flung it.
For other people aspiring to become TV presenters, what would you say is the most important thing to consider?
The most important thing is to know why you want to become a TV Presenter.  If you do not have the natural God- given talent to speak to people and engage them in front of a camera, then I'm sorry, TV presenting is not for you. I also would advice anyone who wants to do that to be humble because the media would paint all sorts of pictures. It can misrepresent you but at the end of the day, if you are humble, the real you will reveal itself.
What has been the drive for you?
The drive so far has been being a source of inspiration to a lot of people. I have had people come up to me and say they love what I do and that inspires me to continue doing that.
When you feel down and you just have to present a show, how do you transmit positive energy despite your mood?
That is how I know I'm a good actress. I don't know what magic the camera lenses have on me but once we start recording, I'm a different person regardless of what has happened. I always bear it in mind that there are thousands of people who are watching me so I don't give them the opportunity to see me in a very bad light.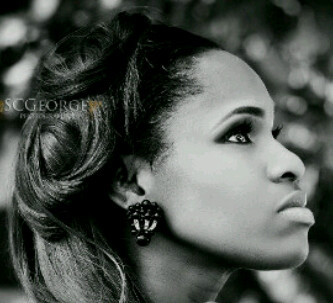 Looking into the Future
Do you ever get worried that you would one day lose your touch or maybe become boring to your viewers?
I never worry about that because I'm naturally gifted. Nobody can be like me. I'm not trying to sound arrogant but you are unique, and no matter how hard I try, I can't be like you. So even if a new person comes on, nobody can do it really like you. The best connection is to be yourself. Those who like your personality because you are showing off the real you will like you anyway.
What new projects are you working on?
I've been approached to do a couple of roles in a few movies so I'm looking to start acting soon. But I've recorded a few songs and that is where my heart is drifting towards now, music.
From TV presenting to Music, why the drift?
Music has always been my first love. It is something that I'm going to try out now because I have the talent. I am a singer, I love to rap. My first rap song was written when I was 17 and I recorded it and it was produced by Freestyle of Trybesmen then. I easily could have become the Mo'Cheddah of that era but I never released it because I was nervous and I never want to hear it again because I know I sounded like crap.
When should we expect to have a taste of your musical abilities?
I have recorded a few collaborations that won't be out anytime soon but definitely it would be out before the end of the year.
Which musicians did you work with?
(Laughs). I'm not going to tell you. You would have to wait.
What genre of music should we be expecting from you?
I'm very versatile. Expect urban reggae, soul, hip-hop, techno, but most of all expect good music.
You're taking quite a big leap you know. Are you prepared for this?
It would be a big leap that I hope would work out but then again, it's something I've always wanted to do. Before I started TV, I'd always pictured myself in front of a loud crowd, with a microphone, singing. It's something I know would work out and I have a lot of friends in the industry who are willing to work with me so it shouldn't be a problem.
Love, Family, Life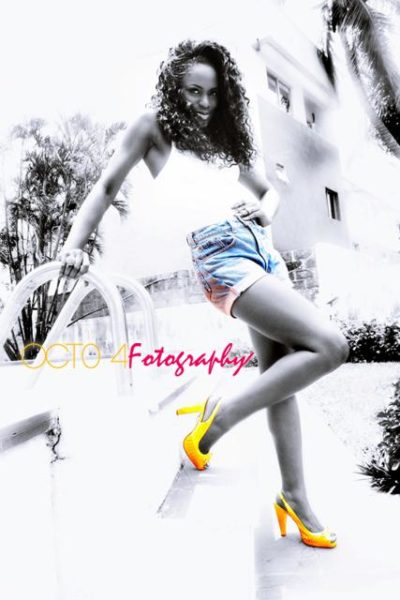 You are already a force to reckon with as far as media goes at what most Nigerians would refer to as a tender age. How did you achieve that?
I owe it all to God, I don't have a logical explanation because I never planned to be where I am today. It's just been God's grace, not my doing because he has given me the talent and he has opened doors for me. I'm still in school. That in itself is tough but it's a choice that I've made and I must continue.
Was there someone early on who gave you a big break in your career?
My big break was IK, because if he hadn't put me on radio, nobody would know who I am. Maybe God would have sent somebody else but God sent him at that particular time and so I owe a huge chunk of my success to IK.
You have been an active voice for the NGO, BornTroWay. What inspired that?
It's actually not my NGO. It is run by an Italian friend of mine. She is a humanitarian and I thought since I had the ability to speak to people as a TV presenter, why not try to help people. BornTroway is a local term for waste and I believe that no individual is useless regardless of your family background or social status. It is about going into marginalized areas in the country; the ghettos, trying to seek for youths who have talent and helping them to harness that talent.
How do you manage your love relationship under the glare of the media spotlight?
I keep my private life very private. I'm not in the Showbiz industry to show off. I'm not going to talk about him because I don't want you guys looking out for him every time. But yes, I am seeing someone.
What is your family like?
We are entertainment inclined in my family and so I naturally drifted towards things like music, acting, making jewelery because I maked beaded jewelery too. My second cousin, Liz Benson is an actress. She has been a major source of inspiration to me. My grandparents were music enthusiasts. My mother, I think she was the one who pushed us all into music. She made five of my sisters form a musical group and we had our very first concert at the Muson Center in an era where there weren't many shows. I performed for the very first time at the age of 7. I sang 'Jesus loves me'. I'm the seventh child.
You once featured in Goldie's video. What was your role in it?
The song is called "You Know It". I was the girl who got her boyfriend snatched by Goldie and I was very upset in the video. I attempted to slap her but it never happened.
You have a very vivacious fashion style. Does it come from the demands of your job or is it a personal thing?
Style is personal for me. I've always been stylish one way or another. My mother and grandmother are very stylish women and I think I got style genes from my grandmother precisely.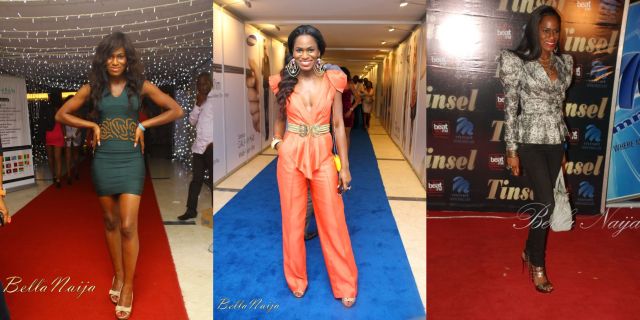 What dictates your style?
My mood. I'm very versatile but at the end of the day, whatever I'm wearing has to be classy, very memorable and there has to be a touch of vintage because I like things from the past era a lot.
Are you a label person or a 'whatever fits' person?
Nope, I'm not a label person. Labels are just names of people who don't know who I am; I'm making them richer by the day. But if the quality is not in tune with my standards, I will not wear it. Anything that fits my taste is fine by me.
Why do you choose to be known as 'Vixen'?
I used to get a lot of good compliments about my eyes so when the opportunity came to give myself an alias, I thought I should give myself a name, I thought of a female fox, Vixen, which is a very sexy animal with intense eyes.
What is an average day like in the life of a TV Presenter?
It's very glamorous so we are very eager to be away from all the cameras. It is sometimes chaotic; you have photo shoots, recordings, you have to be in studios for a voice over, you have to interview people, but at the end of the day, it's a lot of fun.
Modeling is something you have been linked with. How did that come about?
I've modeled for two fashion brands, Zebra and Aduke. The owners are very good friends of mine so I decided to grant their requests to model their clothes.
How do you keep in shape?
Work keeps me in shape. I'm always up and about, long hours, I don't sleep well, I don't eat well, but then I try my best to do my own personal routines. I take long walks and I do dance burn outs.
What would someone find weird about you?
That I'm an introvert. When I'm done with all the glitz and glamour of showbiz, all I want to do is stay indoors. I don't like too many people around me. This is 'Vixen' talking to you now. Once I'm done i'm 'Yvonne', another time I could be 'Rasheeda'. Rasheeda is the razz one.
How lucrative is TV Presenting?
It has been lucrative in the sense that I've been awarded a few accolades. But with regards to finances, it's not as lucrative as other professions in the industry. A TV presenter cannot earn the same as an actor, or a top model. But then again if you are the kind of talent that the industry wants, they will pay a leg and an arm for you to work with them. But you have to climb the ladder up.
Yvonne 'Vixen' Ekwere in Goldie's Video

Yvonne 'Vixen' Ekwere in interview with Funmi Iyanda