Hello Nigeria, Africa, World and How are you doing? (Wendy Williams Style)
We hope you are doing Great. It's Thursday and we at BN are super-duper excited that you are here to share this lovely day with us once again.
If you are new to this site, its that day of the week when Africa's pacesetter for all things Entertainment, Fashion, Lifestyle, Music and more – BellaNaija brings exclusively to you some of the hottest places, venues, hangouts and events to be spotted with the one's you love this weekend.
From the city that never sleeps – Lagos to the Nation's oil rich city – Port Harcourt, all the way to the Nation's Capital city – Abuja, BN has got you covered. So sit back, relax and see for yourself the must attend events taking placing around you.
We believe that you are great and in this life you will do great things, in your pursuit for happiness, try and make it a point of duty to help somebody out either with your money, time, clothes or more.
We LOVE you all!
Ciao!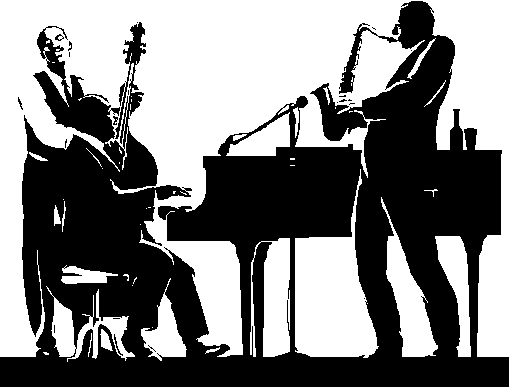 Experience Music & Comedy Live at SS Lounge
Enjoy your evening in style at the SS Lounge for Live Music and Comedy. Attendees will get to enjoy the best of Nigerian music by The Sharp Band and laugh all night long to rib cracking jokes by some of the federation's funniest comedians.
Date: Thursday, 26th April, 2012
Time: 7 PM
Venue: 7 Sapara Williams Close, off Idowu Martins Street, Victoria Island, Lagos
________________________________________________________________________________________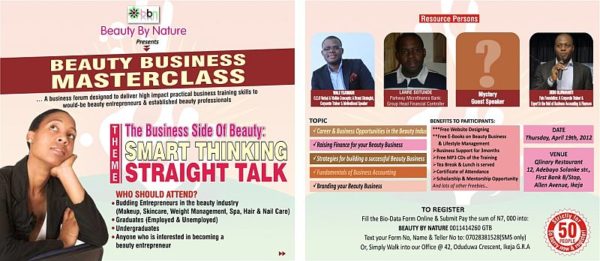 Beauty by Nature presents Beauty Business Masterclass
Beauty Business Masterclass is a business forum designed to deliver high impact practical business training skills to would-be beauty entrepreneurs & established beauty professionals. This event themed 'The Business Side of Beauty: Smart Thinking, Straight Talking" will take place today. The event is for budding Entrepreneurs in the beauty industry – Make-up Artists, Skincare Consultants, Weight Management Consultants, Spa Managers, Hair Stylists and NailCare Technicians, Graduates, Non-Graduates and any one who has a flair for beauty. For payment details, be sure to get in touch with them.
Date: Thursday 19th April 2012
Time: 8 AM – 5 PM
Venue: The Qlinary. 12, Adeboye Solanke Street, Allen Avenue, Ikeja, Lagos
Contact: For more info and general enquiries, Call 08032432924 | 08037530184 | BB Pin 22CB79BB | E-mail [email protected]
____________________________________________________________________________________________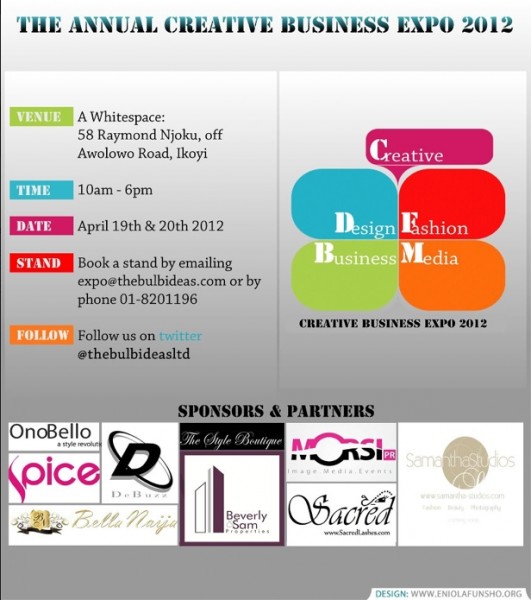 Creative Business Expo
This Thursday, the city of Lagos will see the 2012 edition of Creative Business Expo – a hub for emerging creative enterprises to network, market their products & services and learn the rudiments of business from leading experts and the new generation of entrepreneurs as they talk from their own experience within their respective fields.This expo organised by The Bulb Ideas Group will see these leading experts – Olisa Agbakoba (SAN), Frank Halim, Lola Maja-Okojevoh, Amaka Obanya, Orighoye Dore, Aisha Augie-Kuta, Lily Ayeni, Tope Williams, Tolu Ogunlesi and many more speak on legal matters, marketing, creative branding, film make-up, beauty and more. Admission is free for all but you have to RSVP by logging on to their Facebook Page -, liking it and informing them you will like to attend. To order for stands, be sure to contact them.
Date: Thursday 19th April – Friday 20th April 2012
Time: 10 AM – 6 PM Daily
Venue: 58 Raymond Njoku, off Awolowo Road, Ikoyi, Lagos
Contact: For more info and general enquiries, Call  018201196 | 08079976249 | E-mail [email protected] | BB Pin 21890D15 | Follow them on Twitter @thebulbideasltd | Check out their Facebook Page
____________________________________________________________________________________________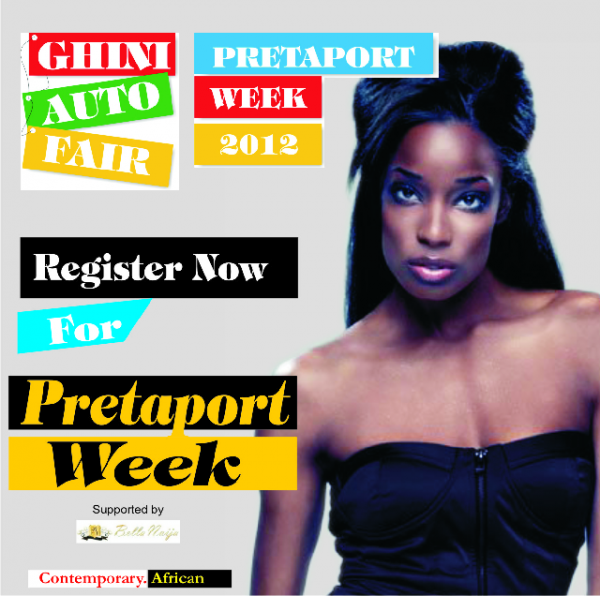 Pretaport
Lagos will see the launch of a new concept – Pretaport this Friday. Pretaport will feature ready-to-wear pieces by leading African designers. All efforts have been made to ensure that all fashion brands featured in the Pretaport event produce high quality clothing sold in standardized sizes. This event is a must attend for fashion designers, stylists, fashionistas and media organizations. During the 2012 PretaPort Week, a fair featuring the best brands in automobile industry with quality representation of their latest models of cars – Ghini Auto Fair will run concurrently with PretaPort Week 2012.
Date: Friday 20th – Sunday 22nd April 2012
Venue: The Lamboghini Event Centre, Lekki, Lagos
Contact: For more info and general enquiries, Call 08023038017 | 08095478699 | 07087476864 | E-mail [email protected] | [email protected] | Log on to the Official Website of Pre ta port Week 2012
_____________________________________________________________________________________________
Burna Boy Live
The Nation's oil rich city – Port Harcourt just got interesting as event organizers – Aristokrat Live is exclusively inviting you to one of the hottest event taking place this Friday. It's the Burna Boy – a unique show that will see Davido, Sauce Kid, W4, Mr Wonda, Los, Danas and many more perform some of their hit tracks. Funny man – Julius Agwu will host the show. So tell your friends, because this event is one not to miss.
Date: Friday 20th April 2012
Time: 6 PM
Venue: Pin Place, 39 NTA Road, Port Harcourt, Rivers State
Ticket Price: Regular N 3,000 – N 5,000 | VIP N 10,000 | Backstage Passes N 50,000 | Table N 200,000
Contact: For tickets, table bookings and general enquiries, Call 08038880136 | 08136395882 | E-mail [email protected]
___________________________________________________________________________________________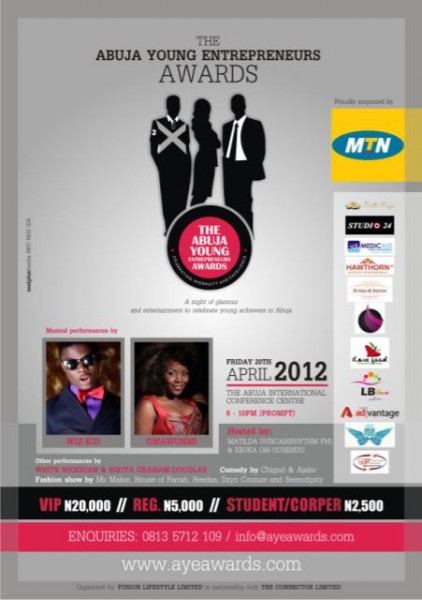 Abuja Young Entrepreneurs Awards (AYE)
The maiden edition of  The Abuja Young Entrepreneurs Awards (AYE Awards) aimed at honoring and celebrating young and outstanding individuals in the nation's capital city, will finally take place this Friday. The event which is described by the organizers as a night of glamour and entertainment will be hosted by Matilda Duncan of Rhythm FM  and the very dapper Ebuka Obi-Uchendu. There will be musical performances by Wizkid, Omawumi, White Nigerian and Bikiya Graham-Douglas. Also scheduled to make appearances are comic acts – Chigurl and Ajebo. This event will also see a mini fashion show where Dzyn couture, House of Farrah, Ms Makor, Reedas and Serendipity will showcase some of their most creative pieces.
Date: Friday 20th April 2012
Time: 6 PM – 10 PM
Venue: The Abuja International Conference Center, Abuja
Ticket Prices: Students & Corpers With I.D N 2,500 | Regular N 5000 | VIP N 20,000 (Table of 8 – N 140,000)
Ticket Locations: Asokoro – Dzyn Couture, Asokoro Mall, TY Danjuma Crescent, Abuja | Maitama – Studio 24 (Opp. Transcorp Hilton), Frutta Ice Bar, 3 Salt Lake Street , off Usuma Street, Maitama, Abuja | Garki – Hawthorn Suites, Beside Sahad Stores, Garki, Abuja | Wuse II – Medicaid Diagnostics, 3 Libreville Street, off Aminu Kano, Street, Wuse II, Abuja |  Brides and Babies, 130 Aminu Kano Street, Wuse II, Abuja | The Nail Bar, 124 Aminu Kano Street, Wuse II, Abuja | Just Unique, K-City Plaza, Wuse II, Abuja | Exclusive Stores, Wuse II, Abuja | Studio 24, Adetokunbo Ademola Street, Wuse II, Abuja
Contact: For more info and general enquiries, Call 08098389882 | E-mail [email protected] | Follow them on Twitter @ayeawards | Check out their Facebook Page | Log on to their Website – AyeAwards.com
_________________________________________________________________________________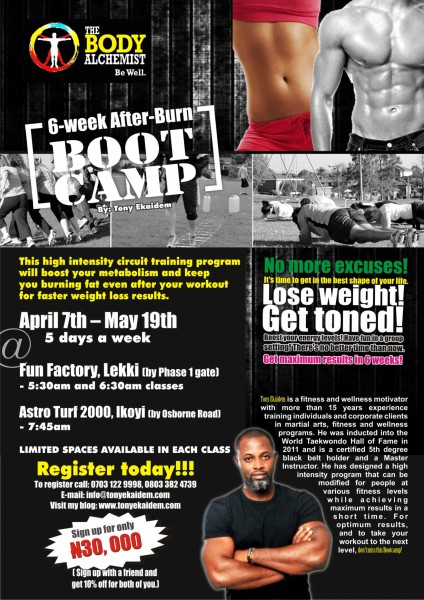 Stay in Shape and Get a toned body this 2012 at the Body Alchemist 6 Week  "After Burn" Boot Camp
Another day, another month and yet another exciting way to lose weight and get a toned body this 2012. Register today for The Body Alchemist 6 Week  "After Burn" Boot Camp – a  highly intensive circuit training program set to boost your rate of metabolism and keep you burning fat all day long. This boot camp is organized Tony Ekaidem – a master instructor of World Taekwondo and a consultant on self defence and unarmed combat for security companies and other corporate bodies. For payment details, be sure to contact them.
Date: Saturday 21st April 2012
Time & Venue: Fun Factory, Lekki Phase 1 (By Phase 1 Gate on Admiralty Way), Lekki, Lagos – Time: 5:30 AM and 6:30 AM | Astroturf 2000, (By Osbourne Road), Ikoyi, Lagos – Time: 7:45 AM
Contact: For more info and general enquiries, call 07031229998 | 08033824739 | E-mail [email protected] | Log on to Tony Ekaidem's Website – www.TonyEkaidem.com
____________________________________________________________________________________________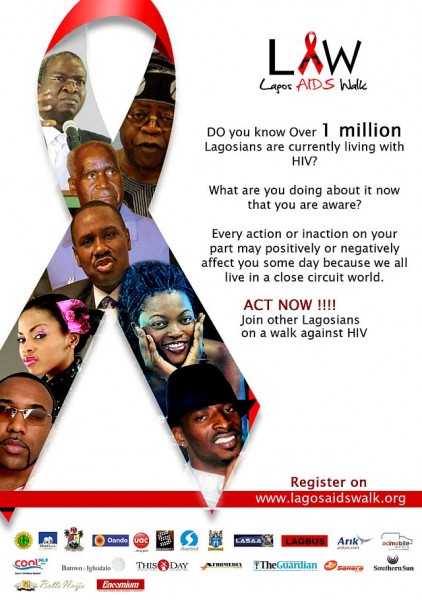 Lagos Aids Walk & Concert
Join Governor Babatunde Fashola, Ashiwaju Bola Ahmed Tinubu, Kenneth Kaunda (Former President of Zambia), Pastor Ituah Ighodalo and many others to help raise awareness about HIV/Aids in Lagos state with a 10 km walkathon from Ebute Meta End of the Third Mainland Bridge through Carter/Adeniji Adele Bridge, Lagos. After the walk, attendees will then head to Freedom Park for the concert where artistes will advocate the need for people especially the Nigerian youth to live a safe and healthy life with regard to their sexuality. Also at this concert, there will be a free HIV testing and counselling and safe sex materials will also be distributed. To be a part of the Lagos Aids Walk, register at www.LagosAidsWalk.com
Date: Saturday 21st April 2012
Time: 9 AM
Venue: From Ebute Meta end of the Third Mainland Bridge to Freedom Park, Lagos
Contact: For more info and general enquiries, Call 08031907516 | 08191633369 | 08120905667 | E-mail [email protected] | [email protected] | [email protected]
____________________________________________________________________________________________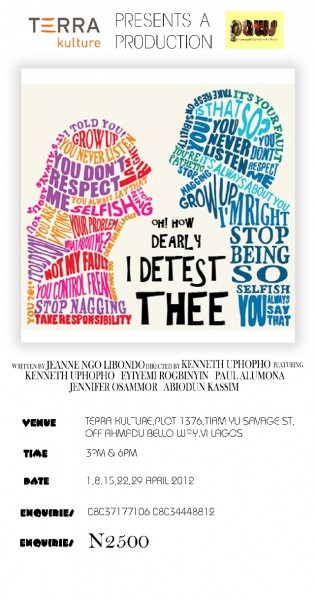 Oh! How Dearly I Detest Thee
Terra Kulture and Paws will be showing a mind blowing stage play – Oh! How Dearly I Detest Thee this Sunday. The play which was written by Jeane Ngo Libondo and directed by Kenneth Uphopho is a must watch for every Nigerian man and woman.
Date: Sunday 22nd April 2012
Time: 3 PM & 6 PM
Venue: Terra Kulture, Plot 1376, Tiamiyu Savage Street, off Ahmadu Bello Way, Victoria Island, Lagos
Ticket Price: N 2,500
Contact: For more info and general enquiries Call 08037177106 | 08034448812
________________________________________________________________________________________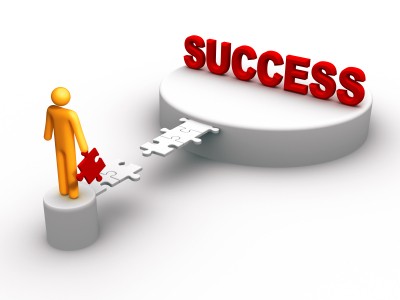 SS Lounge Networking Tuesday
Get inspired and motivated for a brand new week at the SS Lounge Networking Tuesday event where attendees will get to interact with powerful motivational speakers over a welcome dinner. Be sure to arrive early and network with professionals from all walks of life.
Date: Tuesday, 24th April 2012
Time: 6 PM
Venue: 7, Sapara Williams Close, off Idowu Martins Street, Victoria Island, Lagos
__________________________________________________________________________________________
Salsa Dancing at SS Lounge
Get your groove on this Wednesday at SS Lounge with the best of salsa dancing. Come with a partner to learn, socialize and network.
Date: Wednesday 25th April 2012
Time: 7 PM
Venue: 7, Sapara Williams Close, off Idowu Martins Street, Victoria Island, Lagos
_____________________________________________________________________________________________
BellaNaija.com is not responsible for the organization or further promotion of these events, neither do we have a stake in their sales or popularity. Inclusion in "Events This Weekend" is Free. Contact – adsales @bellanaija.com if you will like your event to be included. Note that BN reserves the right to choose which events are featured. "Pay to attend" parties attract a fee