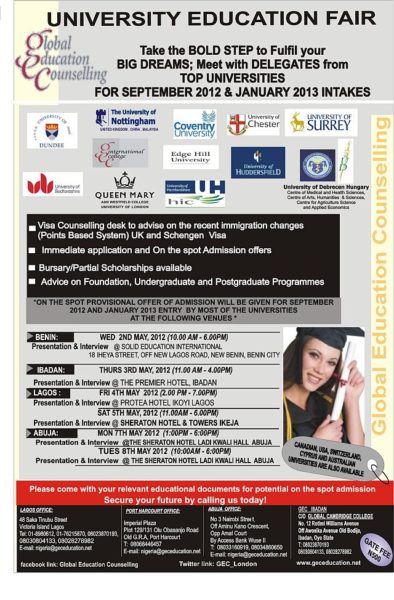 One of the largest Student Recruiter to foreign Universities in Nigeria – Global Education Counselling (GEC), will hold its bi-annual exhibition in various cities across Nigeria this May, where top leading foreign Universities offering over 1000 courses from foundation, undergraduate to postgraduate degrees will be present.
Through this exhibition, GEC will give parents, students and schools the opportunity to meet International Office Directors of 11 top leading universities.
Courses available include;
Accounting and Finance | Business Management | Law | Energy Studies | Oil and Gas Management | Computing | Architecture | Engineering | Information Systems | General Medicine | Dentistry | Pharmacy | Public Health | Physiotherapy | Hospitality | Hotel Management | Tourism and Event Management and many others.
All international students will get guaranteed accommodation, credit transfer options/top-up programmes and options of Dubai, Hungary, China and Malaysia campuses.
Benefits of Attending this Fair
On the spot provisional offer of admission will be given for September 2012 and January 2013 entry by most of the Universities
Visa Counselling desk to advise on the update to the new immigration system (Points Based System) UK and Schengen Visa
Bursary/Partial Scholarships Available
Opportunity for one-on-one interaction with delegates of Universities
Information on how to obtain Education Loan
Information on work and study opportunities
Why Global Education Counselling
The strength of GEC in the recruitment field is based on the following principles;
Tried and tested relationship with international Universities from over 8 countries
A policy of establishing its own field offices and staff in 12 countries while maintaining quality control
The establishing of relationship of confidence and trust with the local Embassy of High Commission
The careful and proper vetting of documents for admission and visa applications
Staff training both in their own country and at the partner Universities
Careful planning and management of university visit for recruitment and promotional purposes
Visa counselling
Attendees are advised to come along with relevant educational documents for potential on the spot admission.
Exhibition Venues
Presentation and interviews will take place in the following cities.
Benin
Date: Wednesday 2nd May 2012
Time: 10 AM – 6 PM
Venue: Solid Education International, 18 Iheya Street, off New Lagos Road, New Benin, Benin
Ibadan
Date: Thursday 3rd May 2012
Time: 11 AM – 4 PM
Venue: The Premier Hotel, Mokola Hill, Ibadan
Lagos
Day 1
Date: Friday 4th May 2012
Time: 2 PM – 7 PM
Venue: Protea Hotel, Ikoyi, Lagos
Day 2
Date: Saturday 5th May 2012
Time: 11 AM – 6 PM
Venue: Sheraton Hotel & Towers, 30 Mobolaji Bank Anthony Way, Ikeja, Lagos
Abuja
Day 1
Date: Monday 7th May 2012
Time: 1 PM – 6 PM
Venue: Sheraton Hotel, Ladi Kwali Way, Maitama, Abuja
Day 2
Date: Tuesday 8th May 2012
Time: 10 AM – 6 PM
Venue: Sheraton Hotel, Ladi Kwali Way, Maitama, Abuja
Kaduna
Date: Wednesday 9th May 2012
Time: 10 AM – 4 PM
Venue: Hamdala Hotel, 26 Muhammadu Buhari Way, Kaduna
Contact: For more info and general inquiries, call 08023870193 | 08030804133 | 08023608385
_____________________________________________________________________________________________
Sponsored Content