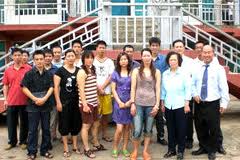 The Nigerian Immigration Service is making good its resolve to clamp down on illegal Chinese immigrants living in Nigeria.
Yesterday in Lagos, 25 suspected illegal Chinese immigrants were arrested during a routine raid by the Lagos State command of the Nigerian Immigration Service. This is following the arrest of 45 Chinese nationals comprising 34 male and 11 female by the Kano state command on Tuesday. They were arrested and detained for what it described as "economic scavenging" in the popular Kantin Kwari textile market in Kano.
The Chinese Nationals were arrested during routine raids around different parts of Lagos including China Town, Trade Fair Complex, Alaba International Market and some parts of Alausa.
According to the Zonal Controller of the Nigerian Immigration Service, Mr. Anthony Oklobia, those with genuine documents would be released after screening while others would be repatriated to China. "If we are able to remove as many as possible of those who have no business staying in this country, of course we are enhancing national security."
He added that the raid was not only targeted at Chinese nationals. "The raid is not just targeted at Chinese. Surveillance reports tend to indicate that they are in the preponderance of non-Nigerians who come in with one kind of visa only to start doing another thing. Some of them even hawk on the streets in the market."
What do you think about the arrests? Is it a step in the right direction?
Please share your thougths.
News Source: Channels TV