Good Morning and Happy Wednesday!
We are so happy to see you all here this morning. We hope you had a lot of rest yesterday. As always, yours truly – BellaNaija.com has made it a point of duty to exclusively show you some of the hottest bargains and freebies taking place right now.
Try your luck and see if you can win a ticket to see Pakurumo star – Wizkid perform live on stage in London or Manchester.
We hope this day brings you non stop joy. Remember the best life to live is one that positively affects others, be a blessing to someone today.
We LOVE you, see you all next week.
Ciao!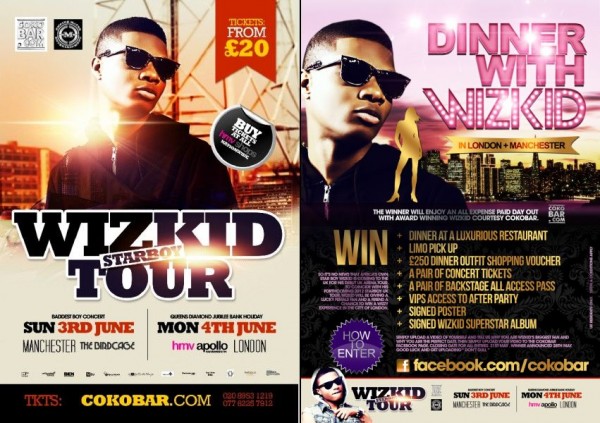 Win a Ticket to Wizkid's Starboy Tour in the UK
The relentless UK based event organizers – Cokobar is giving a lucky BN Reader a ticket to Wizkid's Starboy Tour taking place in London and Manchester. To win answer this question;
Question
What cities will Wizkid perform in the UK this Summer?
Send your answers via E-mail to kristiina @cokobar.com and make the subject of your mail "BellaNaija". The winner will be mailed on how to collect the ticket.
Congratulations to Femi Ogunjemi, you are the last week's winner of a ticket to Wizkid's Starboy Tour Concert.
This competition is open to only UK residents or those who will be in the UK at the time of the show. If you will like to win a date with Wizkid, see the flier above for all the details.
_________________________________________________________________________________________
Sponsored Content
Will you like to have bargain to be featured on BN Bargains? Email us via adsales @bellanaija.com