President Goodluck Jonathan yesterday handed out letters of credence to the newly appointed 93 ambassadors, charging them to protect Nigeria's interest.
The President, who noted that the ambassadors were assuming office at a critical period in Nigeria's developmental history, reminded them that they were representatives of the country and not that of states or ethnic groups.
He said what should be prominent to the ambassadors is the unity of the country and the desire to encourage interaction among Nigerians abroad.
86 of the ambassadors were posted out of Nigeria while the remaining seven who fell under the category of In-Situ will stay back in the country.
Of the 86 posted out, 62 are Ambassadors while 24 are Deputy Heads of Mission. Among the ambassadors are 11 women 10 of which are Heads of Mission, and one Deputy Head of Mission.
Prominent among the ambassadors were, a former Minister and Peoples Democratic Party stalwart, Chief Ojo Maduekwe, former Deputy Governors, Taofeek Arapaja of Oyo and Cornelius Oluwateru of Ondo.
Also on the list is a veteran journalist and former General Manager of the Nigerian Television Authority, Ibadan, Chief Akinyemi Farounbi.
The list of the female envoys include former Minister of Aviation, Fidelia Njeze, Mrs. Bianca Odumegwu-Ojukwu, Mrs. Hadiza Mustapha, Mrs. Victoria Onipede, Mrs. Katherine Okon and Mrs. Chigozie Obi-Nnadozie.
Others are Mrs. Matilda Kwashi, Mrs. Katyen Jackden, Mrs. Nonye Okpara, Sifawu Momoh and Mrs. Martine Gereng-Sen.
In his address President Jonathan expressed his delight at the elaborate induction programme given the ambassadors and their spouses which has prepared them for the role ahead. He said they were eminently qualified to represent the country having had interactions with most of them at different fora in the past.
Jonathan said, "you are posted to your designation to represent the president and not your state or your ethnicity, and project Nigeria as a united and indivisible nation. You must encourage Nigerians abroad to have a solid union."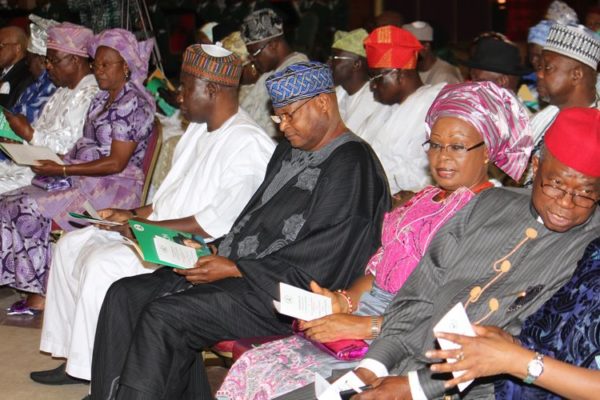 What do you think about this selection of 93 ambassadors consisting of only 11 women? What do you think about the ambassadors, their positions and countries of designation?
Please share your thoughts.
News Source: The Nation
Photo Source: Vanguard