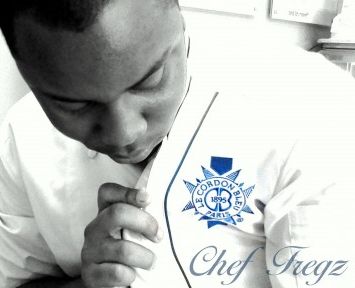 Hiya guys,
I've been having a pretty busy week.(Yes, yes! The story of my life) But I simply had to share the simple pleasures of Italian flavours with you great folks at BellaNaija.
Before I go on, I'd like to quickly address the question of where I shop for my ingredients. I do the bulk of my shopping at Shoprite (Lekki and Alausa), Goodies (Kofo Abayomi Victoria Island, Mobolaji Bank Anthony Ikeja and Apapa), Park n Shop (Adeola Odeku Victoria Island), La Pointe(Kofo Abayomi Victoria Island) and Oasis Supermarket (Mobolaji Bank Anthony Way Ikeja next to Sheraton Opic Plaza)
I think I'm a little addicted to Oasis  because even when I'm not shopping for work I give a myself a "valid reason" to drive there to get something; brown bread, fresh herbs or wine. (Please don't judge!). So on one of those Oasis days, as I wandered slowly up each aisle I spotted a range of fresh style pasta in both pappardelle and fettuccine cuts and immediately I reached out for the pappardelle and right there I started creating a dish in my head. Of course i decided to go for Italian. I wanted something simple but full of flavour so tomatoes and herbs came to my mind. I picked up the pasta with a pack of red cherry tomatoes and proceeded to the till.
So, I had cream, pomodoro tomato sauce (NOT tomato puree), springs of fresh thyme and some crushed garlic. I was good to go. I cut the cherry tomatoes in half and chop one small onion finely. In a pan, some olive oil and the chopped onions got a good stir fry, then I added about a cup of the pomodoro (ready made tomato sauce).For seasoning I had salt, black pepper, a sprig of thyme and some Knorr seasoning cubes. I allowed the sauce sizzle out till it was almost dry and all that was left was a thick pulp. At that point the cream went in and bubbled till it became a smooth, thick but silky sauce.  I set the sauce aside and I boiled the pasta in salted water till it was al dente. (This is a nice fancy word for pasta that is cooked firm, not hard but nicely textured).
I grabbed my tongs (my favorite kitchen utensil in the whole wide world) and I transferred the pasta to the sauce and over the heat I tossed the pasta in the sauce till it sort of dressed the pasta. Note that I didn't drench the pasta in the sauce o! If, however, you prefer drenching please go ahead and make some more sauce to spoon over.
I completed the dish with a generous sprinkling of cracked black pepper and some garlic and chive cream cheese.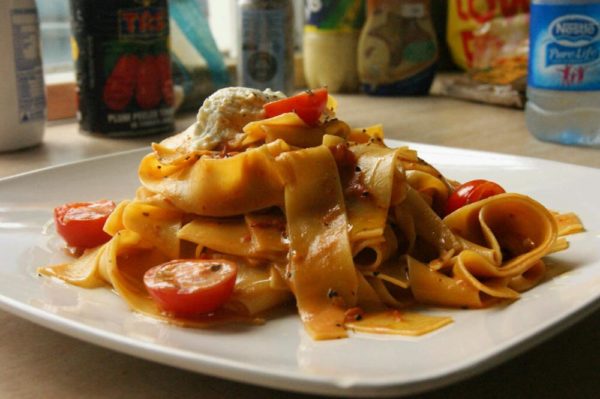 The fresh pasta was a break from the Golden Penny business we all know and have come to love *wink*. And the sauce mixed with the cream cheese was absolutely divine.
If you look closely you'd notice I didn't add meat to the dish and this was deliberate. I was going for plain, simple, and different. However, if you feel the need to have this dish with meat or some protein then by all means do. I recommend chicken or tiny meatballs. For chicken, a simple marinade of rosemary and garlic would accompany the pasta very well. For the meatballs, I'd recommend some Italian seasoning; fresh herbs such as parsley and chives.
What Did I Need For This Dish?
1 pack fresh pasta (I personally recommend some pasta from La Pointe in V.I. They have some amazing variety from black squid ink pasta to tri-color farfalle. It's a little bit more expensive but i promise you its worth it. )
1 small box or can of pomodoro or plum tomatoes (not more than 200 grams)
Knorr seasoning cubes (to your preference)
Salt
Black pepper 
Cream (cooking or double cream is fine here)
Crushed garlic
Garlic and chive cream cheese
I hope you try this easy but great recipe this weekend. Remember recipes are guidelines, so get creative. If something strikes you, go ahead and try it. Like I always say,  take a picture and send to features(at)bellanaija(dot)com. There may just be a prize waiting for you.
Have a great weekend filled with amazing flavors!
 A Bientôt
_____________________________________________________________________________________________
Chef Fregz loves to cook! He is a graduate of Le Cordon Bleu Paris Culinary Arts School in France and hosts monthly "Chef Fregz Specials" where he whips up a yummy menu with a different theme each time then everyone enjoys a taste. He also caters special events and private dinners.
To find out more, visit http://theskinnychefthatcould.wordpress.com/