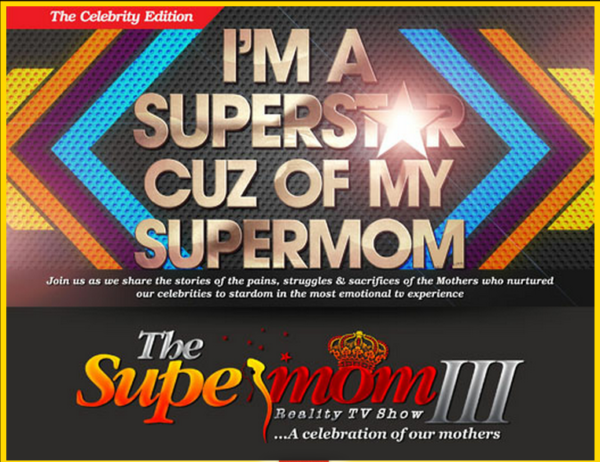 The 2012 edition of the emotive reality television show – Supermom was unveiled to a colourful cross section of guests, celebrities, the media and fans and followers of the show on Sunday 20th May 2012 at the Grandeur Events Centre, Oregun, Lagos.
Unlike the previous two editions, this year's Supermom has been tagged "The Celebrity Edition". The rationale behind this is not far-fetched. In view of the popularity of the show, which has continually been supported and sponsored by Procter & Gamble and Promasidor, the executive producer of the show – Sola Fajobi said "The Season 2 of the show saw thousands of entries from people who just wanted to win the prizes and which turned out to be fabricated stories. Hence, we want to use the celebrity edition to confirm to viewers across Nigeria and beyond that the Supermom is just a way of showing appreciation to our great mothers."
Sola Fajobi further said "Our Superstars are human beings; they eat, they drink and do the things that we do. They did not fall from the sky. They were raised, groomed, trained and nurtured by mothers. They were once kids and now they are celebrated all over the country because of their talent and achievements. We are confident of the fact that Nigerians really would love to see and share from the experiences of their idols and their mothers."
This season which kicked off on Saturday 26th May 2012, will see viewers watch the sacrifices made by the mothers of visually impaired Singer/Producer Cobhams, Fuji Star Abass Akande Obesere, Actress Foluke Daramola, Afro Hip Hop Stars – Flavour Nabania, Olu Maintain of the Yahooze Fame, Skales, Ice K (Member of Artquake), Kennis Music act Jaywon, Tony Tetuila and acclaimed female drummer Ara, On-Air-Personality/Consummate Theatre artist Yaw, Actors – Femi Adebayo, Binta Ayo Mogaji, Kunle Afolayan and Comedians – Seyi Law and Julius Agwu, Nollywood Producer Mr Prolific, Contemporary gospel artiste Kenny Saint Best and DJ Humility.
Introduced by Sola Fajobi's Digital Interactive Media (Producers of the Next Movie Star Show), the Supermom is an avenue to celebrate mothers. The show comes highly rated by viewers and pundits for being the first of its kind to give out a house as prize. A 61-year-old business woman – Folajogun Adesona, emerged winner of the second edition of the Supermom reality television show while Nkechi Rapu who is based in Asaba, Delta State won the debut edition. The first and second runners up got a brand new car and N500, 000 respectively.
Photos from the Unveiling
Episode 2 of Supermom Reality TV show with Julius Agwu & Olu Maintain
The Celebrity edition of the Supermom kicked off with a run down of the previous season. The 2nd episode featured the very talented Nigerian humorist Julius Agwu. The musi-comedian, film maker and soon to be TV host was born into an indigent family in Choba, Rivers State and despite his background, the comedy fireball has evolved into one of Nigeria's most successful entertainers. The episode showed Julius' mother who was a trader back then, tell her heartfelt and emotional story to the world.
According to her, their family was a strict Catholic one comprising of two boys, three girls and a pikin as Julius fondly describes himself. The head of the family was a bricklayer and she had to improvise the meager earning from her petty trading with fishing and farming. Survival was tough but her resilience and steadfastness helped send her children, especially the very precocious Julius, to school. She said " Julius started hawking with his brothers when he was around six years old. I would wake him up around 5 AM to do his round which he would also repeat when he returned from school everyday. Things were very tough and Julius was very troublesome. I remember that I wanted him to be a carpenter then". She further added that in those days, the price Julius had to pay for always coming late to school because he had to hawk pap for her was to stand in front of the class on the orders of the class teacher and entertain everyone.
Although it was meant to be a punishment, those early days of facing his classmates to entertain them as well as his travails coupled with his dear mother's sufferings, made Julius Agwu today a bonafide and well recognized individual in the Nigerian entertainment industry.
This heartfelt story would be re-enacted this weekend on the Supermom show on Saturdays on AIT, Galaxy Television and on Sundays on MITV, Kwara TV, BSES Ekiti and more.
Also featured in Episode 2 is top Nigerian music act Olu Maintain known for his hit single Yahooze. The episode focuses on the artiste's rise from a middle class family to a renowned superstar, the early days of denial and parental disinterest in his choice of career. The budding music act back then said "I sold my mom's gold set to buy studio equipment". His mother concurs, saying unlike other mothers that would have beaten the living daylight out of the recalcitrant kid, "I  recognized, with the benefit of hindsight, the fact that he did that because of his passion and love for music. I had no choice but to encourage and support his career with the little I had."
Be sure to tune  for the next heartfelt episode by a dear mother of one of your favorite celebrity.The Supermom Celebrity Edition will be broadcast on the NTA Network, Africa Magic and other terrestrial television stations across Nigeria including AIT, Galaxy Television, MITV, Kwara TV and BSES Ekiti. I will be watching, I hope you will be watching too. For more info, like their Facebook Page – www.Facebook.com/SuperMom3, follow them on Twitter @SuperMomShow or simply log on to www.SuperMom.com.ng
_____________________________________________________________________________________________________________
Advertorial – Sponsored Content