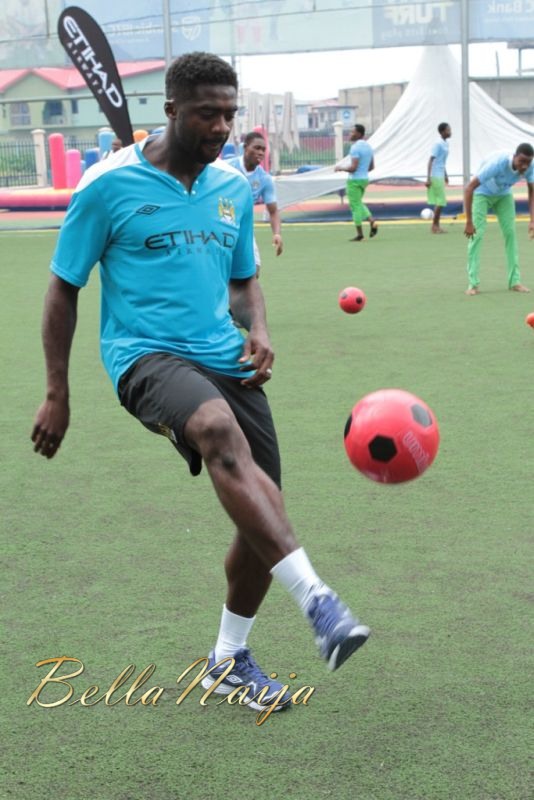 It's so great to see our African superstars and corporate organizations giving back to our community. A few weeks ago, Manchester City FC/Ivory Coast International star Kolo Touré alongside 3 trainers from Manchester City Football Club were in Lagos for the Etihad Airways Football Clinic.
Etihad Airways, lead sponsor of Manchester City Football Club (MCFC), hosted a special football clinic for students in Lagos. The clinic took place at FunTurf in Lekki, Lagos, and was attended by 50 students, aged between 11 and 16, from Victoria Island Secondary School. The youngsters received tips from Kolo and the MCFC club coaches, who are fresh from winning the English Premier League.
Peter Baumgartner, Chief Commercial Officer for Etihad Airways said: "It was fantastic to see Kolo Toure, a football superstar, teaching the youngsters at the Etihad Airways Manchester City Football Clinic and helping to celebrate the launch of our flights between Abu Dhabi and Lagos…Etihad Airways has a proud tradition of hosting grass roots sporting events and so to host our first overseas clinic with Kolo, and our friends and Premier League champions from Manchester City FC, is a very special moment."
Kolo said: "It's great to be in Lagos on behalf of Manchester City, not only to celebrate the launch of Etihad Airways' new service to Abu Dhabi, but also to help develop local football in the region. Nigeria is a country known for its passion and love of the game, which has produced many great footballers in the past…Hopefully through the Etihad Airways Manchester City soccer clinic, the coaches and I can help children learn new skills that will bring them one step closer to following their dreams."
Also speaking at the event, the principal of Victoria Island Secondary School, Mrs. Adegbesan said: "This is a great sporting initiative for our school. Most of these students would never have had the opportunity they were given today.
"We thank Etihad Airways, Manchester City Football Club and Kolo Toure for helping the development of grassroots football."
The children were treated to an array of football tips, which included trying to master Kolo's renowned defensive skills. The clinic concluded with a special match with Kolo coaching and encouraging the children.
In July 2012, Etihad Airways marked the launch of its new service between Lagos and Abu Dhabi by flying in its 'Blue Moon Rising' A330-200 aircraft, painted in MCFC's sky blue colours.