Over the years, BellaNaija has interviewed and profiled a select group of African entrepreneurs, scientists, academics, activists and advocates. The positive reaction to these features has been amazing. We have decided to brand these profiles and interviews as BN Trailblazers & Tastemakers. These young Africans are literally "changing the world"! Read and be inspired…
 Five years ago, Jason Njoku, was just a graduate of Chemistry with entrepreneurial tendencies. He had failed at some attempts at business and would still stumble severally in the following couple of years. Life was really hard, but he was determined to turn his failures into stepping stones. He had the light bulb moment when he moved back with his mum at a point and observed her viewing pattern. Then, he got a flight back to Lagos, paid people to watch and select the best movies, and started buying rights to local movies for online streaming to the Diaspora. NollywoodLove, as it was called, soon became YouTube's biggest African partner and recorded a whooping 152 million views in its first year. Then, they decided to build their own platform for streaming Nollywood films, hence the launching of iROKOtv in January 2012 which now has a library of over 5,000 films. "We have 570,000 registered users in only seven months and this figure is growing every day", he says. The company, which was entirely financed with cash flow from operations and founder's funds in the initial stage, has now attracted big investors (8 million US Dollars from an American Venture Capitalist and, most recently, 2 million US Dollars from a Swedish firm). Just yesterday, he was announced as one of the 2012 Future Awards nominees for Young Person of the Year. In this interview with Gbenga Awomodu, Jason talks about his humble beginnings, his meteoric rise in the video streaming business, tackling piracy, how iROKOtv is changing the face of Nollywood, and lots more.
Could you tell us a bit about yourself – where you grew up, your education, and what you currently do (for a living)?
I grew up in Deptford, South East London with my mum, and brothers and sisters. There's quite a large Nigerian population in the area, so I was always surrounded by Nigerian culture. After school, I went to Manchester University to study Chemistry and got a 2:1. I'm the first person in my family to have gone to University. And now, today, I am the CEO of iROKO Partners, an awesome African tech start-up that's taking Nigerian entertainment – music & Nollywood – to an online global audience.
Last year, iROKO Partners successfully launched three exciting platforms in the Nigerian Internet entertainment space, namely, iROKOtv.com, iROKtv and iROKING.com. Could you briefly tell us about these platforms?
iROKOtv is essentially the African equivalent of 'Netflix'. Our concept is brutally simple: It's an awesome, easy to use, high quality platform for people to watch Nollywood movies. When I started out, I knew that people loved Nollywood, but very quickly, when I started seeing the amount of traffic coming to our site, I realised that they really, seriously love Nollywood. There's an unquenchable thirst out there for movies. Luckily, we have enough to satisfy our viewers' watching habits – we have a catalogue of about 5,000 movies available for free in HD and anyone who subscribes to iROKOtv+ can exclusively get the newest releases every week. This subscription comes in at $5 a month, which is roughly the same price as one DVD. If iROKOtv is the African Netflix, then iROKING is the Spotify. iROKING has over 35,000 songs from 200 or so of Nigeria's top artistes. iROKING is the future of Nigeria's digital music scene – people can access the tunes anytime, anywhere – so we're spreading the love and helping our artistes go global. iROKtv is a Nollywood behind-the-scenes channel – a bit like the E! Channel in the USA.
Before those three platforms, there was NollywoodLove and later YorubaLove. What were they about and how were you able to make a huge success out of them in a rather short time?
When I first started buying the online licenses to Nollywood films we caught the attention of YouTube and partnered with them. We are still YouTube's biggest partner in Africa. However, in order to grow the business, we decided to build our own platform for streaming Nollywood films and launched iROKOtv in January 2012. We have 570,000 registered users in only seven months and this figure is growing every day.
What challenges did you battle with and how have you been able to apply lessons learnt in creating and running your three new brands?
Initially, I started the company from my bedroom in London. But this was impossible. Very quickly I realized I had to be in Lagos, pacing the streets of Alaba Market, doing business with the movie producers face-to-face. So I got on a plane to Lagos and never looked back. One of the biggest challenges was, and still is, piracy. I don't think it's a surprise that piracy is one of the major challenges facing the Nollywood industry at the moment but we're working on that. As a company, we continue to invest in shutting down illegal sites that profit from others' creative output and hard work. It's long, hard work but necessary if we're going to win the battle against the pirates.
Could you shed more light on your business model; how do you stream the latest Nigerian movies – does your company partner up with these movie producers or do they charge you licensing fee to host their movies on your site?
We pay the producers for the exclusive rights to the online license to their films. This is a mutually beneficial relationship as we are able to give our viewers the films they want, and the producers now have a new means of earning additional money for their movie. Before, their work was illegally uploaded onto pirate sites and the producers lost out big time – this is no longer the case. Also, our site is safe – viewers are not exposed to bugs or viruses when they come to iROKOtv.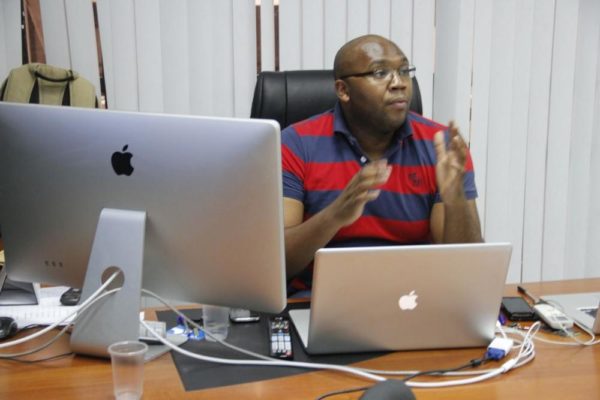 What is the size of your team and how do you plan to expand over the next few years?
At the moment we have almost 100 staff spread across our New York, London and Lagos offices and we will be building it out from there. Our biggest team is in Lagos – we have about 80 people here.
How many movies are available on the site for viewers across the globe and how have you fared in terms of viewership and number of unique visitors, since inception?
We have over 570,000 registered users and a library of over 5,000 films but we're constantly adding to it. We upload films from our catalogue onto the site every day. Under our new subscription model, viewers still have free access to 95 per cent of the films on the site, but for $5 a month they have access to iROKOtv+ and can get the brand new and exclusive releases. We've broadcast over 11 million hours worth of film on iROKOtv so far. We found a super-user recently: in 89 days, one iROKOtv viewer watched 1126hrs, 59m and 30s. Now THAT'S a Nollywood fan. Awesome! Our biggest markets are the US, UK, Canada, Italy and Germany; we actually have more viewers in London than in Lagos. The key reason for that is broadband penetration – there aren't as many fixed broadband lines in Lagos, but they are growing in number, and fast.
Entrepreneurs are primarily profit-driven and can go to the extreme in reducing cost of obtaining raw materials. How do you ensure that local movie producers from whom you buy rights enjoy a fair deal and do not feel cheated?
Quite simply, it's not in our interests to be paying the producers less. By paying them more, we hope they will have the incentive, and money, to re-invest in their next film and the overall quality of Nollywood movies improves. The producers win, the viewers win. We've got really good relationships with the producers and the stars, many of whom have joined iROKO as our brand ambassadors. We have the likes of Tonto Dikeh and Funke Akindele shouting about iROKOtv – the industry is behind us. Don't forget, before we came along, producers received no money for their films being streamed online, so we are not reducing costs, we are providing them with a new means of generating income.
With increasing market share and turnover, you are bound to become more financially powerful. Does your company plan to drill down to the bottom of the distribution chain with your own movie production outfit in the near future?
That's something for us to consider, absolutely. One thing I've learned in this business is that the possibilities are endless. There are plenty of opportunities out there for us. Right now we're focusing on building a bigger library and the best possible service for our users. We've got a killer team in place – all hungry to build the business and spread the word of Nollywood.
In what ways do you hope to intervene and provide solutions to some of the problems confronting Nollywood, most notably terrible acting, poor video production infrastructure and plagiarism – especially, the indiscriminate use of unauthorized sound tracks which are often unpaid for?
The idea of 'terrible acting' is a question of personal taste. If it's so terrible, why do millions upon millions of people keep tuning in to Nollywood films? As with all film industries, there are great actors and there are some not-so-great actors. Nollywood is no different. Hopefully, with the new money being ploughed into the industry, there will be more investment in production equipment – this stuff is expensive and producers have to invest their own money most of the time. Piracy continues to be an issue across the industry – we spend hundreds of thousands of dollars a year in combating the pirates who have no regard for the producers' livelihoods and profit from stealing other peoples' creative content.
Hollywood is terrific in size and reach. Bollywood is great too. What do you think are Nigeria's chances at competing with these two industries sometime in the future, if any?
First of all, Bollywood and Hollywood are totally different. Hollywood is much more reliant on those "blockbuster hits" and it's a very different model. Bollywood is the only industry bigger than Nollywood, by volume and even that has a very different culture. Bollywood is all about the cinema experience whereas Nollywood is all very much straight to DVD – over 95% of revenue is made from the sale of DVDs in Nollywood. Obviously, I hope that Nollywood will be as big and famous as Bollywood one day, but it's still a relatively young industry. Don't forget – there are one billion Africans in the Diaspora. As Africa comes online, Nollywood's reach will grow significantly, especially as iROKO is taking it global.
In your opinion, what makes Nollywood unique and what have we gotten right so far?I think it's the passion that people have for it. The love and creativity that goes into each film is amazing. The films encapsulate very specific cultural traits and characteristics of Nigerian life that should be celebrated. We've captured this celebration in film – and yes, the quality isn't always 100% – but that's something for the industry to progress with – and it's already happening.
Nollywood produces several hundreds of low-budget movies a year under difficult conditions and the quality is mostly poor. Do you think the audience will eventually get tired of poor quality and force producers to follow the Hollywood path of quality above quantity; what's your take?
Well, part of the reason that the quality has been poor is because the producers haven't been able to make money from their films properly. We have started to change that and you can already see that in some of the films that are being made. But I don't think that people will tire of it – people love Nollywood because it speaks to them in a way that Hollywood doesn't. People engage with Nollywood themes, characters, humour, locations…. They engage with their culture, so I don't think there will be significant move to Hollywood films.
One online writer says your "model is simple and takes advantage of inexpensive digital technologies." How inexpensive could it be and what's your current budget like?
Obviously, like any start-up tech firm, we try to use the best we can while keeping prices down but we've got some great tech guys on board who know what they're doing. We've invested in technology – hardware and software – and continue to do so in order to consistently provide an awesome service for our viewers. We recently completely redesigned the website to coincide with the launch of iROKOtv+ – this obviously took up considerable resource, but the end product is a beautiful, clean, visually stimulating website that our viewers love – so it's a long-term investment which will ultimately benefit us for a number of years.
As a video-streaming outfit, your internet bills must be flying right through the roof. How do you handle this and tackle challenges with the cost of broadband internet services?
It's a cost we absorb – all businesses have overheads – Internet is one of them for us.
What do you think is the future of video streaming in Africa vis-a-vis the high cost, low speed, weak accessibility and slow growth of broadband internet access in Africa?I think the African tech and telecoms sector is possibly the most exciting in the world. It's opening up a whole range of opportunities, not only for businesses but for young people across the continent. It will get better, faster and reach further – probably at a much quicker rate than in Western markets! Broadband penetration at the moment is relatively low – in five years' time, it will be a totally different landscape and this will be reflected in our business; in lots of businesses.
Recently, Iroko Partners raised $8 million in cash from two rounds led by Tiger Global, a New York-based privately-owned investment firm with investments in emerging markets. What aspects of the company are you investing that money in?
Well, I'm not spending it all on champagne and parties. We're still a start-up and we need to make sure we spend that cash wisely. We're using the money to invest in developing our library, buying more and more awesome content for iROKOtv and iROKING and to build our teams in the New York, London and Lagos offices.
How would you advise the typical Nigerian/African tech startup entrepreneur on building their business from scratch and raising funds from venture capitalists?
You've got to have the drive and the will to succeed. If you're not going to go all in, then there's no point doing it at all. Fact. When we built iROKO, we worked really hard at getting the platform to its best functionality as quickly as possible which meant that when people started to take notice of us they took us seriously. We didn't actually go to any investors ourselves; they came to us, but we were careful to collaborate with the right investors. We had a unique product, a strong vision and momentum behind us. Add to that a lot of hard work and a dedicated team, and it is an extremely powerful proposition.
In your opinion, what are the three most important attributes required by the Nigerian/African tech entrepreneur to succeed on the global business front?
With a business like ours, you've got to have a product with global appeal but underpinned by local knowledge. iROKO's biggest markets are the US, UK, Canada, Germany and Italy. We're aggregating the African Diaspora in a way that no one has been able to before.
You have to have an incredible team around you; a team that loves the end product (no matter what it is) as much as you do – they need to be engaged, on the ball, skilled and excited by what they are doing – I believe we've found this balance at iROKO Partners.
Thirdly – you have to have to put the hard work in. Africa is without a doubt an exciting place to be doing business at the moment, but there are still challenges regarding bureaucracy, infrastructure, communications, etc., that need to be addressed. If you are willing to put in the hard work, you can overcome these challenges and succeed.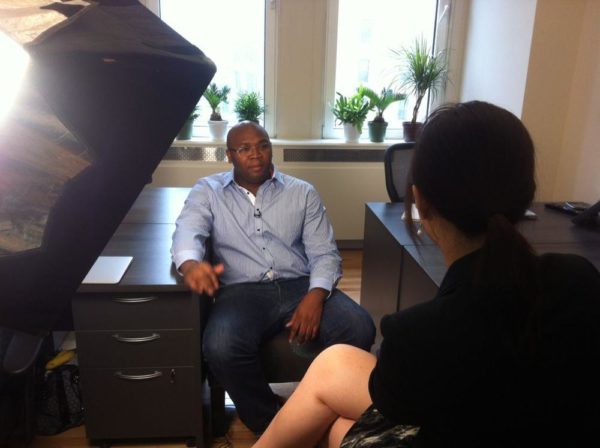 Where do you see the iROKO company in the next decade?
iROKOtv clocked up half a million registered users in its first six months and hopefully we'll continue to expand that quickly. We never wrote a business plan, but we are always looking at new ideas for how we can make the site better and give more to our customers. We have just launched the new website for iROKOtv which looks awesome, but we are always looking to improve. African telecoms is expanding at such a rate that in ten years we might have viewers watching from the most remote areas of Africa, which would be awesome.
What would you like to say to our loyal BellaNaija readers?
Get involved in the Nollywood revolution. irokotv.com
Peace.
www.irokotv.com | www.iroking.com
Photo Credit: Iroko Partners | Emmanuel Oyeleke
_____________________________________________________________________________________________
Gbenga Awomodu is an Editorial Assistant at Bainstone Ltd./BellaNaija.com. When he is not reading or writing, Gbenga is listening to good music or playing the piano. Follow him on Twitter: @gbengaawomodu | Gbenga's Notebook: www.gbengaawomodu.com | Facebook Page: Gbenga Awomodu