"Behind every athlete is a loving mom", "Mombassador", "Everyday is "Mother's day", "Moms do so much, and sometimes don't hear how much they're truly appreciated"…..
Reading through the P&G Facebook page and campaign material for the P&G Nigeria 'Thank You Mom for Helping me Play and Grow' campaign brings me across some words and phrases that makes me so proud to be a Mom.
P&G is a Worldwide Partner of the London 2012 Olympic Games and being in the business of helping moms, with brands that make everyday life a little easier, P&G is the Proud Sponsor of Moms!
For the London 2012 Olympic Games, the company is embarking on a campaign to celebrate Moms who for decades have helped foster the success of great athletes.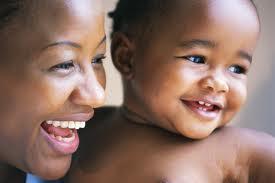 As the campaign strategy reads, 'P&G is not in the business of helping athletes, P&G is in the business of helping Moms'.
'P&G empowers Mom to be her best so she can provide the best for her kids. We didn't make the athletes the hero – we celebrated Moms because behind every talented and devoted Olympic athlete, there must be an equally talented and devoted Mom. And P&G loves Moms.'
'It's thanking Mom and doing a whole lot more; It's recognizing her role, It's celebrating her work; It's supporting her efforts its improving her life; Because moms deserve more than just one day and more than they expect.'
A major part of this campaign would be the 'Momumentaries' (another word that gets me tripping), a series of emotional films about role model 'Mombassadors' (Moms of Olympians) about how they raised their children.
P&G would also send an Athlete mom to stay in the Nigerian Olympic Committee house and attend the Africa Event in London.  A journalist would accompany her to capture all activities involving the Mom in London. It would feature interviews with the mom and her experience and live reactions from the mom while she watches her child at the games. Feeds on the last couple of episodes would be aired on the Supermom show.
For the many reasons you love her, she deserves to be celebrated!
To Build A Better World Through Sports
The Olympic Games attracts attention from billions of people around the world every time it is held. 4 billion people globally watched coverage of the Beijing 2008 Olympic Games. This shows that sports has a truly universal appeal and is equally appealing to women, men and children.
For this reason, P&G, the proud sponsor of moms is partnering with the Nigerian Olympic Committee to Help Nigerian children excel through sports.
Through this partnership, P&G will provide sports equipment to schools in Nigeria. In July 2012, it will donate sports equipment to over 3000 schools across Nigeria and in October 2012, P&G will run a first of its kind National Youth Championship in Lagos.
The time to raise future Olympians is NOW!
To raise funds for this cause, the company has been seeking the support of Nigerians with the 1 pack = 1 contribution campaign.
A percentage of the proceeds of all P&G products bought in Nigeria in the months of May and June have gone into the cause of donating Sports facilities and equipment to schools across the country.
Now, we all know this is another attempt at building the P&G brand, true, but for a cause as good as this, I'd duff my hat.
Often times, the people behind the success of great achievers are not celebrated well enough. Friends, husbands, wives, fathers, mothers, teachers who have helped propel the dreams and successes of others are often kept in the background.
She held you close, held your hand, held her breath, held you together. Thank you, Mom.
Also, the promotion of children's participation in sports through the donation of sporting equipment and organizing a National Youth Championship is laudable. Most great athletes nurtured their dreams from a young age and grew steadily
Through the provision of sporting equipment to schools across the country, just maybe, the future of one young child would be propelled towards greatness in sports.
I can't wait to see the videos of those Mombassadors, moms of Olympians who have raised talented children as they watch their sons and daughters play in the Olympics. I know how much joy it gave me to see my son take his first step; and now as he runs all over the place with toddler steps, I remain his biggest fan, cheering him loudly. Maybe one day, I'd be a Mombassador too, who knows?
About P&G
P&G is a Worldwide Partner of the London 2012 Olympic Games and being in the business of helping moms, with brands that make everyday life a little easier, P&G is the Proud Sponsor of Moms!
P&G Nigeria has its head offices in Lagos with a manufacturing plant in Ibadan. Nigeria is the hub for P&G's business and production in West Africa. The organization has an employee strength of over 3,000 direct and indirect employees and a strong portfolio of 10 leading brands which are; Pampers, Ariel, Always, Vicks, Oral B Toothbrushes and Toothpaste, Bonux, Gillette, Duracell, Safeguard and Ambi Pur.