Happy Friday to everyone and thanks again for joining us at Bellanaija.com for our weekly round up of news stories that made headlines across the country.
As usual, its been an interesting week. Muslims across the world began their Ramadan fast this week. And in an interesting turn of events, the House of Representatives threatened to impeach the President of Nigeria, Goodluck Jonathan if by September the Minister of Finance does not release funds for MDAs.
In what was described as a sarcastic response by many, the President, through his Special Media Adviser, Dr Reuben Abati said that President Jonathan was on the same page with the House of Representatives on the need for efficient budget implementation.
He said there was no conflict between the two arms of government, noting that the President was also concerned about budget implementation.
That kind of put an end to the impeachment threat, or so it seems.
Here's a recap of some of the news stories that made headlines across the country this week:
***
The House of Representatives, on Thursday, threatened to invoke articles of impeachment against President Goodluck Jonathan if by September the Minister of Finance does not release funds for MDAs. Hon Femi Gbajabiamila representing Surulere in Lagos State who initiated the debate on budget implementation, suggested that if the economy is not properly greased by September then the House may not have any option than to start impeachment process against the President.
***
The West African Examinations Council (WAEC), on Thursday denied rumours that it had published results of the 2012 May/June West African Senior School Certificate Examination (WASSCE). Rumours of mass failure in the 2012 May/June WASSCE had been circulating around the country. However, the Deputy Director, Public Affairs of the Council, Mr. Yusuf Ari, in a chat with the News Agency of Nigeria (NAN) in Lagos, described such rumours as "wicked and misleading." Ari said the council had received information that some individuals with evil intentions were trying to deceive the public by posting fraudulent information online concerning the results.
***
There was drama this week during a Court session, when the presiding Chief Magistrate of an Osogbo Magistrate Court, Adewunmi Makanjuola ordered a middle-aged lawyer, Nnajite Okobie, to observe a five-minue frog-jump as a punishment for making noise during the court proceeding. Makanjuola, who was presiding over a case of alleged molestation of an 11-year-old primary school girl was apparently disturbed by the noise emanating from Okobie, who was having a conversation with two people suspected to be his clients in the court premises. He had earlier sent the court orderly to warn him to desist from making noise but he failed to adhere to the warning of the court.
***

Following the 'humiliation' of an Army Colonel by Governor Babatunde Fashola on Tuesday for driving on a BRT lane, soldiers went wild on Wednesday and attacked officers of the Lagos State Taskforce on Environmental and Special Offences (Enforcement) Unit at Yaba area of Lagos, Southwest Nigeria. The soldiers attacked the taskforce officials with bottles and stones and used knife to puncture two tyres of the Black Maria used in conveying offenders. Trouble started on Murtala Muhammed Way, Yaba close to an Army barracks when the taskforce officials, who were on patrol to ensure smooth flow of traffic, spotted a commuter bus parked in the middle of the road and obstructing traffic.
***
The federal government, on Thursday, started the distribution of over four million textbooks to primary school pupils and junior secondary school students in the South-South region. Ezenwo Wike, the Minister of State for Education, performed the inauguration of the textbooks distribution for the South-South zone in Uyo, Akwa-Ibom State. Wike said that out of the 19 million textbooks procured by the Universal Basic Education Commission (UBEC) in 2011, the South-South zone had been given 3.4 million copies for pupils in primary one and two. The minister said that the zone had also been given additional 672, 000 copies of assorted library resource materials for distribution to schools; warning that the textbooks were not meant for sale.
***
Police in Akure, Ondo on Wednesday arrested a 27-year-old student of the Federal University of Technology Akure (FUTA), for shoplifting 32 packs of condoms from a city shopping mall. The lady, whose identity card read as Bibiana Umoh, a Mechanical Engineering student of FUTA, was apprehended by mall guards after trying to escape with the items without payments. Shop guards revealed that the lady who didn't know she was being monitored, pretended several times to be queing behind other customers waiting to pay, while also pretending to be receiving and making phone calls only for her to suddenly make her way to the exit, running off with the items.
***
The Tony Elumelu Foundation has announced that it will offer annual prizes in perpetuity to top-performing graduating students at several universities across Nigeria. TEF said in a statement on Thursday that the annual prizes would be for top undergraduate and graduate (where relevant) students at the various universities in Economics, Business Administration and Medicine. An annual professional prize will also be provided through the Chartered Institute of Bankers of Nigeria to encourage excellence in the banking profession. The beneficiary institutions are Ambrose Alli University, Edo State; Delta State University; University of Jos, Plateau State; University of Lagos; University of Benin, Edo State; Usman Danfodio University, Sokoto State; University of Port Harcourt, Rivers State; University of Maiduguri, Borno State; University of Nigeria, Nsukka, Enugu State; and Benue State University.
***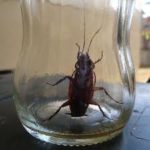 A High Court sitting in Port Harcourt, Rivers State has slammed N6 million against the Nigerian Bottling Company (NBC) as special and general damages to Messrs Keregbe Kpa and Nuka Livingstone for selling soft drinks contaminated with decomposing cockroach. The company is to pay the amount to Kpa and Livingstone, as special and general damages caused them by the company after consuming contaminated drinks. The judge upheld that the NBC was negligent when it manufactured and sold to the first claimant, Keregbe Kpa, soft drinks contaminated with decomposing cockroach and other harmful substances on or about May 17, 2008.
***
How do you feel about the news that made headlines this week. Is there any other news you would like to share with us?
Have a splendid weekend.