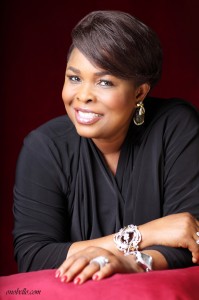 The First Lady of Nigeria, Patience Jonathan seems to have been in the news quite often in recent times over controversial topics. Though the buzz and public outcry surrounding her appointment as a Permanent Secretary in Bayelsa state is yet to settle down, she is yet again in the news.
She is said to be in a squabble with the former first lady, Turai Yar'Adua over a property located in the central business district of Abuja. Although the Attorney General of the Federation has asked the court handling the case to discontinue further hearing, and the case would now be settled out of court, the news again raised some debates across the country.
Recently, she was in the news over her purported purchase of 200 cars for the African First Lady's Summit. A newspaper had reported that the Federal Government procured a total of 200 "exotic cars" for the African First Ladies Summit, which formally opens in Abuja today.
However, the Presidency in a statement signed yesterday by Presidential spokesman, Dr. Reuben Abati, said that Coscharis Motors Ltd signed a Memorandum of Understanding with the African First Ladies Peace Mission (AFLPM) led by Dame Patience Jonathan to provide some cars for the event "at no cost to the organisers or the Federal Government of Nigeria."
He accused the newspaper of pursuing an "unprofessional and unethical decision to publish the unverifiable allegation", adding that it is only "another attempt to incite public anger against the Presidency and the Federal Government."
The statement read, "The true facts of the matter are as follows: The African First Ladies Peace Mission which is holding its summit in Abuja is a Non-Governmental Organisation. Its activities are funded by stakeholders and members of the private sector who support and identify with its objectives.
"In accordance with its modus operandi, the AFLPM set up several committees, including a finance committee to raise funds and sponsorship for the organisation of its Abuja Summit.
"As part of its own contributions to the successful hosting of the summit by the First Lady, Patience Jonathan, Coscharis Motors Ltd.  offered to provide some cars for the event at no cost to the organisers or the Federal Government of Nigeria.
"Under an agreement signed by the committee and Coscharis Motors, all the cars will be returned to the company after the summit."
What are your thougths?
News Source: Punch