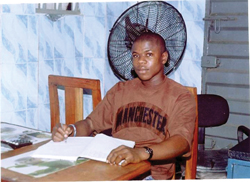 Uche Okwuoha once slept under the bridge, roamed the streets as a tout, worked as a bus conductor and wheelbarrow pusher. Today, he has a different story.
After scoring the highest mark in the Obafemi Awolowo University post Unified Tertiary Matriculation Examination in the 2010/2011 academic session (320 out of 400), he sits proud as a Law student in the institution's Faculty of Law.
An indigene of Imo State, the 27 year-old shared his inspiring story with Punch.
At the time he was leaving his secondary school at Okigwe, Imo State, his intention was to gain admission to any University, join a cult group and kill as many people as he could.
Having heard that cult boys were very strong and fearful, he was eager to go to the University to join a cult group. "I had heard that cult boys were strong people and that people feared them. I also heard that as a student you could only succeed on campus if you were a member of a cult group. I told myself that I would join a cult group and kill as many people as I could," he told Punch.
According to him, this was also the desire of most of his friends in Secondary School at that time. The boys believed that if they weren't in a cult group, they wouldn't be able to survive on campus.
However, after making failed attempts at his West African Senior Secondary School Examinations, General Certificate Examination, and the Unified Matriculation Examinations, he became frustrated.
He roamed the streets of Imo for a while and later decided to leave home so his parents would have enough money to take care of the remaining eight children.
Uche recounted that he left his parents home to live with his brother in a one-room apartment in Imo where he had to become a wheel-barrow pusher and a bus conductor to make ends meet. "It was very challenging and risky," he said.
He later decided to move to Lagos and lived with his uncle. After some months, he left there to another brother's place and began his life on the streets. "I rarely slept at home. I would sleep under bridges. My life back then was a mess. I was always drunk. There was nothing I did not smoke. I became so promiscuous."
"I did not think I would get out of the pit, my life was just a mess. I had become an agbero. Going to school was not even an option. I would roam about the streets of Lagos smoking and drinking."
But one day, when he was staying with an aunt, he got to hear about a college that trained students to write external examinations. "One day I was outside my aunt's shop and I saw one young boy holding some books. I was just curious about where he was going, so I stopped him and asked; he then told me about a college that prepares students to write external examinations. Right there, I felt this joy. It was like my dark days were over."
He enrolled for his UTME tutorials at Adams College in Oshodi. Despite many challenges he faced, he scored 289 in his UTME and went on to score 320 at the post-UTME later that year.
He receieved a full scholarship from Mr Adebola Adams, the Proprietor of Adams College who described Uche's story as remarkable.
Uche advised parents to spend more time with their children. Speaking on his aspirations, he hopes to be the best graduating student and plans "to get a Master's degree in any reputable university abroad. My dream is to reach the apex of my career."
Well done Uche Okwuoha!
Photo Credit: Punch