Obafemi Awolowo University Now Has a State-of-the-Art Music Studio, All Thanks to 2Baba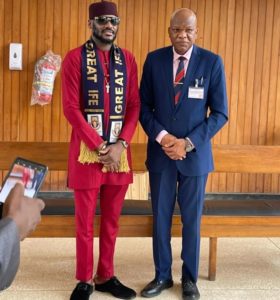 2Baba returned to Obafemi Awolowo University today for a very important cause.
Three years ago, the university's Department of Music named him a Fellow of the School of Music, recognizing his accomplishments in the field of music. Now, the music legend has commissioned a music studio he built for the music department in Obafemi Awolowo University.
Members of the university's administration and students were impressed by the state-of-the-art recording studio and joined in singing the school anthem with him. According to the Vice-Chancellor, Prof. Ogunbodede, the institution now has the greatest recording studio in Nigeria.
View this post on Instagram
2Baba also announced on Instagram that the University of Benue would be the next stop for a music studio; "Sometime ago i was honoured by the Great OAU as i was inducted into the school of music as A Fellow Of The School of music. today i just commissioned the multimillion # studio i built for the music department in OAU ile-ife. upnext is Benue State University."
View this post on Instagram