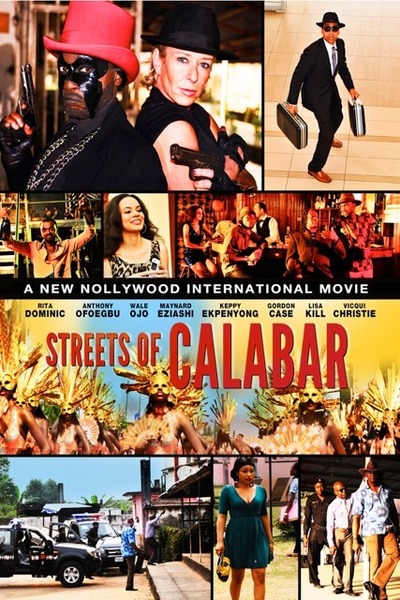 "Streets of Calabar", the thriller by former CNN & BBC journalist Charles Aniagolu is set to hit cinemas soon.
The movie which stars Rita Dominic, Anthony Ofoegbu, Wale Ojo, Maynard Eziashi, Keppy Ekpenyong, Gordon Case, Vicqui Christie and Lisa Kill is described as an "explosive comedy thriller".
We are intrigued! Read the synopsis and check out the trailer below. The movie was written and produced by Charles Aniagolu who also co-directed the film with Frank Macaulay.
From the trailer, Wole Ojo's character is a trip! D-Don is something else too.
The Synopsis – "Streets of Calabar"
Chuks Oti, mixed-race 419 (advance fee fraud) scammer and illegal immigrant recently deported back to his home country Nigeria from London. Once there he manages to wangle his way out of a possible jail term and ends up in the holiday resort city, Calabar, living with his loyal, much younger British girlfriend Margaret, who insisted on travelling with him to Nigeria.

Chuks takes on menial jobs to make ends meet, but life is difficult. When he runs into his old 419 mate, Mike, a Nigerian pleasure seeker who is full of wild energy and loves to take risks, the two down-on-their-luck friends, with no jobs and no prospects, soon find themselves back in the criminal world.

They become enveloped in a web of scams and danger presided over by the mysterious De Don, leader of a gang of underground arms and drug dealers, who's hatched an evil plan to takeover the peaceful streets of Calabar.

Chuks and Mike are forced to become part of a dangerous covert police mission led by two internationally trained detectives to stop De Don and keep the streets of Calabar free of crime. But they soon find themselves the targets, as the evil De Don suspects a double cross.

Pursued across the breathtaking scenery of Cross River State by De Don and his guards as well as a raging group of Cameroonian "yardies", not to mention one very pissed off cattle herdsman, time ticks down to an explosive climax.
Check out the trailer below.