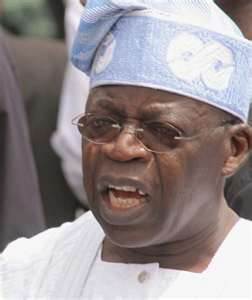 The former Lagos State Governor, Bola Tinubu has called for the scrapping of the upper arm of  legislature, the Senate. He said this yesterday at the 2012 Annual Conference and Awards ceremony organised by Leadership Newspapers.
According to the former Senator, the House of Representatives is better placed at representing the people since its members are closer to the grass roots.
He also added that the scrapping of the Senate would go a great deal in addressing the nation's huge cost of governance and recurrent expenditure.
"We have kept complaining about the cost of governance and the recurrent expenditure, but we have never examined the structural problem of even the constitution that we are operating.
"Why do we need two Houses of the National Assembly,  whereas  the House of Representatives representing the smaller constituencies is enough in the same number of population.
"Why not get rid of the Senate for a slim and better legislative activity? Let us start examining that," Channels TV  quoted him as saying.
What do you think of these words coming from a leader of the opposition party, Action Congress of Nigeria (ACN) and a former Senator? Do you agree with him that the Senate should be scrapped?