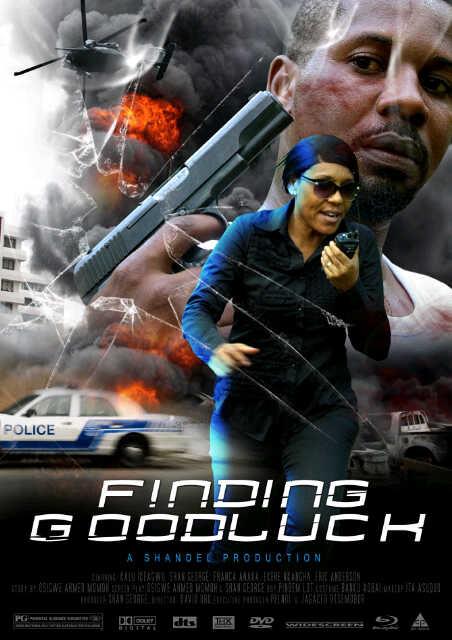 Nigerian star actress and producer Shan George has pulled no stops with the production of her new movie titled Finding Goodluck. The movie, reported to have had its production costs pegged at N40 Million is one aimed at celebrating the heroes of the police force.
The movie was shot in Calabar, and stars seasoned actors like Kalu Ikeagwu, Shan George, Franka Anaka, Ekere Nkangha, Eric Anderson, Ita Asuquo, among others. The stars were also out  to support Shan George at the premiere of the movie in May 2012, at TerraKulture, Victoria Island, Lagos
When asked about why the plot was based on the Nigerian law enforcement force, Shan was reported to have said "I am an unapologetic supporter of the Nigerian police and also a keen observer of our political terrains. Even though Nigerians do not generally rate the police well, even though they seem to see the force as being corrupt, I think given the challenges they daily face in order to keep us safe, I think they deserve our love and understanding. Even though there are a few rotten elements within the force, I think the majority of the officers and men of the force are decent and patriotic Nigerians. The film celebrates those heroes, who daily put their lives on the line to fight criminals, who sometimes may be better equipped than these good men. I also  think that though there are some politicians who are not motivated by the desire to do good, and regard politics as blood sport, there are those who have used their offices to do good."
Here is official synopsis for "Finding Jonathan"
The state of Akwariv has been besieged by a gang of assassins and kidnappers sponsored by some politicians, they have unleashed terror and agony on the citizens, and caused instability in Government, no one seem to be able to stop them, now Goodluck is missing, what is the police supposed to do to curb these criminals? All hands have to be on deck in this mission to 'Finding Goodluck'!.
The movie is showing in cinemas across Nigeria now.
Watch the trailer here

Photo Credit: Shan George