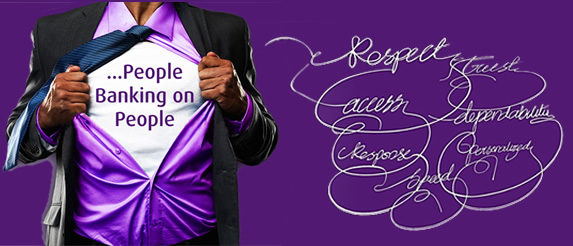 What is your 'purple line'? Take this test here first:
The principles that create healthy business relationships are also essential in all other relationships. This article seeks to apply the core principles embedded in the famed Purple Line philosophy of Nigeria's most resilient and longest surviving indigenous banking brand and has been key to their survival through the years,  to building successful relationships and vibrant organisations – small or big.
Great Relationships & Brand Sustenance… Introducing the Purple Line
The most productive business relationships are those that involve a mutual sense of support, respect and trust between the individuals involved. Here are 6 of those cardinal principles (or lines) which you can apply to building exceptional relationships in your business or personal life..
1.       Trust is very critical to establishing one's business reputation as well as a country's reputation. The study by Zingales, Guiso, and Sapienza showed the level of trust between two countries has a positive and statistically significant effect on trade. Trust is therefore a driver for economic prosperity in any country, and with no exception; Nigeria.
2.      Accessibility is important in every relationship. It is important to be reachable when your customers or clients need you. And this applies to personal relationships.
3.      Response is vital to communication flow in relationships. The first step to response is listening. The chances that your response will be accurate are higher, than when you do not listen. Also the quality of your response matters. Be really interested and sincere. Treat your customer or client as a person not a job title, be polite and patient.
4.      Speed is crucial to healthy business relationships especially in this fast paced world. Answering customers promptly and delivering products and services on time. If you're not able to solve a problem right away, let the customer know you're working on it.
5.       Respect especially mutual respect is essential to relationship building. If one learns to respect differences of thought as differences of opinion and not of fact, there will be room for compromise and growth. Balance of power in a relationship is established through mutual respect.
6.      Dependability gives your customers or clients a sense of security within the business relationship. It means you keep to your promises and be willing to take full responsibility in situations where this is strained. Dependability brings about a heightened sense of trust in business which eventually leads to referrals.
We believe that Nigerian's need a reminder on what these values are; the very Purple Line that has helped create wealth, add value,  build enduring relationships  and engendered a sustained brand identity  for Wema Bank since 1945.
Established in 1945, Wema Bank is unarguably Nigeria's most resilient and longest surviving indigenous Banking Brand. With a distinctive culture built on its Purple Line Philosophy of creating, nurturing, and maintaining Value-adding relationships with all stakeholders wherever it operates, Wema Bank currently offers financial advisory services, retail banking, corporate and commercial banking, investment banking, SME banking, Trade services amongst others to a diversified clientele. www.wemabank.com.
Define your Purple Line and see which of these values describe you the most.
This is what "People banking on People" is all about.
For more info, visit their Facebook Page
__________________________________________________________________________________________
Advertorial – Sponsored Content