BN Cuisine With Chef Fregz: The Reinterpretation of Jollof Rice
Hi guys! I hope you had a great week. Thank you all so very much for coming out last Sunday for Chef Fregz Special. It was great to meet some of the BN readers and I'm so glad that some of you have actually tried the recipes we've shared on this column.
This month is special because we celebrated Nigeria's independence and   I know a lot of us think there's really nothing to celebrate in Nigeria. However, we have to look inwards and find the little joys of being Nigerian and or of being in Nigeria.
We're going to focus on all things Nigeria on this column in October and for four Fridays this month, we'll be talking about Nigeria, Nigerian culture and Nigerian food.  It's only befitting to kick off this series with Jollof Rice.
God, Air and Jollof Rice are the essentials in my life. I live for good party rice. You that smoky-firewood-goodness? You can sell me with it. In all honesty though, I can eat Jollof in any form from those that just mix white rice with stew and call it Jollof to those that put all sorts of "things" in it from cabbage to peas, stock fish to corned beef. As much as I pray for such people to be flogged I still shamelessly press on till the plate is clean and that last piece of meat has accompanied the rice.
Jollof Rice has to be the poster food for Nigeria. It's sold everywhere and everyone has their version of it. It's like Curry to India. I know its argued that Jollof is actually Senegalese or Gambian but I haven't seen any real proof to show its origin. But hey why fight over such awesomeness why not just accept it's African and Nigerians have championed it?
These are just guidelines and not set in stone.
For my version of Jollof Rice I decided to use a different type of rice and I was in a Surf and Turf mood.
Basmati Rice because it's quite popular these days at parties and many caterers make it quite well. So I decided to give it a go and cook it with prawns;  topping it off with grilled pork as opposed to goat meat or regular beef. However, if for religious or other reasons you don't eat pork I implore you still to explore other protein/meat option that's just outside the box of convention.
The Pork
Season this with garlic, white pepper, seasoning cube and some oil. To cook it, get a very hot grill an and sear on both sides ensuring its nice and marked and finish of in the oven or grill for the level of doneness you like. I like my slightly pink.
Prawns
I used prawns with the shell on. Usually I use already peeled ones but I needed to make stock just like you would make a beef or chicken stock for your rice. Make the stock buy boiling the shells and heads with onions, a bit of white pepper and sat. To season the peeled prawns I used a little garlic, seasoning cube. Marinade the prawns the longest because prawns need time to take on flavour else they taste like just "prawns"
The Rice
I recommend you wash the rice just once you want a little starch in the rice because basmati isn't as heavy as regular rice. For whatever amount of rice you are cooking you should just basically have enough "tomato and pepper mix" to cover the rice. Also add the stock made from the shells of the pawns. Since basmati would cook quicker than regular rice you want to start cooking it form a medium low flame so it takes time for it to steam and cook evenly
Seasoning
I used seasoning cubes and fresh thyme here but for a more intense "Jollof" flavour you can use dried thyme, which works just as well. Watch the saltiness at this point because the stock could be quite flavourful already.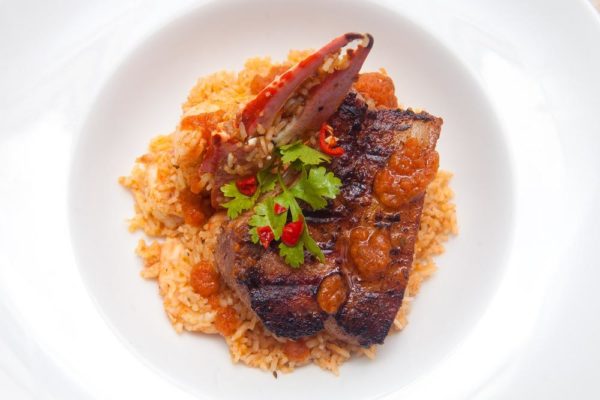 I added the prawns to the rice when it was almost ready. Mix the prawns in the rice and cover the pot to allow the steam action do its magic. I also added some crab claws for more of a seafood flavour.
At the end of the day you'll find the flavour of the basmati is strong and you almost don't get that regular party rice flavour but I found it enjoyable nevertheless and the prawns were delicious. The pork rearing its grilled self on the plate was amazing too.
So please go and celebrate the greatness of the food produce available to us in Nigeria. Try and this dish and when you finish your plate mouth a big God Bless Nigeria!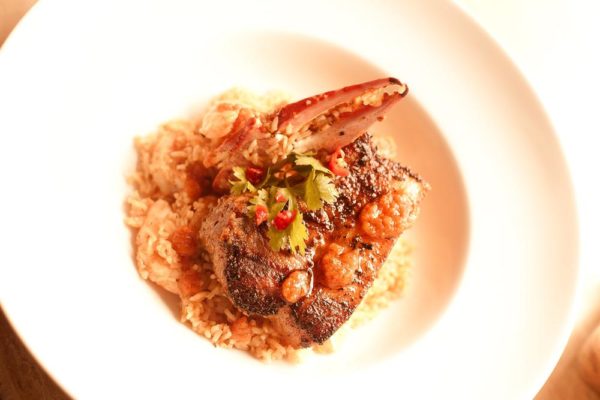 Green and White blessings and have a flavour filled weekend
Ciao!
_____________________________________________________________________________________________
Fregz loves to cook! He is a graduate of Le Cordon Bleu Paris Culinary Arts School in France and hosts monthly "Chef Fregz Specials" where he whips up a yummy menu with a different theme each time then everyone enjoys a taste.He also caters special events and private dinners. To find out more, visit theskinnychefthatcould.com