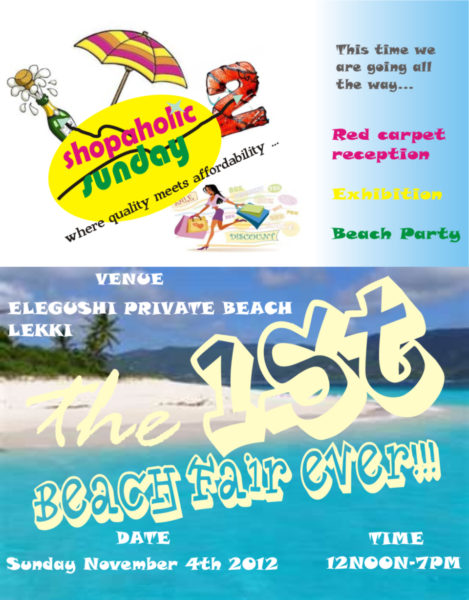 'Shopaholic Sunday' is an exclusive event that combines fun with shopping for quality, affordable, trendy and discounted consumer items in a serene environment, on a Sunday afternoon. This platform gives interested merchants, fashion designers and other creative artists a market chance to put their products in the public view while still making remarkable sales.
The next edition of "Shopaholic Sunday" is here already and the "Shopaholic Sunday" team is throwing a "shopping party" like never before on Sunday 4th November 2012, and it promises to be bigger than the last one. Bring your beach wears, swimsuits, bikini's and wallets to Elegushi Beach, Lekki, Lagos by 12 Noon and plan to have a great time.
This is the "mini trade fair" where you could afford to buy goods for another "trade fair" and it's the first "Beach Fair"/"Shoppers Party" EVER and we are going all the way. You don't want to miss it for anything in the world!
Interested vendors who wish to register their business or business ideas for this event should please contact Patrick on 08031579558 or send a mail to [email protected].
Date: Sunday 4th of November 2012
Time: 12 Noon – 7PM
Venue: Elegushi Private Beach, Lekki, Lagos
Dress Code; "Sexy and you know it!"
To purchase a stand or place an order for a stand, visit www.shopaholicsundayevent.com.ng NOW!!!
_____________________________________________________________________________________________
Sponsored content