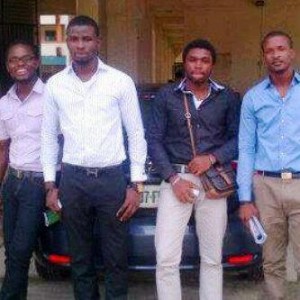 The Inspector General of Police, Mohammed Abubakar has released a statement confirming that the four University of Port Harcourt students killed by a mob at Aluu, Rivers State, were not robbers. The students, Ugonna Obuzor, (18), Lloyd Toku, (19), Tekena Elkanah, (20) and Chiadika Biringa, (20) who were lynched on October 5, 2012 by a mob were set up by a debtor who called them thieves.
The debtor who set them up and masterminded their killings, Coxson Lucky, alias Bright is on the run and has now been declared wanted.
The IG, in a statement released through the Deputy Force Public Relations Officer, Frank Mba, said the boys had gone to the community that morning to demand money allegedly owed them by Lucky, who raised the false alarm that they were armed robbers. Although, Coxson has gone underground, Detectives are on his trail.
Mr Abubakar also said that Alhaji Hassan Welewa, the Traditional Ruler of Omukiri Community, Aluu where the heinous incident took place has been arrested along with 18 others, some of whom are members of the vigilante group of the community.
The statement read: "Intelligence report implicated Alhaji Hassan Welewa, as being the person who incited the mob to unleash terror on the victims. Further investigation conducted by the police indicates that four suspects, namely: Felemo Solomon; Cynthia Chinwo; Ozioma Abajuo and Chigozie Samuel Evans have been closely linked to this barbarous act."
Also, contrary to the claim of one of the victim's family members that some Policemen who were present at the scene allowed the mob to continue carrying out the lynching, the IG said the police patrol team sent to the scene of the lynching could not rescue the students from the mob as members of the team were pelted with stones.
"Consequently, the patrol team called for reinforcements, but unfortunately, upon the arrival of the reinforcements, the alleged robbery suspects had been stoned and burnt to death, while the mob immediately took to their heels."
He said investigation was ongoing and efforts were being intensified to track down others who were involved in the incident.
This is the exact reason why jungle justice should be eschewed; because innocent victims who won't be allowed to speak for themselves could get hurt or killed. Four boys went to collect money from a debtor, the debtor raised an alarm claiming the boys were thieves, and they were consequently seized and killed by a mob. It sounds totally ridiculous but sadly true.
May their souls rest in peace.