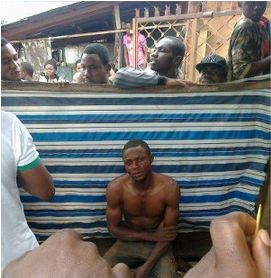 I hate to bring such sad news to you on a day when Nigeria should be celebrating. But this is the reality we are faced with.
We've heard several stories of parents punishing their children in extreme ways to hurt their partners. For instance, a man putting his own child through extreme pain and torture to hurt the child's mother because they are having a fight or seperation and vice versa.
The unwarranted brutality in this story has that sort of vengeful tone and if that was the case, then it is really sad.
A little boy was reportedly found inside a bush on Saturday (September 29th) morning by the community security service during the sanitation exercise in Okpuno Awka, Anambra state.
Information Nigeria reports that he was crying and had his legs bound in chains and locked with a padlock.
It was revealed that his father known as Alhaji by his fellow commercial motorcycle (Okada) riders is the one chained his two legs and left him in that bush for three days without food or water.
The man had told his neighbors that his son has been missing for three days and both him and neighbors were searching for him together without them knowing that he knew where his son was. However, luck ran out on him when the security men from the community discovered the boy crying in the bush.
The little boy happens to be the only child from his former wife who is no longer living with him.
It is a miracle how the little boy survived three days in a bush without food and water, with his legs tied in chains. He doesn't look like he is more than 3 or 4 years old! If you look closely at the picture below, you would still see the chain on the boys legs.
I have no words to describe this extreme level of wickedness. I'm just thankful the boy survived.
Photo Credit: Information Nigeria