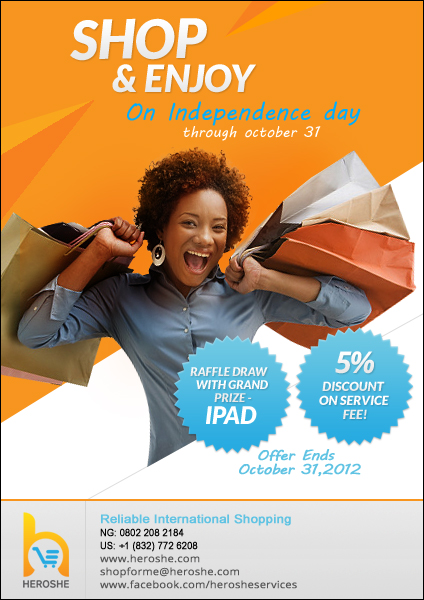 On October 1st 2012, Nigeria will witness the Official Global Brand Launch of Heroshe – a professional US Based Lifestyle Service Company procuring product(s) in the USA to shoppers in Nigeria.
Heroshe celebrates its official launch in honour of Nigeria's 52nd Independence Day. For over seven years, the Heroshe team has provided personalized, reliable international shopping service for Nigerian shoppers seeking convenience and quality products.
From October 1st to October 31st, shoppers will get 5% discount on our service fee and will be entered into Heroshe Raffle Draw with a chance to WIN AN IPAD. Shoppers will also have access to valuable shopping guides and exceptional customer service.
So what are you waiting for? Call,Text, and Ping your friends and join the Online Celebration!
Date: Monday 1st October 2012 – Wednesday 31st October 2012
Time: @ Your Convenience
Venue: Online at www.heroshe.com (Free Admission to all Nigerian Shoppers)
Contact: For more information and general enquiries
Call US: +1 (832) 7726208 │NG: 0706 331 8242 │Email: [email protected]
_____________________________________________________________________________________________Sponsored Content