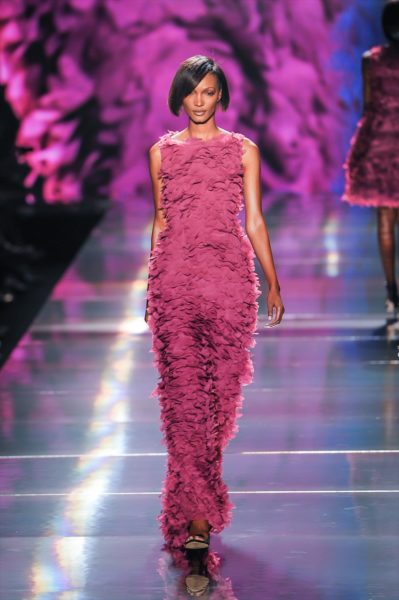 At the Mercedes Benz Fashion Week, New York with Arise Fashion Icons Collective, which took place at the Lincoln Center Theatre, New York, USA, Iconic Nigerian design house, Tiffany Amber showcased its Spring/Summer 16 piece collection – Rhythm of Africa.
The label's creative director, Folake Folarin-Coker presented pieces with tiers, ruffles, the ethereal flow of romantics and the structure and glamour of the cosmopolitan. Just before, BN unveils the lookbook of the collection, here's an insight on the collection from the inspiration, muse and all the details only on BN.
About the Collection
Tiffany Amber Nigeria tells a "Print Story" with its latest collection, Rhythm of Africa, continuing the love for print which reached its peak in 2009 when the label's creative director and Founder, Folake Folarin-Coker created a capsule collection in collaboration with one of the greatest African artists of our time, Kolade Oshinowo.
The image from his famous "Women in the Marketplace" painting was digitally transferred onto the luxury fabrics that have come to define the Tiffany Amber aesthetic and resulted in a collection which sold out on the night of its launch. A first for African fashion, this collection aptly titled " The Rhapsody of Art and Fashion" set the pace and the tone for all of Tiffany Amber's future prints.
Inspiration
Speaking on Rhythm of Africa, the label's creative director, Folake Folarin-Coker said "I have always been in love with music. Why? Because music moves me to the depths of my soul. The drum – the sensation it invokes in the spirit and mind. The beat – the rhythm has a different meaning to everyone yet is a coherent universal language. I thought…how can I depict the sensation of the beat, the pulsing beat of the rhythm? And there I had it…the birth of the Spring Summer 2013 Tiffany Amber collection, which encapsulates the Rhythm of Africa.
The muse for collection is contemporary, ethereal, exotic and bashfully sexy. She enjoys travelling, but loves the journey more than the destination. She is…a global style nomad."
The Prints
To view the complete collection, click here – ARISE African Icons Collective – Spring/Summer 2013: Tiffany Amber
E: [email protected] | [email protected]
W: www.TiffanyAmberNG.com