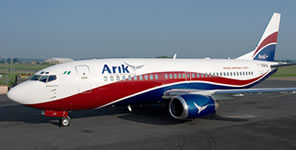 Yesterday, rumours about a bomb scare on an Arik Air flight went viral. There were several versions of the rumour – some claimed Boko Haram members had attempted to bomb the plane, while others claimed a lone person had caused the scare.
It was later reported that a passenger identified as Aminu Galadima, who was on board an Arik Air flight from Maiduguri to Abuja created a scare when he shouted Allah Akbar (God is great) shortly before the aircraft landed at the Nnamdi Azikiwe International Airport, Abuja.
The behaviour of the passenger was said to have created panic among the crew and passengers on board, thinking a suicide bomber was about to bomb the aircraft along with the passengers on board.
However, Arik Air swiftly released a statement to dispel the rumours saying another security check was conducted on the passenger and nothing incriminating was found on him.
The suspect was then handed over to the State Security Service Services (SSS) who later released a statement saying he was mentally unstable. The Deputy Director, Public Relations, Marilyn Ogar gave a clearer picture of what happened before, during and after the bomb scare in a statement published by Channels TV.
"On Friday, 19th October, 2012, Wife of the SSG to the Borno State Government, Hajia Yachilla JIDDA, travelled to Maiduguri in company of one Aminu S. GALADIMA, an interior decorator based in Abuja to do some interior decoration work. On arrival in Maiduguri, he was lodged at Greenland Hotel. During the course of his stay, he exhibited unusual behaviour by smashing a window, and ended up with lacerations on his hands.

"The SSG was contacted, and in collaboration with the Hotel management, subject was taken to Atal Hospital, also in Maiduguri, where he received treatment. His family in Abuja was contacted and they gave confirmation that GALADIMA has been mentally unstable. In addition, his elder brother who lives in the UK was contacted and he requested that subject be returned to Abuja for medical attention.

"On Sunday, 21st October, 2012, he was taken to the airport to be returned to Abuja, but missed the flight. However, the Airport management was informed of his state of health, and they advised that whenever his return is scheduled, the management should be notified. Unfortunately, when GALADIMA was taken to the Airport on 23rd October for his return trip, the management of the Airport was not informed, and 10 minutes into the flight, due to slight turbulence, his condition was triggered off. Meanwhile, GALADIMA is in the custody of security forces."
This news has raised debates on the mental capacity of passengers on an aircraft. With the tension being caused in the country by Boko Haram attacks and threats, security on air planes has been beefed up by most airlines. However, with this recent scare attributed to the mental capacity of passengers, what solutions can be suggested at this point to improve the security of passengers?
Someone suggested a funny but interesting solution. She said just as some countries require passengers to present their Yellow Fever Vaccination Cards, a medical report from a doctor proving a passenger's mental stability should be introduced.
There have been speculations that he might have been using hard drugs as well. While this is yet to be ascertained, what lessons can we learn from this incidence to ensure improved security of lives of passengers on an aircraft?