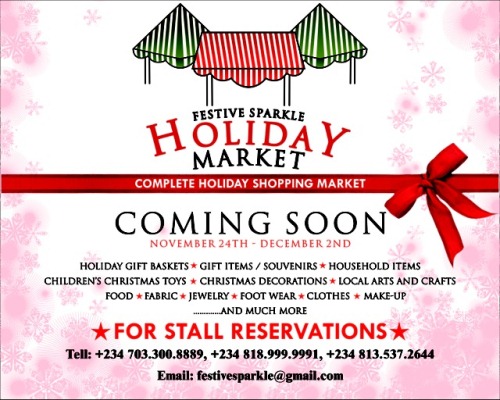 Festive Sparkle presents its 1st Annual Holiday market debuting in Maitama, Abuja beginning on Saturday 24th November 2012. The holiday market was created to usher the people of the city of Abuja into the spirit of the holidays and provide a platform to experience the opportunity of wholesale and retail shopping for their entire holiday needs and wants in one location.
The Holiday Market will operate from Saturday 24th November to Sunday 2nd December 2012; and the operating hours would be 9:30am – 8pm, daily.
Holiday Market will provide visitors with a unique opportunity to meet and interact with a variety of vendors.  Some of the items vendors will be selling this year include:
–          Holiday gift baskets
–          Gift items/ souvenirs
–          Children's Christmas toys
–          Festive foods/drinks
–          Fabrics
–          Christmas decorations
–          Jewelry
–          Local arts and crafts
–          Crepes/cookies/ice cream/ cakes
–          Candles/ potpourri/ diffusers
–          Household items
–          Small chops
–          Food
There will also be a Santa's grotto and a bouncing castle for children daily throughout the market period.
In order to make this a delightful experience for both the shoppers and vendors, the following services will be provided:
–          A well-lit and decorated holiday market ambience
–          24 hours professional security and cleaning services
–          Seasonal music all day
–          Daily live-band performances from 5:30 – 8pm.
–          Company contact details and list of products available on the Festive Sparkle website thereby promoting your company
The closing ceremony on the 2nd of December will be a fun packed day with guest artist performance, fashion show, a Christmas Carol and lots more.
Cost of Stalls:
N100,000 – 9sqm stall for the duration
N150,000 – 15sqm stall for the duration
For further details, please contact the organisers on: 08189999991 or 07033008889;  BB PIN: 2A1E2AF6; or visit Lillys Concept, The Basement, Omega Center, Wuse 2, Abuja.
__________________________________________________________________________
Sponsored content