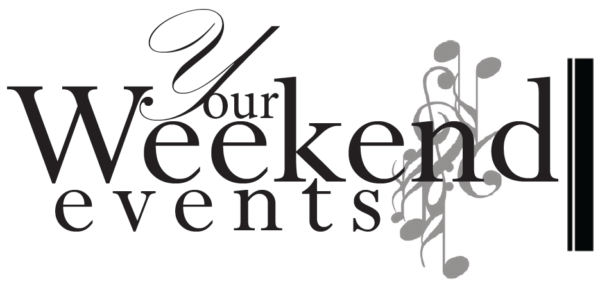 Good Morning BellaNaijarians, Happy Thursday!
How are you all doing? Hope great, better still Super Fantastic. As you know, it's that day of the week when BN Events presents this weekend's listing, where you will get to see for yourself all the most buzzed about events and places of interest to be spotted with your loved ones.
We have searched high and low, wide and far to bring you all the best of events. So sit back, relax, grab a soda and see for yourself where you need to be spotted.
Keep dreaming BIG, stay safe and always show love. See you next week.
Ciao!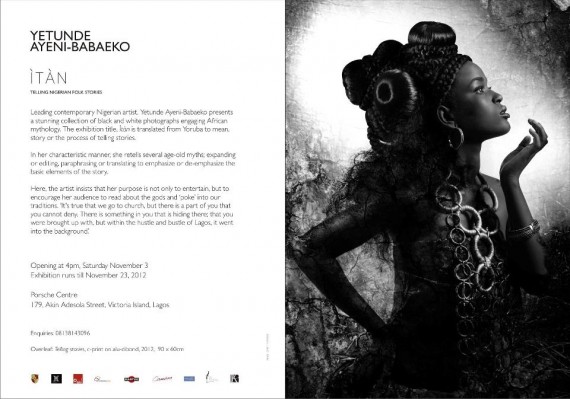 Yetunde Ayeni-Babaeko Unveils the Mystery of "Itan"
Acclaimed photographer and artist, Yetunde Ayeni-Babaeko will unveil a collection of black and white photographs engaging African mythology. The exhibition, Itan is translated from Yoruba to mean, story or the process of telling stories. The event according to the artist is not only to entertain, but to encourage her audience to read about the gods and poke into our traditions. Works will be presented as photography prints mounted on Di-Bond. Admission is free for all!
Date: Thursday 22nd November 2012 – Friday 23rd November 2012
Time: 4 PM
Venue: Porsche Center, Akin Adesola, Victoria Island, Lagos
________________________________________________________________________________________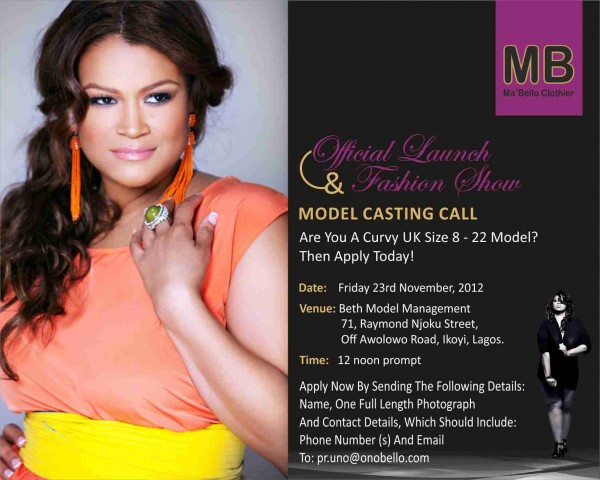 Ma'Bello Clothier Model Casting
Are you UK size 8-22 and love to be a model? Then jump for joy as Nigerian clothing line, Ma'Bello Clothier(MB), a fashion brand with expertise in designing, fitting and styling trendy looks to flatter curvy women, will hold a model casting this Friday in preparations for the launch of its store. Be sure to send your name, one full length photograph and contact details (including phone number(s) and e-mail address) to [email protected] before coming to the event. Admission is free for all.
Date: Friday 23rd November 2012
Time: 12 Noon
Venue: Beth Model Management, 71 Raymond Njoku Street, Off Awolowo Road, Ikoyi, Lagos
Contact: For more info and general inquiries, follow them on Twitter @MaBelloClothier | like their Facebook page – www.Facebook.com/MaBelloClothier
________________________________________________________________________________________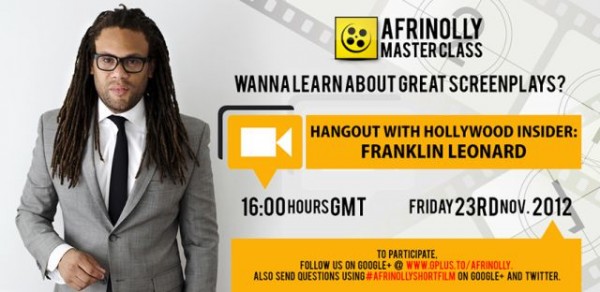 Hangout with Hollywood Insider, Franklin Leonard
Meet and Interact with Hollywood Insider, Franklin Leonard, whose company Black List discovered these movie scripts that became box office hits – Pursuit of Happiness, The Social Network, Slumdog Millionaire, The Kings Speech, Wall Street: Money Never Sleeps and Juno, this Friday 23rd November 2012 on Google+. At 5 PM, log on to www.Gplus.to/Afrinolly and you will experience Franklin Leonard's thoughts and advice for young and emerging filmmakers in Africa Live.
Date: Friday 23rd November 2012
Time: 5 PM
________________________________________________________________________________________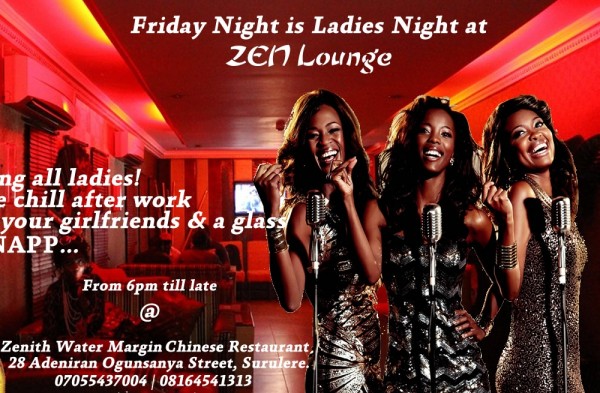 Ladies Night Out at Zen Lounge
This Friday 23rd  November 2012, another fabulous edition of Ladies Night Out will be held at Zen Lounge, Surulere. The event is the right place for all ladies to relax and unwind with their colleagues after work, celebrate birthdays and bridal showers. Admission is free for all.
Date: Friday 23rd November 2012
Time: 6 PM
Venue: Zenith Water Margin Chinese Restaurant, 28 Adeniran Ogunsanya Street, Surulere, Lagos
________________________________________________________________________________________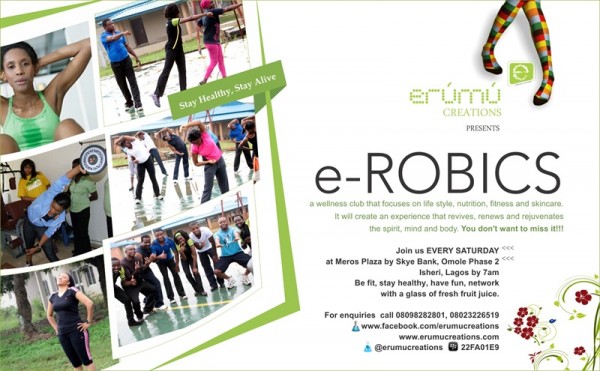 Erumu Creations presents e-ROBICS
e-ROBICS is a wellness club that focuses on life style, nutrition, fitness and skin care. It will create an experience that renews and rejuvenates the spirit, mind and body and you are invited. Admission is free for all.
Date: Saturday 24th November 2012
Time: 7 AM
Venue: Meros Plaza by Skye Bank, Omole Phase 2, Isheri, Lagos
________________________________________________________________________________________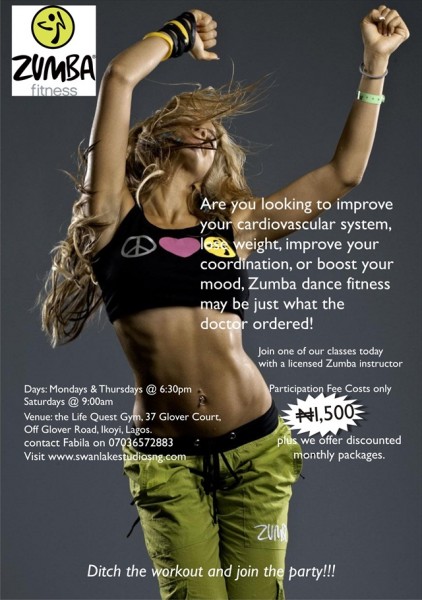 Zumba Fitness Training
Are you looking to improve your cardiovascular system, lose weight, improve your coordination or simply boost your mood? Then join Zumba Fitness training taking place this Saturday and Monday.
Date: Saturday 24th November 2012 & Monday 26th November 2012
Time: Saturday 9 AM | Monday 6: 30 PM
Venue: The Life Quest Gym, 37 Glover Court, off Glover Road, Ikoyi, Lagos
Fee: N 1500
Contact: For more information and general inquiries, call 07036572883 | Log on to their website
________________________________________________________________________________________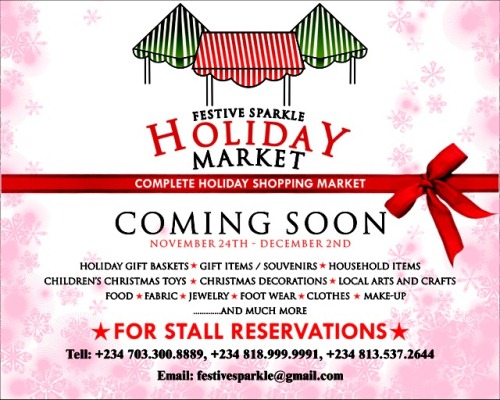 Festive Sparkle Holiday Market
Festive Sparkle presents its 1st Annual Holiday Market debuting in Maitama, Abuja this Saturday. The holiday market was created to usher the people of the city of Abuja into the spirit of the holidays and provide a platform to experience the opportunity of wholesale and retail shopping for their entire holiday needs.
Date: Saturday 24th November 2012 – Sunday 2nd December 2012
Time: 9:30 AM – 8 PM
Contact: For more info and general inquiries, call 08189999991 | 07033008889 | Add BB Pin 2A1E2AF6
________________________________________________________________________________________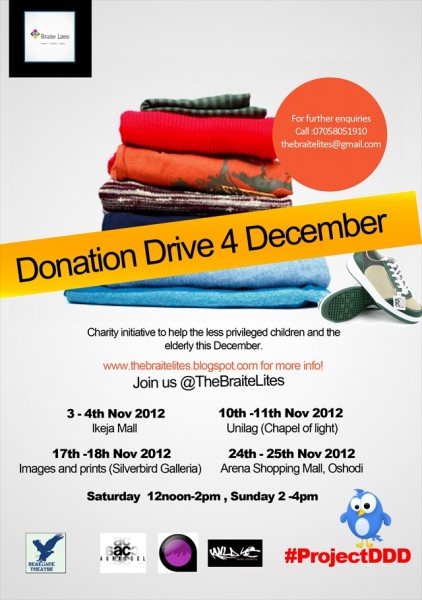 Donation Drive for December
Braite Lites has introduced an initiative, Donation Drive for December aimed at helping the less privileged by giving them food items, clothes, shoes, and lots more. They have set up 4 collection centers and this Saturday and Sunday, they will be present at the Arena Shopping Mall store to collect donations.
Date: Saturday 24th November 2012 – Sunday 25th November 2012
Time: Saturday 12 Noon – 2 PM | Sunday 2 PM – 4 PM
Venue: Arena Shopping Mall, Oshodi, Lagos
Contact: For more information and general inquiries, call 07058051910 | 08028386151 | e-mail [email protected]
________________________________________________________________________________________
Capital Naturals 1
The first natural hair meet up will hold in Abuja this Saturday. Come and learn, share and enjoy. There would also be a giveaway and a sale of in demand hair products.
Date: Saturday 24th November 2012
Time: 1:30 PM
Venue: Casalinda Hotels and Gallery Resort, 8 Colorado Close off Thames Street, Ministers Hill, Maitama, Abuja
________________________________________________________________________________________
Lekki Horizon presents It's a November to Treasure
On Saturday, Lekki Horizon Suites, Events and Entertainment will hold its event, "November to Treasure" couples buffet dinner. The event which promises to an exciting gathering with side attractions like salsa dancing, karaoke, music by the African Melodies, exotic meals and more, will kick off by 6 PM. Attendees will also get a 50% discount on the hotel's executive suite, valid for 14 days from the date of the event.
Date: Saturday 24th November 2012
Time: 6 PM
Venue: 1-6 Gbolagas Rd, Ikota 1st Gate, Lekki-Epe Express Way, Lekki, Lagos
Ticket Prices: Single N 3,500 | Couple N 7,000
Contact: For more info and general inquiries, call 07045208062 | 08029401436 | 08099688358
________________________________________________________________________________________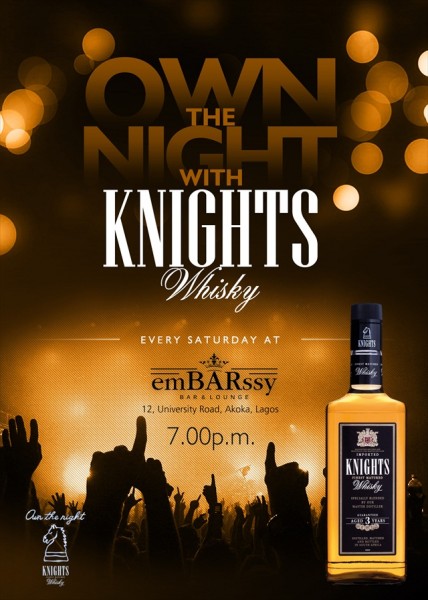 Own the Night with Knight Whisky
Top Nigerian comedian, Basketmouth's club, emBARssy Lounge will hold another fun edition of its soiree tagged "Own the Night with Knights Whisky". Be sure to come and join Basketmouth and other celebrities at the party. Admission is free for all.
Date: Saturday 24th November 2012
Time: 7 PM
Venue: emBARssy Lounge, 12 University Road, Akoka, Lagos
________________________________________________________________________________________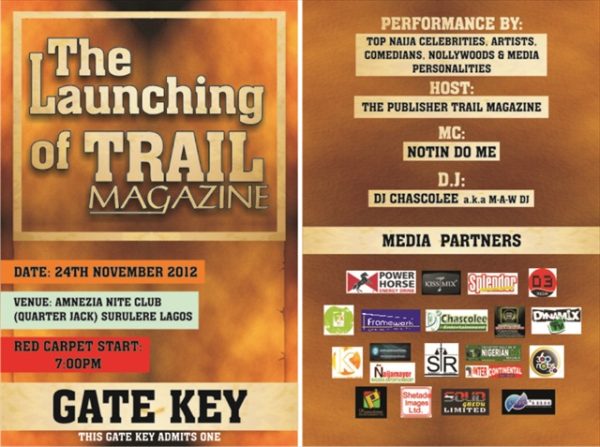 The Launching of Trail Magazine
Trail Magazine, a new urban Nigerian publication is celebrating its launch this Saturday in Surulere, Lagos. The event hosted by the publisher, will feature performances by Nigerian music acts and also appearances by some of your most loved entertainers. The first 100 girls to attend before 12 PM, will get free drinks. Admission is free for all.
Date: Saturday 24th November 2012
Time: 7 PM
Venue: Amnezia Nite Club, (Quarter Jack), Surulere, Lagos
________________________________________________________________________________________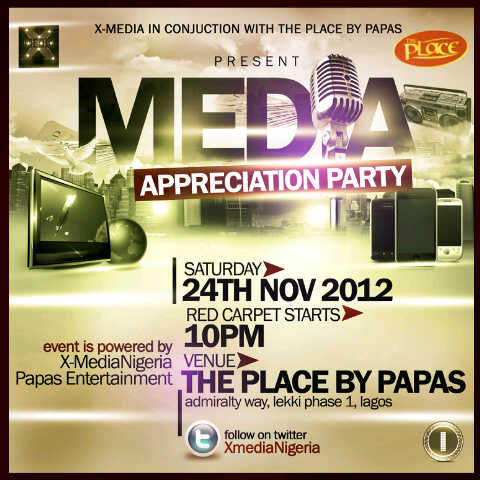 Media Appreciation Party
XMedia Nigeria and Papas Entertainment will on Saturday 24th November 2012, celebrate media outlets for the contributions to the Nigerian entertainment industry, Scheduled to attend this soiree are eLDee, 2 Face, Naeto C , MI , DJ Jimmy Jatt, Sound Sultan, Sasha P, DIL, Praiz, Weird MC, Lynxxx, Eva, Muna, Niyola, JJC Skillz, DJ Xclusive, Yemi Alade, Justina, Kween and Dipp. Celebrity appreciation DJs are DJ Big N and DJ Obi.
Date: Saturday 24th November 2012
Time: 10 PM
Venue: The Place by Papas, Admiralty Way, Lekki Phase 1, Lekki, Lagos
Contact: For more info and general inquiries, call 07037806082 | 08161191795
________________________________________________________________________________________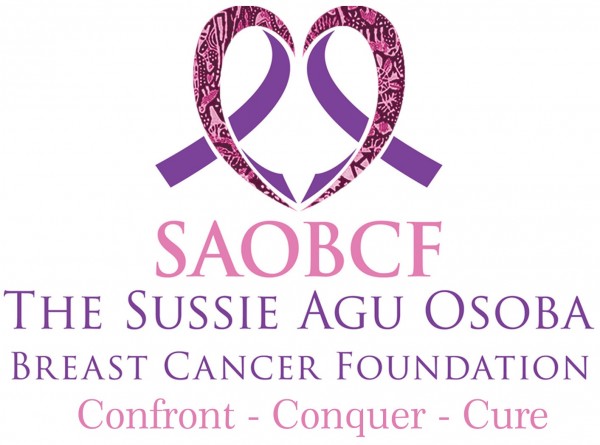 The Sussie Agu Osoba Breast Cancer Foundation presents its Inaugural Mandi's Cancer Aid Gala
The Sussie Agu Osoba Breast Cancer Foundation (SAOBCF) will hold its inaugural Mandi's Cancer Aid Gala this Sunday. Hosted by Ifeoma Williams and media personality, IK Osakioduwa, this gala event promises to be an evening to remember with fun activities including "Be Cancer Smart" exhibition, Pinktail Hour and a Survivor Fashion Show. There would also be a live auction and proceeds from the gala will be used to raise money to operate the recently setup cancer support groups and refurbish the breast cancer unit at the Lagos State University Teaching Hospital (LASUTH) as well as educate women on the importance of self examinations.
Date: Sunday 25th November 2012
Venue: Harbour Point, Victoria Island, Lagos
Ticket Prices: Regular N 10,000 | VIP N 20,000
Ticket Locations: Araba's, 14C Karimu Kotun, Entrance on Olosa Street, Victoria Island, Lagos | The Green Park, 16 Akin Adesola Street, Victoria Island, Lagos |  Avanti – Lafayette Mall, Sanusi Fafunwa, Victoria Island, Lagos | Solachi, 15 Maitama Sule St, Ikoyi, Lagos | www.AfriTickets.com
Contact: For more info and general inquiries, call 08052097631 | e-mail [email protected] | Log on to their website
________________________________________________________________________________________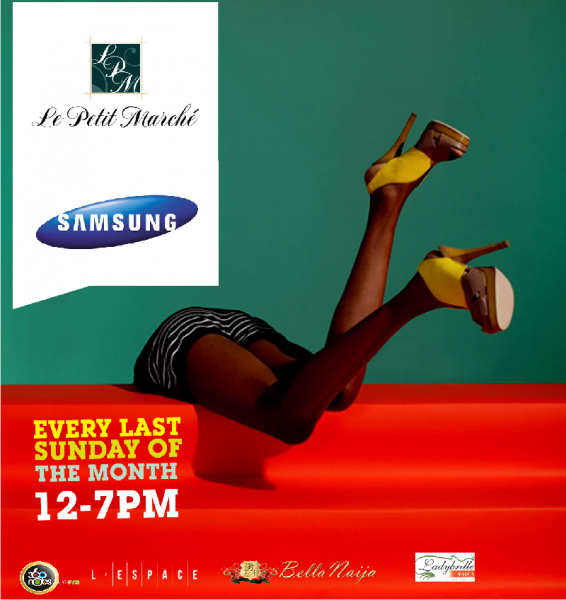 LPM November 2012
The November edition of the monthly shopping extravaganza, Le Petit Marche will take place this Sunday. Attendees will get to shop for clothes, shoes, bags, accessories and lots more from these vendors, Adol's Hair| Allure Hair | Barbara's Tulips | Bedazzled Outfits | Beeba's Accessories | Biddy's Mondo Ltd.| BLINGS By Patrick Ayaski | Cam Cam Sweets| Cookie Jar| Conquest World | Dadu Bajo | Didi Rose | Divanista | Dukiee's Beads| Estitos|Fashion For Life| Genesequa | House of Ania| In2Brands | Kanem by Kingi|Kenny Adelaja|Kidz Kloset|La Bennis|Lady Biba|L'Espace|Literati|Niskay |Pots of Gold|Scented World|Sparkle Dee|VIAP Nig Ltd. Admission is free for all.
Date: Sunday 25th November 2012
Time: 12 Noon – 7 PM
Venue: GET Arena, Oniru, Lagos
________________________________________________________________________________________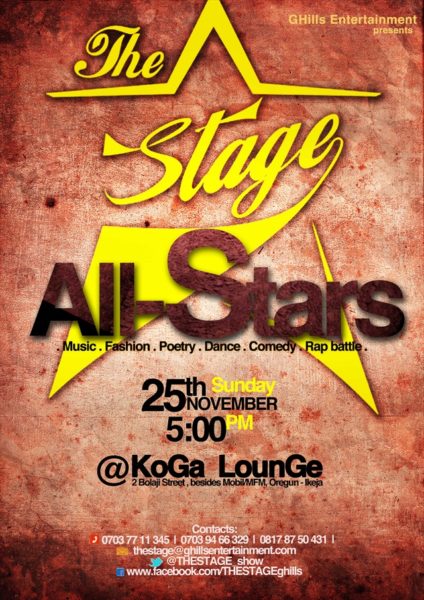 The Stage All Stars
Get ready for a thrilling day of fun and non-stop entertainment this Sunday. The Stage, a show which creates a platform for talented and skilled individuals, will showcase the best of talents at its all stars show. Admission is free for all.
Date: Sunday 25th November 2012
Time: Red Carpet 3 PM | Main Event 5 PM
Venue: Koga Lounge, 2 Bolaji Street Oregun, Ikeja, Lagos
________________________________________________________________________________________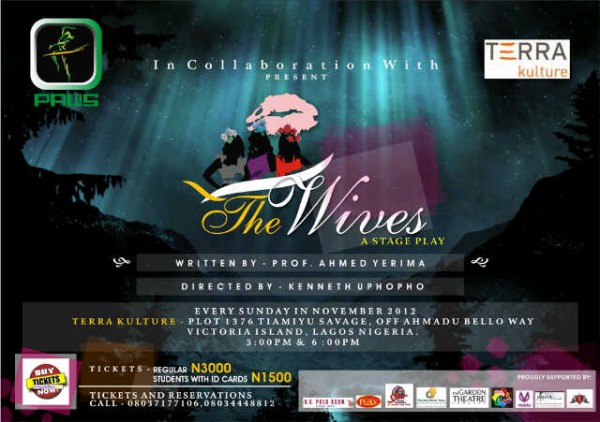 The Wives
The Performing Arts Workshop and Studio is back at Terra Kulture this November with another thrilling stage play, The Wives, written by Ahmed Yerima and directed by Kenneth Uphopho.
Date: Sunday 25th November 2012
Time: 3 PM & 6 PM
Venue: Terra Kulture, Plot 1376 Tiamiyu Savage off Ahmadu Bello Way, Victoria Island, Lagos
Ticket Prices: Students with ID N 1,500 | Regular N 3,000
________________________________________________________________________________________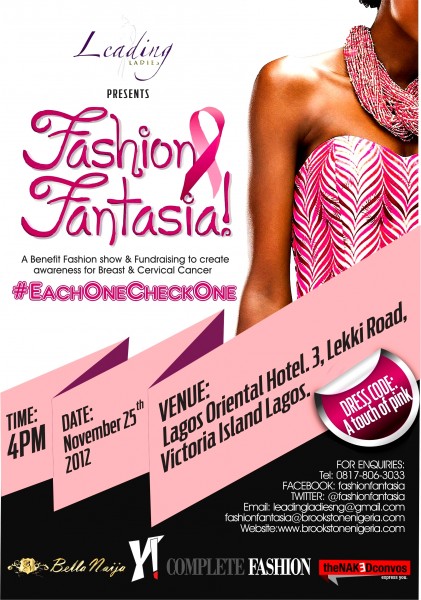 Leading Ladies presents Fashion Fantasia
On Sunday 25th November 2012, a benefit fashion show and fundraiser aimed at creating awareness for breast and cervical cancer, Fashion Fantasia will be held at the Oriental Hotel. The event is themed #EachOneCheckOne – emphasising the need for women (and men) to go for constant checks and get screened regularly. In conjunction with Bloom Cancer Care, one of the event partners, there will be also be a live presentation and an interactive session that provides relevant and useful information on breast and cervical cancer. It promises to be an evening of fun, information, fashion and inspiration. The dress code is a touch of pink.
Date: Sunday 25th November 2012
Time: 4 PM
Venue: Oriental Hotel, Lekki, Lagos
Contact: For more info and general inquiries, e-mail [email protected]
_____________________________________________________________________________________________
BellaNaija.com is not responsible for the organization or further promotion of these events, neither do we have a stake in their sales or popularity. Inclusion in "Events This Weekend" is Free. Contact – adsales (at) bellanaija.com on or before Wednesday every week if you will like your event to be included. Note that BN reserves the right to choose which events are featured. "Pay to attend" parties attract a fee