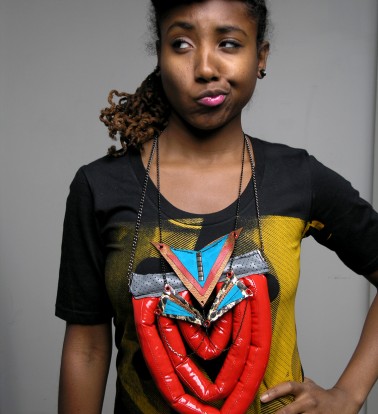 I love pretty little things. However, I find that there are many times that I can't shell out bundles of cash to purchase these items if they're particularly pricey. There are other times when I feel like the things on the rack are either not the right piece or the right style. It doesn't exactly define who I am.  I know I'm not alone in this and I have found that sometimes all it takes is a little do-it-yourself and you can get that item you want; that item that is unique to just YOU!
So if you are a die – hard fashionista but often at a loss on how you can score on the latest trends and designer treasures without flattening out your wallet (ok, seeing that we are 'gearing' towards a cashless economy, I should say 'without having our bank accounts flashing red'?) or you just never seem to find a piece of clothing or jewelry that really defines your style?
Well, you're in the right place, because we are going to be doing just that together. From thrift shopping 'bend down select' and garnishing/transforming our thrift buys and other fashion staples into one – of – a kind pieces; to getting 'crafty' and having our very own hands – on fashion experience, we are going to be doing all these and more together every step of the way!
For starters, we are going to re – vamp a thrifted clutch into something more exciting and stylish so get your tools ready and work with me!
To make the tutorial easy to follow, I created three collages showing what tools we would be using,the basic steps to be taken and the different angles of our finished and unfinished clutch.
What You'll Need:
1. A perforator or any puncher 2. Ankara fabric (half a yard would do) 3. Aluminum chain or jewelry 4. Coral beads (the spiky ones) 5. Office pins 6. Glue (E6000 or UHU would do just fine) 7. Fabric stay 8. A pair of scissors
 Optional:
1. Tape measure 2. Embroidery yarn 3. Chalk
Process:
1. Spread open your clutch, position the fabric whatever way you want (here I chose to work with the diagonal shapes and positioned them evenly on both sides.) Do same for sides of the clutch.
2. With a chalk or pen mark out the edges of you clutch on the fabric.
3. Cut out, but leave about an extra inch of fabric around the marking so you have something to fold later (you'll need that!)
4.  Fold neatly along your markings and press with a hot iron to hold in place, and with the same hot iron, press your fabric stay to the fabric to ensure thickness. (don't forget to cut out a hole for the clasp or you'l' find that you wont be able to snap your clutch in place.) Do same for the sides of the clutch.
5. Spread glue evenly across the surface of your clutch, and place you fabric over it, pressing gently. Smoothen out the fabric so there are no folds glued in place.
6. Puncture holes on the flap to insert your jewelry into.
7. Sew in (with a needle and thread) your spikes – here i used coral beads to achieve a 'spiky' look because I wanted an overall african look.
(optional – sew the clutch all round with a decorative, embroidered stitch.)
You should have something like this: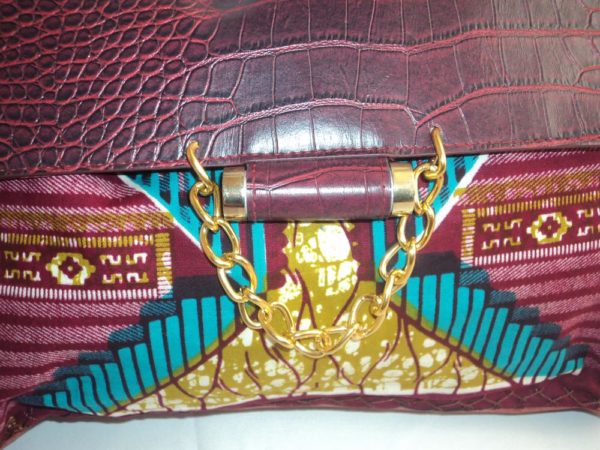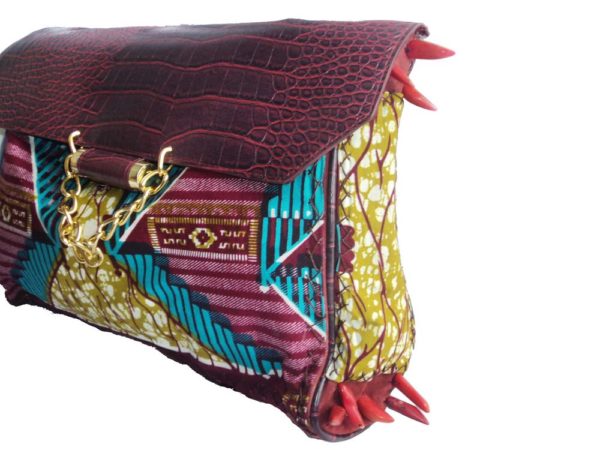 Readers can write in to let me know what they would like to see created and the most requests for a  piece would be treated.
Photo credit: madamenoire.com
_____________________________________________________________________________________________ Onnari is a fashion and lifestyle DIY blogger on weeknights and weekends. She is an unpublished poet/fiction writer who studied business Administration at the University of Lagos. She is an independent fashion/accessories designer who loves designing while listening to 'mood' music…or otherwise! She is obsessed with Greek and Roman mythology. You can contact her email: [email protected] or visit her blog: www.thatssewnaija.blogspot.com