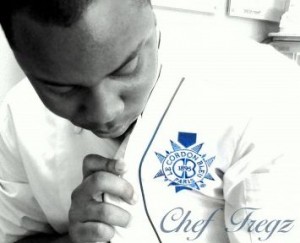 Happy New Year to you. A big 'Thank you' for all the support and reading from last year; I hope that this year brings better things and most especially food your way.
This year is already looking exciting for me. I was privileged to sign on a judge on cooking show called Knorr Taste Quest. It's brought to you by Unilever Nigeria and it's an exciting cooking show where we are on the quest to find Nigeria's Best. The showing times would be out soon but a few people have sent in tweets that they have seen me in some adverts, so watch out too! I promise I'm no Simon Cowell but let's just say I'm honest but kind too.
For this opening post, my brain was on holiday and my physical body was still in hibernation or something but for the sake of you guys I rose against all odds to bring you this post.
It occurred to me that Christmas or not we tend to have things in the freezer that eventually become freezer chips because of it being in the freezer for such a long time. I'll use myself as an example, I run a private catering business so you can imagine the amount of produce I go through. I'm not large scale yet but here and there I usually have bought too much chicken or sausages for a breakfast and I always have too much butter in my fridge.
Anyway, after my clear out of the freezer I found the following:
Some Scallops
Some seasoned Chicken Breasts
A Small fillet of Beef
Some pieces of Goat Meat
A few rashers of Bacon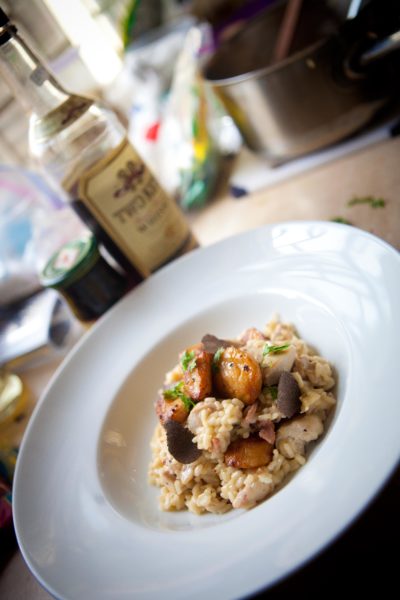 Before I go on, I have always been an advocate of following your instincts in the kitchen and not following a recipe per say. Allow  the flavour profile speak to you and broaden your technique range. You'll find yourself doing amazing things in the kitchen. This was the principle I applied here. I was totally clueless as to what to do with the beef and goat;  frankly I didn't want to die in the kitchen so the chicken and scallops spoke quick and easy. I grabbed my new best friend "aborio" rice I was quick to make a risotto.
Risotto is something that's not popular on this side of the world like that so I decided to launch the new year with something I think you should all try more often.
Before I go on, a few things about Risotto. It's clearly an Italian dish and it's a creamy rice dish. The creaminess is really not from cream but from the starch from the rice thats slowly released as it cooks. Stock is added to it at several intervals. The flavours of risotto vary, from mushroom to peas to seafood risotto. The most important thing is to use good quality rice, stir frequently use good stock and finish with some parmesan cheese and some cream if you like. Fresh herbs at the end is a plus too. I guess I'm lecturing to much back to what I did
I started of by sautéing off one medium sized onion with some butter and oil added a splash of white wine. I sprinkled some fresh thyme and after 4 minutes, about 2 handfuls of aborio rice went in. At this point you want to almost toast the rice slightly. When it starts to crackle a bit too loudly add about 2 ladles of stock which  should be simmering on a hob close to you. The stock deglazes the bottom and starts cooking the rice. This time around I didn't have stock or even stock cubes but as a chef I thought to myself… why don't I heavily season the rice and have the water even it out it? all is stock flavour abi? So the rice got Knorr Chicken Cubes, semi dried thyme, black pepper and garlic. I could have added all these to the water to make "stock" but I resolved to being a "smarty pants" chef… please! don't judge me
So at 5-minute intervals the simmering water was ladled into the rice while it was stirred. The Italians like their rice "al dente" which translates to the teeth. basically they like it slightly under-cooked. I like it like that too but you can cook  till it's as soft as you like.
The chicken had been previously seasoned with thyme, black pepper and garlic. The chunks and the scallops got a good sear till it was brown on all sides but not cooked through because it would finish cooking in the risotto. Halfway through, add the chicken and the scallops. I cooked some scallops through for garnish.
Some tired chervil leaves made it for the garnish and added flavour too. I also had some dehydrated shaved truffle from a dinner I did so I thought I'm adding this to the risotto for its final stamp of glory.
The rice came out perfect after a dollop of cream was added to round it up. I made risotto for someone recently who's lactose intolerant and is substituted coconut milk for the cream and used a good fish stock with lemongrass and garlic in it. It was out of this world. I topped it with a pan grilled black Snapper.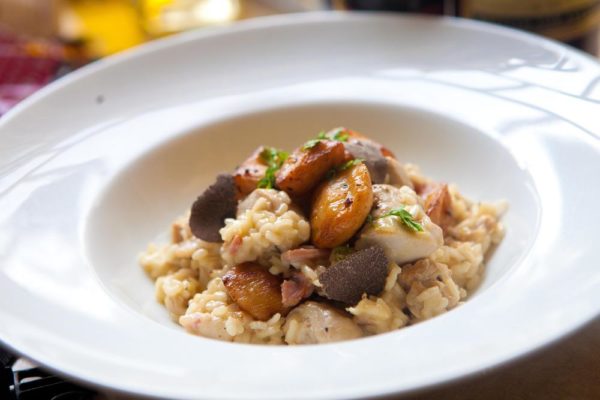 The goat and beef is probably a recipe for another day as I was in a rush to go somewhere. So I guess it's marinating for the near future. I intentionally didn't put a "recipe" with measurements et al. Why? because I want you to make your Freezer/fridge clean out dish.
Now whatever you make please take a picture and even write the recipe and send to features(at)bellanaija(dot)com The most creative dish or scrumptious looking dish would win a free meal at the next Chef Fregz Special. I promise!
Happy New Year again and have a flavour-filled weekend!
Ciao!
_____________________________________________________________________________________________
Chef Fregz loves to cook! He is a graduate of Le Cordon Bleu Paris Culinary Arts School in France and hosts monthly "Chef Fregz Specials" where he whips up a yummy menu with a different theme each time then everyone enjoys a taste.He also caters special events and private dinners. To find out more, visit theskinnychefthatcould.com