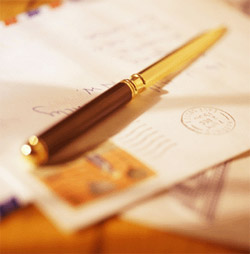 Dear President Jonathan,
On January 21st 2013, I sat in front of my television here in the United States as Barack Obama was inaugurated for a second term as President of the United States of America. Why am I in America you ask? Because it's better than Nigeria. Thousands of people flocked to Washington DC to see Obama get sworn in for his second term. In the freezing cold they cheered, shouted and watched. Wow! I said to myself. They are not just cheering for a president. They are cheering for the man behind the presidency. The man who made promises and kept them. What if? What if you President Goodluck got re-elected for a second-term?
Then it dawned on me. The only way you would get a second term is if all hell freezes twenty times over.
In 2011, I was in Nigeria during the elections. That was my first time in Nigeria since I had left the country over 12 years ago. I came to serve my country through NYSC. A country that I had very high hopes for and still do. Every day I went through one difficulty after another which made me question why I even came back in the first place. My parents did not even support me coming back, but I came back. Because I knew that there was a man who was soon going to enter office officially as our elected president.
A different man. A man of promise. That's what you were supposed to be. Day after day I would stumble upon government convoys being escorted by police men who used their rifles to push people out of the way.
Governor X cometh! You ordinary young and dehydrated corn seller, move out of the way! The men you elected into office are coming through. Give way!
You formally took an oath and pledged to 'combat' corruption. There is new cutlery in Aso Villa. You pledged to make education free and available to all young people.  Anu just walked 15 miles to her local farmers market to get the plantains that her mother is going to force her to sell today to provide for her and her two younger brothers.
You came into power having to deal with an already corrupt and flawed system. No one expected you to be God and fix things when you came into office, but what is your most significant action since coming into office? Is it the extra hour of electricity the people now get, or is it the name change of UNILAG to MAULAG?
 There are signs of change in the country but not enough for you to be elected for a second term.  Between "1960 and 1999, officials are said to have stolen more than $440bn from the people." Will you increase this number or will this number remain the same till the end of time?
Could people ever stand in the freezing cold or the scorching heat to see you sworn into office a second time? Probably not! I'm not Isawuru and cannot see into a calabash to tell you President Jonathan, but based on your actions, I'd still say, probably not!
For now, a second term does not belong to you. The hearts of Nigerians have been infected with distrust. We don't trust any politician as far as we can throw them. They don't have our best interest at hearts. 'I'm PDP,' they say. 'I'm ACN,' they say. 'I'm not a thief,' they never say. "I'll do what's right for you," they never say.
Politics is not about the party or the tribe. It's about we the people. The recognition of this is the only thing that will make you our first different president. Are you ready to be different?
I pray for you, President Goodluck Jonathan. I pray for you because a prayer for you is a prayer for my country. I can't compare you to Obama because you are not him. I can't compare the United States to Nigeria because they are two different places.  We all want to come home, but what can we say we are coming home to?  I mean we have the rich culture and the real-pounded yam but what else is there really?
You have a little bit of time left in office. Show us why the people placed you in office the first time around. Show us why many stood under the scorching sun in April 2011 to put a check mark beside your name.
I pray for you President Goodluck Jonathan.  I want to be able to look up to you; to cheer you on and tell people, "that's my president!" but for now, we wait.
God Bless Nigeria!
Photo credit: christinekane.com
________________________________________________________________________________________________
Toyin Olaleye is a writer pursuing a Masters degree at the Johns Hopkins University, USA. She's the unpublished author of "Oh! So You Are From Africa, How Come You Speak English"  and is extremely passionate about Nigeria.