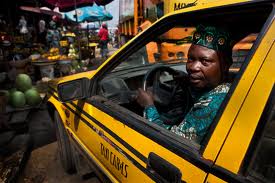 The Federal Road Safety Commission, FRSC has announced an approved minimum age of 25 years for obtaining a commercial driver's licence. This may have stirred a human rights controversy as in Nigeria, a person is deemed to be an adult from the age of 18.
The Lagos State Sector Commander, FRSC, Nseobong Akpabio told the News Agency of Nigeria that the step was intended to get rid of underage drivers and sanitise the profession.
 "An underage commercial driver has no commitment and may see driving as one of those jobs that could be toyed with. Many road crashes, especially with articulated vehicles, were usually traced to motor-boy drivers, who were without experience.
"Road crash involving a commercial bus may jeopardise the existence or progress of 10 families and if it involved freight vehicle, it will affect the progress of the company. 
"Drivers are very important as they can either mar or make a person, because if there is safe arrival, goals and aims can be achieved, but in a reversed case, such goals and aims have been cut short," he was quoted as saying.
Akpabio called on transport unions, parents, as well as passengers, to assist the commission in checking underage drivers in order to achieve the United Nation's Decade of Action for Safer Road Users. He said that the approved minimum age of 25 years for obtaining a commercial driver's licence would help in checking road crashes usually caused by underage drivers.
***
It is true that a large percentage of road crashes in Nigeria are caused by reckless driving from drivers of commercial vehicles such as buses and trucks and in such cases, the casualty rates are usually high.
What are your thoughts on this new law? Do you think reckless driving has anything to do with the age of the driver and may be more common among drivers aged below 25? Is this a good step?