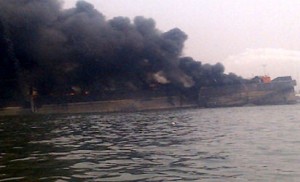 A massive explosion and fire hit an area of Apapa Seaport this morning, rocking the sprawling facility and shaking buildings in the area. The fire reportedly emanated from an oil vessel owned by MRS Petroleum when fuel was being unloaded at a jetty.
Confirming the incidence, an official of the National Emergency Management Agency (NEMA) said a fuel tanker caught fire after exploding at the Tin Can Island port in Apapa area of Lagos.
"There was a ship that was trying to discharge into an oil tank owned by (Nigerian firm) MRS and there was a fire, but I don't yet have any details as to what led to the fire," said Ibrahim Farinloye of the National Emergency Management Agency.
"We are trying to isolate the ship so that we can quench the fire."
He said later that four people were wounded and that the explosion appeared to come from a ship.
The explosion caused many people in the area to panic as buildings shook and a thick cloud of smoke rose into the air. Businesses in the area, particularly affected buildings, have closed shop to avoid causalities as fire fighters battle the fire.
The Apapa Seaport at Tin Can Island includes jetties where fuel importers unload petroleum products.