Yipee! We are excited to bring you another fabulous edition of BN Pick Your Fave.
Today, we have two stylish ladies rocking a yellow silk retro print blouse and matching geometric pencil skirt by high street fashion brand, H&M. It's our BellaNaija Style regular, Solange Knowles and Nigerian fashion blogger and stylist, Kike Soyode of StyleByQueens battling it out for your fave.
Just before you pick your favourite, here are the similarities of their looks;
They both added a pop of color to their looks by opting for bright coloured lipsticks – Solange wears red and Kike wears pink
They both have on a pair of colour block heels
They are both involved in fashion – Solange is the face of Madewell and Kike is a stylist and blogger of all things fashion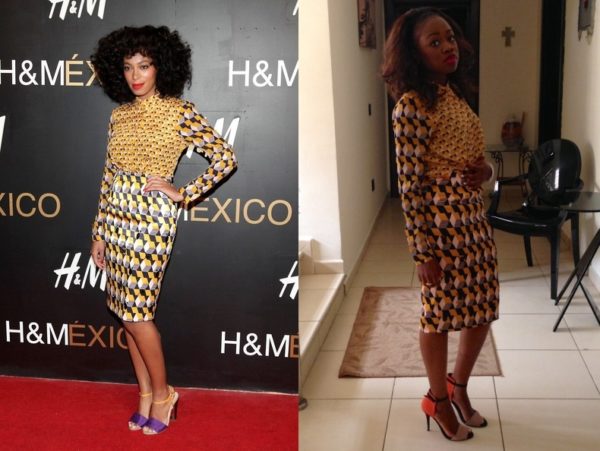 American musician and DJ, Solange Knowles made her mark in 2012 as a global style star. It's no wonder that she made Vogue's coveted best dressed list. In November 2012, the 26 year old rocked this outfit at the opening of the new H&M store in the Santa Fe district of Mexico City. Solange, who was a guest DJ at the event, accessorized her retro ensemble with a pair of $740 Fendi color block grosgrain sandals from the Italian label's Spring/Summer 2011 collection. She finished her look for the evening with minimal make-up, red nail polish and her signature hair.
In April 2011, BellaNaija Style featured Kike Soyode and her friend Tobi's blog, StyleByQueens (Click to View), where they blog about their personal style and the latest fashion trends. Earlier this year, Kike Soyode wore this same blouse and skirt ensemble from the high street brand. Kike, who let her hair down in a shoulder length, accessorized her outfit with a selection of gold and silver jewels and a pair of colour block heels from another high street brand, Zara.
 The H&M Blouse & Skirt- Sold Out!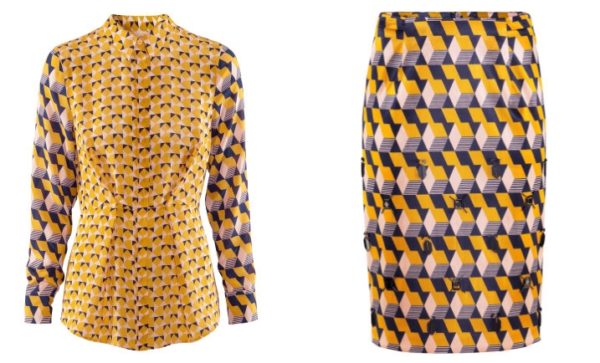 So…Pick Your Fave? Solange Knowles or Kike Soyode in H&M
Photo Credit: Zimbio | StylebyQueens