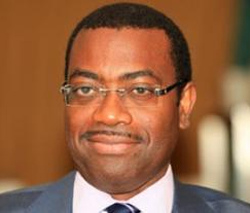 Nigerian Minister of Agriculture, Dr. Akinwumi Adesina is denying the widespread news of the Federal Government's plan to purchase mobile phones for farmers at the cost of N60 Billion. According to him, the information is "absolutely incorrect". He says that his "Permanent Secretary was totally misquoted out of context" and that there is no "60 Billion Naira for phones anywhere."
He however affirmed that the Federal Ministry of Agriculture and Rural Development is planning on getting 10 Million mobile phones for farmers, as part of its agricultural transformation agenda. He said the aim is "to connect farmers to information, expand their access to markets, improve their access to savings and loans, and help them adapt to climate change dynamics that affect them and their livelihoods".
As stated in his press release, "Agriculture today is more knowledge-intensive and we will modernize the sector, and get younger (graduate) entrepreneurs into the sector, and we will arm them with modern information systems. Whether small, medium or large farmers they all need information and communication systems." 
"Nigeria has 110 million cellphones, the largest in Africa. But there is a huge divide: the bulk of the phones are in urban areas. The rural areas are heavily excluded. For agriculture, which employs 70% of the population, that means the farmers are excluded and marginalized. In today's world, the most powerful tool is a mobile phone. As Minister of Agriculture, I want the entire rural space of Nigeria, and farmers, to be included, not excluded, from advantages of mobile phone revolution."
According to the Minister, from 2013, the Federal Government intends to distribute 10 million phones, so they can reach more millions of farmers with the GES scheme for subsidized inputs. Out of the 10 million phones, 5 million will go to women.
Although he denied that the FG did not intend to spend N60 Billion, he still said there were plans to distribute 10 Million mobile phones to farmers. This still leaves most people confused. Purchasing 10 million mobile phones is still a Billion-Naira project which is what has gotten Nigerians outraged.
What are your thoughts on the Minister's statement?