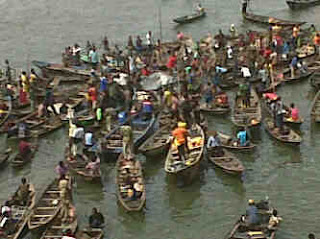 A Toyota Sienna skidded off the Third Mainland Bridge, Lagos and plunged into the lagoon this morning, with a driver who was the lone occupant inside. Thankfully, the FRSC has confirmed that he survived with injuries.
The accident survivor was pulled out from the Lagos Lagoon alive by Ilaje fishermen who arrived on the scene soon after the incident. He was taken to the Lagos State Teaching Hospital in Ikeja.
The cause of the accident was attributed to overspeeding by the FRSC.
We are thankful he is alive.
Below is a video of a witness' account of the rescue efforts.